Sports
Bucannon passed DB torch to Brown
Graduating senior's blessing did wonders for WSU's rising star
Tue., Aug. 12, 2014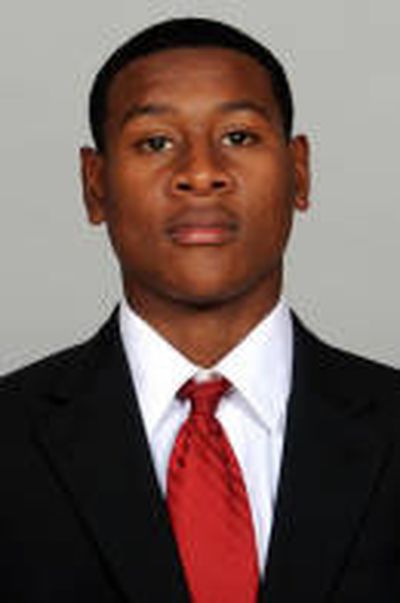 PULLMAN – Sometime during the night before last year's New Mexico Bowl, before the Cardinals made Deone Bucannon a first-round NFL draft pick, the Washington State safety planned his succession.
Bucannon played an integral role in leading the Cougars to their first bowl game in a decade, as did senior cornerbacks Damante Horton and Nolan Washington. Before Bucannon could take the field against Colorado State he had to make sure that the gains those seniors fought for would be protected after they left.
So he sought out Daquawn Brown, a logical choice who had started four games for the Cougars, and conferred the responsibility of leading the defensive backs in the years ahead.
"Man, it was just great," Brown said. "It was great to even have him in my presence, even caring that much about me when he's gone. He could just go to the league and not care nothing about me no more, but it meant something to me that he cared. He took me under his wing and it was good."
Bucannon's blessing may have legitimized Brown's ascension to a leadership position, but it wasn't needed. By necessity Brown has been thrust into a mentorship role before he begins his second year of college.
Brown's four career starts are four more than any defensive back other than safety Taylor Taliulu.
His natural talent dictated that he play last season, and now it dictates that he help prepare freshmen cornerbacks such as Marcellus Pippins and Pat Porter who could also play early.
"We want Daquawn to be a mentor to these young guys and talk about his plusses and minuses as a freshman last year," defensive coordinator Mike Breske said.
Porter in particular is likely to follow a similar career arc to Brown. Breske braved a freak southern snowstorm to woo the 5-foot-9, 163-pound athlete from Tuscaloosa, Alabama and his persistence paid off.
"Every time he came down it was bad weather," Porter said. "He came through a snowstorm, all the delays and flights so that really meant a lot to me that he would do all that just to come see me for a day and leave the next day."
The talented freshman chose the Cougars over scholarship offers from schools like Miami and Tennessee, arriving on campus in June and quickly impressing his teammates during offseason workouts.
Porter has looked lost at times and admits he's still in the process of learning the playbook. However, he is already seeing time with the second string at cornerback and coaches say they want to get a look at him with the starters soon.
In the meantime, Brown has plenty of advice for his young protégé.
"Just to have lots and lots of confidence out there," Brown said. "Don't be scared to, not mess up the play, but don't be scared to blow a coverage. Don't be scared to take a risk, jump a ball, you know? I tell Pat all the time, 'Do what got you here mixed in with the plays we got.' "
But Brown is still young and still learning, himself. Pippins, Porter, safety Sulaiman Hameed and the other young defensive backs will ultimately have to learn the same way Brown did: through experience.
"Pat's going to have to go through the same thing and actually experience game day in Martin Stadium or wherever we're talking. Game day in Seattle," Breske said. "He's got to go through that. You can hear everything, but you have to go through it."
Poor air quality caused by nearby wildfires forced the Cougars to leave their fall camp in Lewiston and return to Pullman for to practice in the team's indoor practice facility. The team returned to Lewiston after practice and coach Mike Leach said that he hopes the team can resume practicing at Sacajawea Junior High for the final two days of fall camp.
Local journalism is essential.
Give directly to The Spokesman-Review's Northwest Passages community forums series -- which helps to offset the costs of several reporter and editor positions at the newspaper -- by using the easy options below. Gifts processed in this system are not tax deductible, but are predominately used to help meet the local financial requirements needed to receive national matching-grant funds.
Subscribe to the sports newsletter
Get the day's top sports headlines and breaking news delivered to your inbox by subscribing here.
---