Cougars linebacker Cyrus Coen improving in pass defense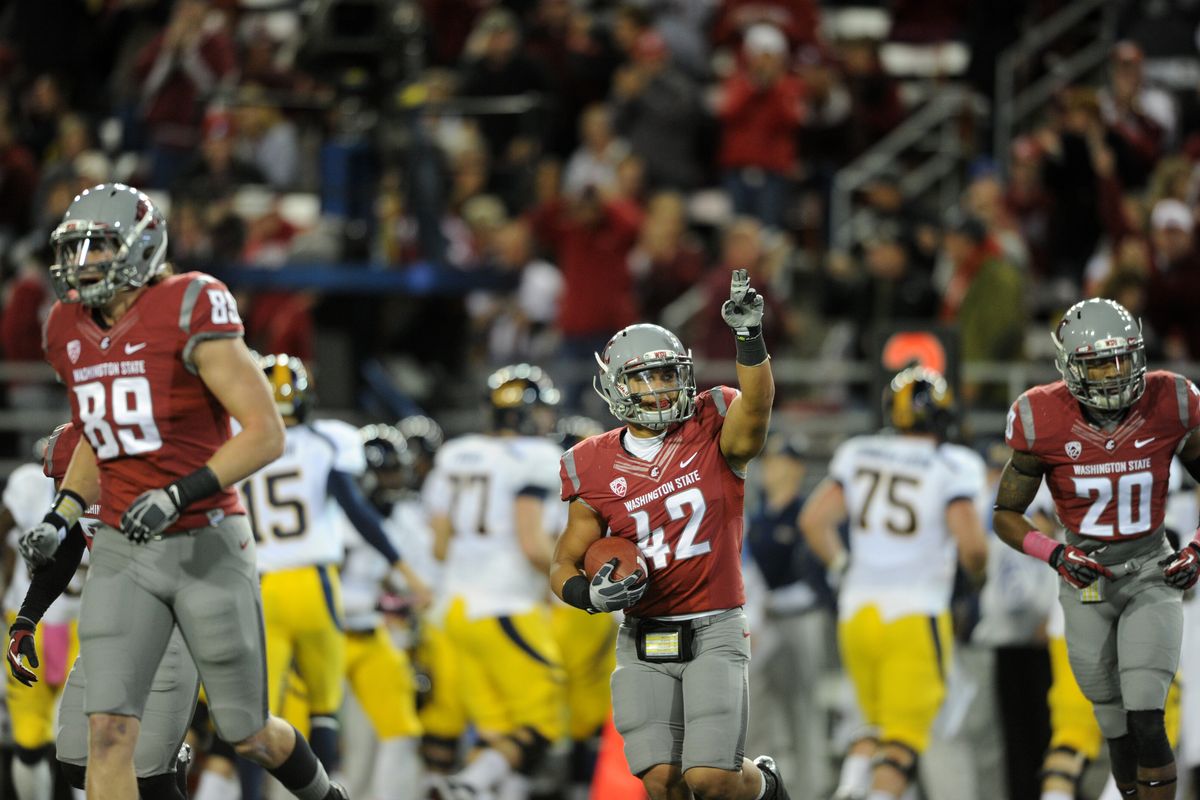 LEWISTON – Cyrus Coen says he can't wait to face opposing offenses. Washington State's quarterbacks are probably ready for him to make someone else's life harder, too. You wouldn't believe it to watch WSU's fall camp but pass coverage used to be a weakness for Coen.
"That was kind of the knock on him," said coach Mike Leach of the Sam linebacker from Pearl City, Hawaii.
At some point this offseason, Coen turned that disadvantage into a strength. Facing four receivers while defending WSU's Air Raid offense likely helped.
In 22 career starts the former walk-on has made three interceptions. None of them came last season, despite starting 10 games at Sam, the linebacker position most often asked to drop back into coverage. Coen has likely produced double that number since the Cougars started fall camp on Aug. 2, and has made three interceptions in live situations, including an end zone interception of starter Connor Halliday during a formal scrimmage.
"I've definitely been working at it," Coen said. "Seven-on-seven all summer, been watching a lot of film all summer. Coverage has been a big part of my summer."
Coen made 60 tackles for the Cougars last season, the fourth-most on the team. During the summer he was named to the inaugural 40-man watch list for the Polynesian College Football Player of the Year award. At 6-foot, 208 pounds, he is the smallest player in WSU's defensive front seven and he's only gotten smaller since playing at 213 pounds as a sophomore. He isn't going to stifle receivers or shut down passing lanes with his length, and he's not a guy who can easily see past the battling linemen to read a quarterback's eyes.
"I don't know if he's that fast, either," Leach said. "He's just kind of an instinctive guy and it means a lot to him to play well. I think he works hard at it and I think the more time he's put in he's become really good at executing his assignment."
Some of Coen's success can be attributed to a linebacking corps that is playing in sync with a lot of snaps together under its belt. Darryl Monroe, Kache Palacio and Tana Pritchard were all starters by the end of last season, and that trust to cover for one another allows Coen to go for the big play at times.
At the very least that experience has given the entire linebacking corps a better understanding of opposing offenses.
"Certainly with him, Tana, Darryl and Kache that have played a lot of football together now, there is certainly better communication," linebackers coach Ken Wilson said. "They're not worried about the defensive call as much. More about what the offense is doing, what are the splits, where the running back is, dissecting some of that stuff better whereas last year they were just trying to get each other lined up."
A lot of what Coen is doing differently happens before the snap. He isn't necessarily faster than he used to be or better at breaking on the ball when it's in the air. But because of the time spent in the film room this summer Coen is more frequently in the right place to make a play.
"I think he's putting himself in better positions to get interceptions," Wilson said. "Some of it is the quarterback's reads and him getting in better positions, and the pressure our defensive line's getting on our quarterbacks. So, it's a combination of things but he's certainly producing and that's good to see."
---