Sports
Cougar linebackers refine communication
Tue., Aug. 19, 2014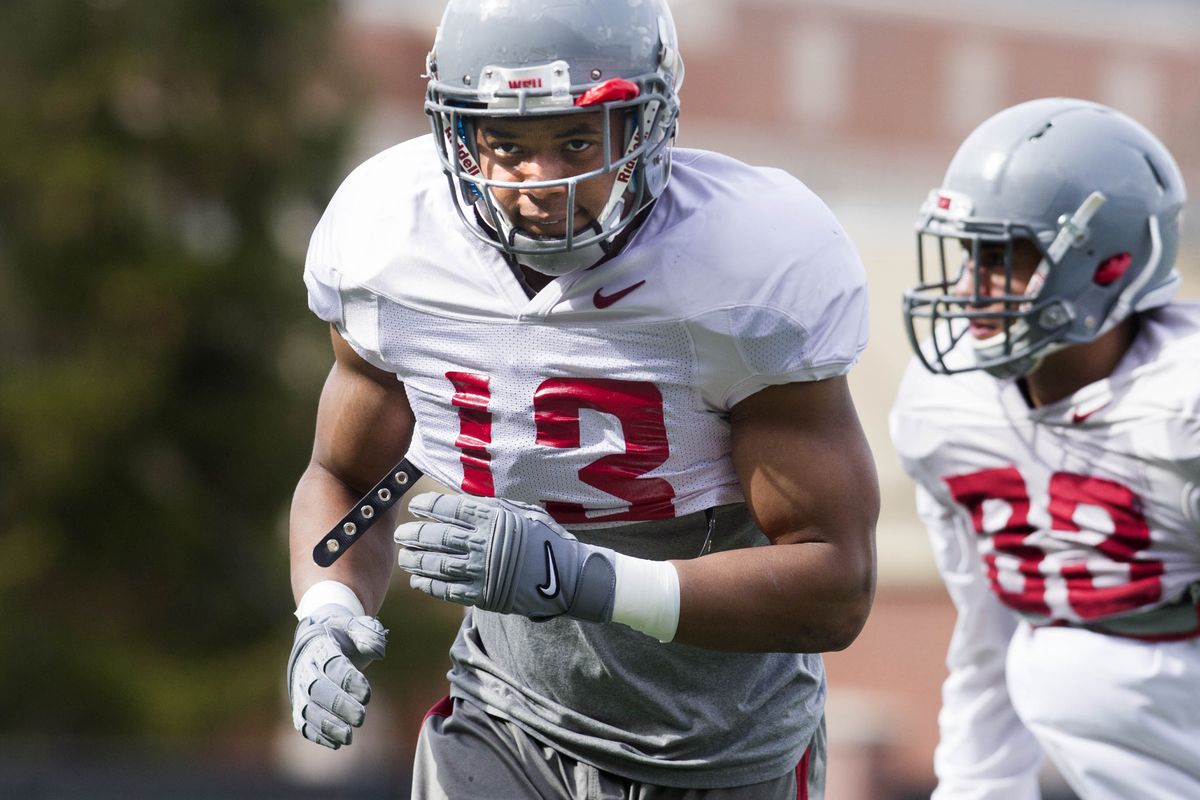 Darryl Monroe dean of LBs. (Tyler Tjomsland)
PULLMAN – Washington State made an organizational change to its linebacking corps, one that will not change the way the Cougar defense looks this season, but one that coaches hope drastically improves the way it communicates.
They brought the Buck linebackers – hybrid defensive ends who can rush the passer or drop into coverage – into linebacker meetings, completing the unit. Now the Bucks see what the Sam (strong side), Mike (middle) and Will (weak side) linebackers see. That and a returning core of experienced vets have WSU's linebackers communicating better than ever.
"They're not worried about the defensive call as much," linebackers coach Ken Wilson explained. "More about what the offense is doing, what are the splits, where the running back is, dissecting some of that stuff better whereas last year they were just trying to get each other lined up."
With a combined 54 starts under their belt, it's no wonder that Kache Palacio, Darryl Monroe and Cyrus Coen know the ins and outs of each other's games.
"It's come down to just little hand gestures and we already know we're on the same page and stuff," Coen said. "Just a lot of reps together, over the past years we've been having multiple reps with each other so we definitely know each other's tendencies and what we like to do."
The new starter in the unit is Tana Pritchard but he isn't really new at all – he started the final three games of last season, making a career-high eight tackles in the Apple Cup and matching that total in the New Mexico Bowl.
He is learning a new position, however, having made the switch from Sam, a position for someone who is strong in pass coverage, to Will, which is more often involved in the run game.
Pritchard gained weight this offseason to help combat blocks from offensive linemen and the hope is that the extra muscle will give the Cougars a Will that is solid in the run game, and better than usual at defending passes.
Pass coverage used to be a weakness for Coen, but nobody intercepted more passes in fall camp. He had another pick during Monday's practice.
Still, Monroe is the leader of the defense and nobody appears to have improved more this offseason. The Mike linebacker gained 10 pounds in the offseason, and the added muscle has made him a more effective player.
"I feel like everything is a lot easier right now," Monroe said. "Just shedding, getting off blocks is easier. Snatching receivers down is easier. Even like in special teams when we do one-on-one punt drills, just clubbing the guy by, watching him go five yards, I can definitely feel the difference and I love it so I'm just going to keep working and transferring it to game time."
The Cougars even have experience in the depth at linebacker, with guys like Chester Su'a – who has made six starts – and Paris Taylor – a converted safety who is one of the team's biggest hitters – pushing for playing time.
By communicating well and limiting missed assignments the linebackers can take more chances, and Pritchard acknowledged that they talk as a group about the need to be effective on blitzes and in coverage to take some heat off the team's young defensive backs. But with so much returning experience, if the linebackers don't play well it will not be because they weren't on the same page.
"Really it's just fun when you've got everybody on the same level and playing the same way, you can really see how the defense works when the coaches set it up," Monroe said. "It's kind of a bummer when you have some new guys or whatever, or anyone who's just not being on the same level mentally."
Local journalism is essential.
Give directly to The Spokesman-Review's Northwest Passages community forums series -- which helps to offset the costs of several reporter and editor positions at the newspaper -- by using the easy options below. Gifts processed in this system are not tax deductible, but are predominately used to help meet the local financial requirements needed to receive national matching-grant funds.
Subscribe to the sports newsletter
Get the day's top sports headlines and breaking news delivered to your inbox by subscribing here.
---