Cougars see red, fall to Scarlet Knights in Seattle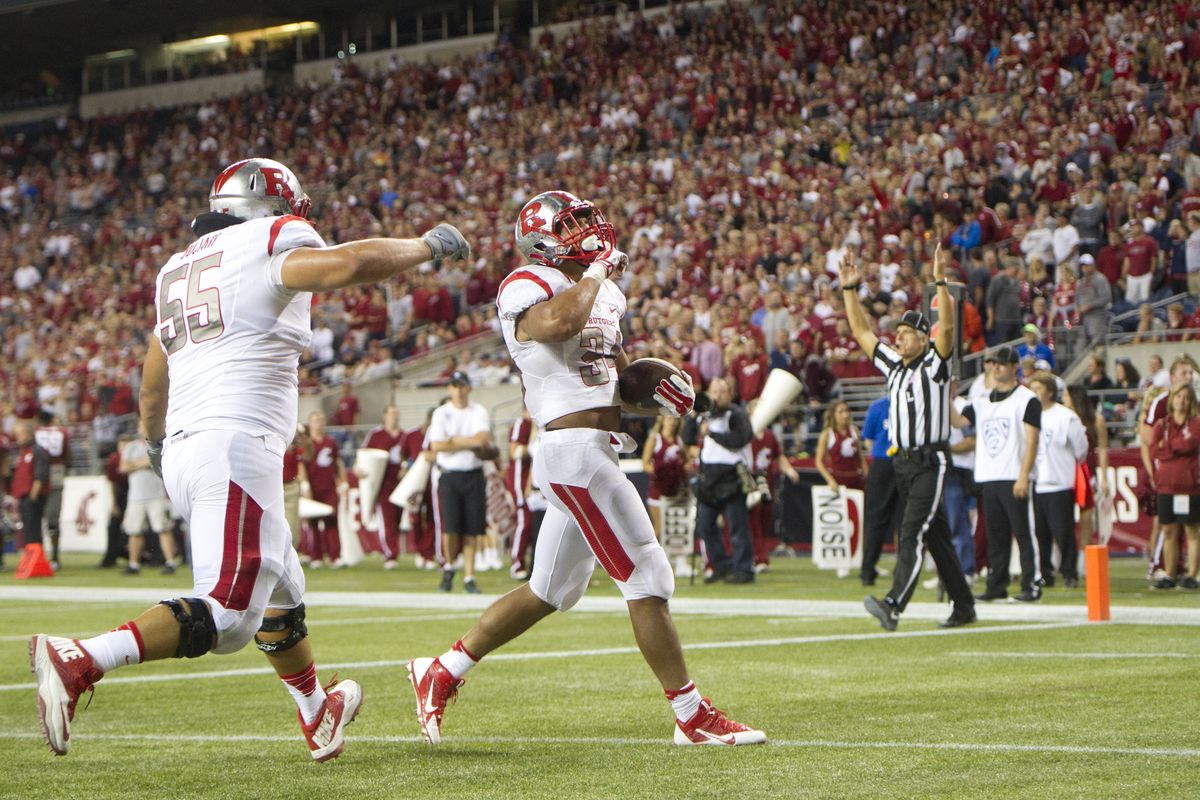 SEATTLE – Washington State played to its strengths on offense in its season opener against Rutgers and that alone would have been more than enough to win. But the Cougars were unable to keep the visitors out of the end zone and when the game was up for grabs in the final minutes it was the Scarlet Knights who emerged with a 41-38 victory in front of 30,927 fans at CenturyLink Field.
Washington State's experience on defense lies in its front seven, and it was the passing defense that entered the season as a question mark.
But the Cougars never established the line of scrimmage defensively and just enough went wrong to mask all that went right.
"There were a lot of very positive things. It's all correctable," Leach said. "For too long around this university, expectations have been too low. It's not going to get changed from the outside. Everybody is going to have 20 pats on the back before they get back to their house. We have to expect more of ourselves and we've got to get more out of ourselves – starting with the coaches."
The Cougars had a chance to win down by a field goal but a sack by Kemoko Turay gave WSU 4th-and-13 with one final shot. Connor Halliday's pass found River Cracraft but three Scarlet Knights converged to knock the ball away from the receiver.
"It was a tough loss. Coach Leach and all our coaches talk about building a legacy," Halliday said. "Well, legacies are born on a drive like that. We got the ball with two minutes and a chance to go win it. We floundered. We worked our butts off in the offseason and during practice, and then we think that because we do that, we deserve to win games. When it's winning time, you've got to go out there and put a drive together."
Rutgers running back Paul James finished with 173 yards and three scores, including a 56-yard touchdown burst. But it was a steady diet of moderate runs by James that kept the Cougars at bay.
It will likely be the final time WSU plays a home game in Seattle, where the Cougars have played one team every year since 2002, with the exception of 2010.
Rutgers quarterback Gary Nova played well when he was needed, completing 16 of 27 passes for 281 yards and two touchdowns, throwing one interception to linebacker Tana Pritchard.
Nursing a 38-34 lead with just over seven minutes left in the fourth quarter the Cougars had a chance to take control of the game. But Cracraft fumbled during a punt return after a hit by Johnathan Aiken, giving the Scarlet Knights the ball at midfield and new offensive life.
Both teams took advantage of the other's inexperienced defensive backs, coming away with big plays and quick scoring drives.
On the first play of the game Rutgers quarterback Gary Nova hit Leonte Carroo, who outran cornerback Tracy Clark and safety Teondray Caldwell 78 yards to the end zone. Clark is a senior but has played little in his career while Caldwell converted to safety from running back just weeks ago.
Entering the game WSU's two biggest question marks were arguably the secondary and whether or not Halliday would revert to his interception-prone ways of early last season. So when converted safety Justin Goodwin, who formerly played running back, intercepted a Halliday pass on the ensuing possession it appeared that the Cougars worst-case scenario was well under way.
But WSU's defense and young secondary kept the Cougars close until Halliday and the receivers could get in a rhythm. The Cougars overcame a 14-3 first-quarter deficit thanks to a number of big plays, but the Scarlet Knights had big plays of their own, as well as a steady ground game that kept drives alive.
The Cougars scored just three points over their first four drives then scored touchdowns on four of their next five.
"I think we squandered a third of the first half getting warmed up on offense," Leach said.
Halliday completed 40 of 56 passes for 532 yards and five touchdowns. Vince Mayle had 12 receptions for 124 yards and a touchdown and Isiah Myers had 94 yards and a pair of scores on six receptions.
"He was nice and calm. It was probably one of the best Connors I've seen," Mayle said. "That was a nice Connor to play with."
With the score tied at 24 in the middle of the third quarter, Dom Williams dropped a 7-yard catch in the end zone and it proved costly when Turay sacked Halliday on the ensuing play. WSU's quarterback came up limping and grimacing, but showed no ill effects after a Rutgers timeout, finding Myers in the back of the end zone to give his team a temporary seven-point lead.
---