Sports
Leach fires defensive coordinator, outside linebackers coach
Mon., Dec. 1, 2014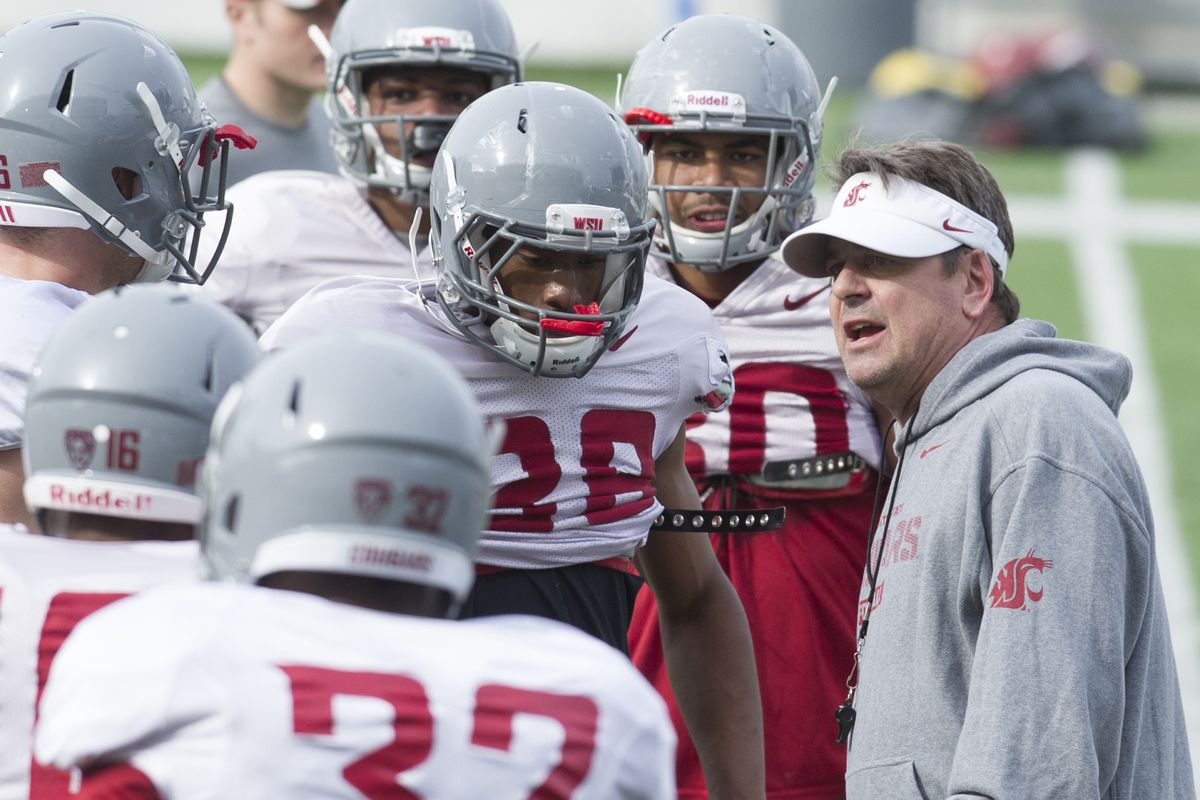 Defensive coordinator Mike Breske was fired after the Cougars finished 10th in the Pac-12 in both scoring defense and total defense. (File photos by TYLER TJOMSLAND)
PULLMAN – The day after Washington State's season of high-scoring losses ended, head football coach Mike Leach dismissed defensive coordinator Mike Breske and outside linebackers coach Paul Volero.
"We decided to make a change and wish them the best," Leach said Sunday night through a spokesman.
Additionally, defensive line coach Joe Salave'a has been given the title of assistant head coach.
WSU lost some shootouts, most notably a 60-59 loss to California at home in which the Golden Bears scored touchdowns on all seven drives in the second half.
Leach often remarked on the team's youth in the secondary as a reason for the team's defensive struggles, but after the season-opening 41-38 loss to Rutgers he said he felt WSU's defensive scheme was too "vanilla."
Three different true freshmen started at cornerback for WSU and two different redshirt freshmen started at safety. But key veterans appeared to regress from last season's level of play. Even when the Cougars would play well on defense – such as the opening drives at Arizona State – it reacted poorly to offensive miscues allowing other teams to bury the Cougars.
"Sometimes we took a step back when we were hit with adversity, a couple times, and it showed," cornerback Daquawn Brown said Saturday after the Cougars lost to Washington 31-13 in the Apple Cup. "We just have to compete when we hit adversity and we didn't do that a lot of the time this year. That's what we've got to work on heading into this offseason, building that killer instinct to step on some teams' throats."
The Cougars finished No. 10 in the conference in scoring defense and total defense, allowing 38.6 points and 442.2 yards per game.
Breske came to WSU in 2012 from Montana where he served as the defensive coordinator. His defenses were known for producing takeaways, and during his first year at WSU the Cougars intercepted 15 passes, the most by a WSU defense since 2006.
Last year, the Cougars were No. 2 in the conference in takeaways with 30. But this season the Cougars were unable to force turnovers and finished with just three interceptions and five fumbles recovered by the defense.
"I felt like last year we had a core group of guys that all had the same goal, just to go out there and just kill, kill, kill," Brown said. "We still had that this year but I feel a lot of the time we were talking about it so much that we weren't doing it and we've just got to work on building that killer instinct."
Volero was also a member of Leach's original staff at WSU.
He previously coached at Central Michigan and then spent two years coaching high school football in Key West, Florida, where he established a rapport with Leach.
Salave'a is considered one of WSU's most effective recruiters and the Cougars' young defensive linemen have drawn consistent praise from the coaching staff.
Salave'a turned down overtures from USC coach Steve Sarkisian, and over the offseason received an annual salary increase from $175,000 to $275,000.
Of the original nine members of Leach's coaching staff, only four are still with the Cougars.
Special teams coordinator Eric Russell was fired earlier this season while Jeff Choate and Eric Morris left for other positions.
Local journalism is essential.
Give directly to The Spokesman-Review's Northwest Passages community forums series -- which helps to offset the costs of several reporter and editor positions at the newspaper -- by using the easy options below. Gifts processed in this system are not tax deductible, but are predominately used to help meet the local financial requirements needed to receive national matching-grant funds.
Subscribe to the sports newsletter
Get the day's top sports headlines and breaking news delivered to your inbox by subscribing here.
---