Sports
Vandals reflect on breakthrough against rival WSU
Thu., Dec. 4, 2014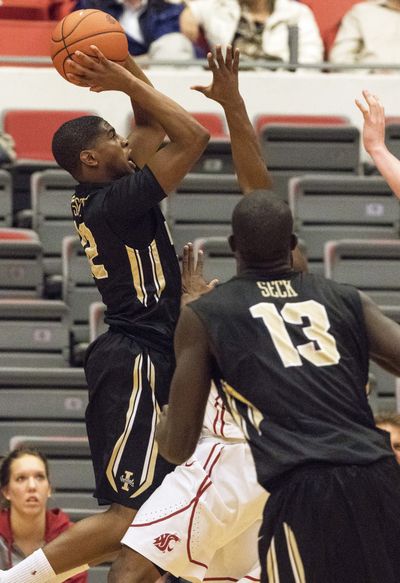 The next time Idaho senior Connor Hill sees his Washington State men's basketball friends around the Palouse, he might be tempted to talk a little trash. In a friendly manner, of course. Idaho and Washington State unofficially scrimmage each other up to three times a week over the summer. For the last four summers, Hill has had to hear the Cougars crow about their annual triumphs in the Battle of the Palouse. Hill, a senior from Post Falls, will now do the crowing. Idaho ended an 11-game losing streak to Washington State with a 77-71 victory Wednesday night win at Beasley Coliseum. It was Idaho's first win over the Cougars in Pullman since 1990. "It means so much to me. It's a great feeling inside," Hill said. "We came up short twice to them by one. It feels good. Especially (since) it's my senior year. There's no better time for it." It was a fitting way for Don Verlin to win his 100th game as Vandals coach. It was his first win over WSU in seven tries since taking over the program in 2008. His players recognized the importance of the rivalry. Idaho's bench was loud and raucous with each clutch shot in the second half. "This is a big game," Verlin said. "If you ask my players who their rival is, they're going to tell you WSU, not Boise State. If you ask our fans, they'll tell you Boise State. We play together all summer long and 8 miles apart. For the first time in six years, we have the bragging rights." Hill sparked a 9-0 run as Idaho's lead grew to as much as 62-48 with 6:46 remaining. The Cougars chipped away at the lead, as they did last season while overcoming a 50-42 deficit to win 67-66 at the Cowan Spectrum. Ike Iroegbu energized the sparse Beasley crowd with a two-handed jam with 12:04 remaining to cut the lead to 52-46. Hill answered with a corner 3-pointer to push the lead back out to 55-46. "I couldn't stop hugging him. I knew it was a big shot," UI guard Mike Scott said. "It means a lot, especially coming in for Verlin's 100th win. This is going in the books. It's something we'll never forget." The win ends a series of heartbreaking affairs for Verlin. In addition to last season's one-point loss, Idaho lost 66-64 to WSU three seasons ago at the Cowan Spectrum. Idaho lost 64-55 the last time out at Beasley. "WSU asked Connor to walk on when we were recruiting him," Verlin said. "It's big for our Seattle guys, too, growing up in Washington. This is big for our program. … to beat a Pac-12 team on the road, a rival team. But our goal is to win the Big Sky championship. We have to keep growing." "I'm happy for our team and for coach," Hill said. "His 100th is great. He deserves it. We deserve it. We've been working hard. I feel like we're young, but we're a good team. We've got great pieces, great guards, great post, people who want to work. I think we're going to a long ways. I like this team, I do." Hill has taken part in 50 of Verlin's 100 wins.
Local journalism is essential.
Give directly to The Spokesman-Review's Northwest Passages community forums series -- which helps to offset the costs of several reporter and editor positions at the newspaper -- by using the easy options below. Gifts processed in this system are not tax deductible, but are predominately used to help meet the local financial requirements needed to receive national matching-grant funds.
Subscribe to the sports newsletter
Get the day's top sports headlines and breaking news delivered to your inbox by subscribing here.
---