News > Obituaries
Obituary: Gage, William Boynton "Billy"
Age 59
Sat., Dec. 6, 2014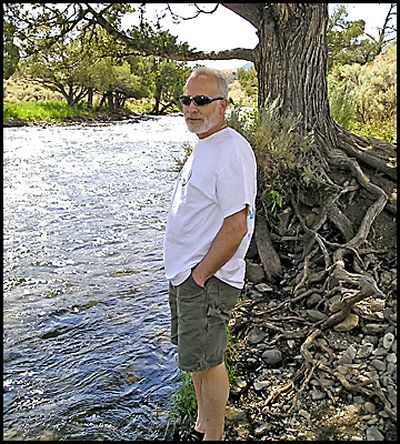 GAGE, William Boynton "Billy" (Age 59) Beloved husband, father and grandfather passed away December 1, 2014 from Alzheimer's Disease.
Bill was a lifelong resident of Spokane, having graduated from Gonzaga Prep in 1974.
He also spent several semesters at WSU before beginning his career as a welder.
Bill was truly an artist and could create anything out of steel.
He worked at his craft until his diagnosis of Alzheimer's at the age of 54.
Bill spent the last 20 months of his life at Whispering Pines Adult Family Home, under the loving and attentive care of owner Heidi Findley.
The family would like to thank Heidi for her tireless dedication to Bill and all the people in her care.
Heidi is truly an angel on Earth.
Bill is survived by his loving wife Sherri, his daughter Charissa Gage and granddaughter Azlynn, his step-son Sean Martin, his sister Susan Lamb and her husband Terry Lamb, his sister Frankie White and her husband Richard White, his brother George Gage of Los Angeles, CA., his sister-in-law Linda Hatton, mother-in-law Patricia Engbretson, father-in-law Donald Trunnels as well as many nieces, nephews and friends.
Bill was full of life and enjoyed spending time with his family and friends.
He was always the center of attention wherever he went.
His hobbies included bowling, DIY projects around the house, riding his motorcycle and just living life to the fullest.
He was loved by all who knew him, and will be deeply missed.
In lieu of flowers, please make donations to the American Alzheimer's Association.
A celebration of life ceremony will be held on April 25th, 2015 at Heritage Funeral Home, followed by a reception at the home.
Local journalism is essential.
Give directly to The Spokesman-Review's Northwest Passages community forums series -- which helps to offset the costs of several reporter and editor positions at the newspaper -- by using the easy options below. Gifts processed in this system are not tax deductible, but are predominately used to help meet the local financial requirements needed to receive national matching-grant funds.
Subscribe to the Coronavirus newsletter
Get the day's latest Coronavirus news delivered to your inbox by subscribing to our newsletter.
---