News > Business
McDonald's to offer customization to boost sales
Tue., Dec. 9, 2014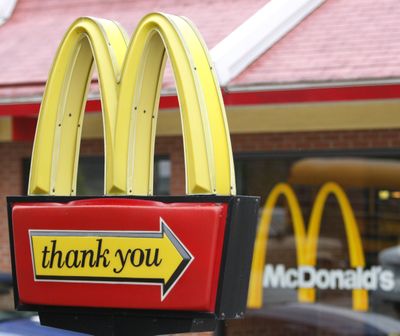 NEW YORK – Hold the pickles, onions and special sauce. The Big Mac is becoming a victim of finicky tastes.
As sales continue to slide in the U.S., McDonald's plans to expand a test that lets people build their own burgers by tapping on a touchscreen to pick the bread, cheese and toppings they want. The company said it will bring the option to 2,000 of its more than 14,000 U.S. locations next year.
The "Create Your Taste" program is a departure for McDonald's, which was built to deliver food consistently, quickly and affordably. That model has come under pressure as people gravitate toward places like Chipotle, which lets people pick what goes on their bowls and burritos as they walk down a line.
According to industry executives and analysts, the ability to customize food orders is becoming more important, particularly among people in their 20s and 30s. McDonald's has already been trying to adjust by installing new kitchen prep tables that can hold more toppings and sauces.
The plans to offer greater customization come as McDonald's fights to boost declining sales and customer traffic. On Monday, it said U.S. sales fell 4.6 percent in November at established locations. The figure fell 4 percent in the unit that includes the Asia-Pacific region, where the company is fighting to recover from a food supplier scandal. Overall, global sales declined 2.2 percent for the month.
In the U.S., CEO Don Thompson has conceded the company hasn't done enough to keep up with shifting habits and that changes are in store.
"We haven't been changing at the same rate as our customers' eating-out expectations," Thompson said in October.
Offering greater customization could be a challenge for McDonald's, however. For "complicated" orders, burgers might take as long as five to seven minutes to prepare, Greg Watson, senior vice president of menu innovation, said in a phone interview. That's more than the couple of minutes it should take for regular orders, he said.
The customized burgers are also more expensive than core items like Big Macs, Watson said. But it's not clear whether people will be willing to wait longer or shell out more money for a burger from McDonald's.
Watson said McDonald's hasn't yet decided on expansion of "Create Your Taste" beyond the 2,000 locations next year. In Australia, McDonald's said earlier this year a customized burger option would be expanded nationally. The locations that have the "Create Your Taste" option still offer the regular menu.
As for the regular menu, McDonald's plans to remove some items "with slower movement" from the national menu in the U.S.
Local journalism is essential.
Give directly to The Spokesman-Review's Northwest Passages community forums series -- which helps to offset the costs of several reporter and editor positions at the newspaper -- by using the easy options below. Gifts processed in this system are not tax deductible, but are predominately used to help meet the local financial requirements needed to receive national matching-grant funds.
Subscribe to the Coronavirus newsletter
Get the day's latest Coronavirus news delivered to your inbox by subscribing to our newsletter.
---