News > Business
Spokane man's app lets fans fund mixed martial arts moves
Tue., Dec. 9, 2014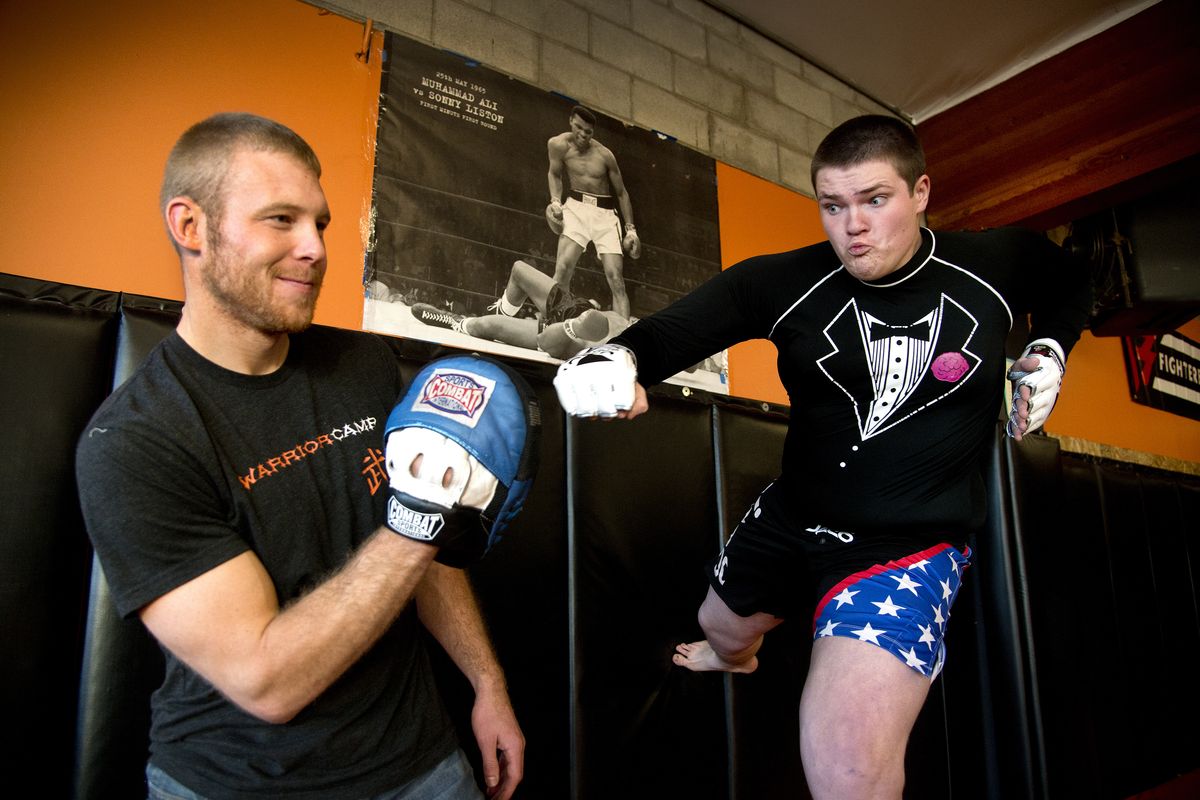 Joel Thomas, left, has developed an app that lets fans of mixed martial arts support and fund a desired move or set of moves to be done by a live-action fighter. Nick Masonholder, right, unsuccessfully tried the "showtime" move last week during competition. (Dan Pelle)
Spokane gym owner Joel Thomas has developed an app that he hopes will dial up more excitement during professional mixed martial arts bouts.
A former pro MMA competitor, Thomas said he's seen too many pro matches turn safe and predictable, lacking the pizazz that fans want to see. In response, he designed the free FighterBonus app to allow fans to collectively offer cash incentives to fighters for trying daring moves during a match.
"Really, MMA is totally about giving fans something to get excited about. The sport is supposed to be entertaining," said Thomas, who owns the Warrior Camp gym.
"In a lot of the professional matches, the two guys are only fighting not to lose," he said.
Thomas retired about six years ago from a two-year career as an MMA professional. He finished with four pro wins and no losses before a shoulder injury ended his career.
Fans who download FighterBonus can use the app to choose from a list of fan-friendly fight moves, such as a flying knee or a spinning back fist. The app user then can contribute "Fighter Bucks" for a particular move, in effect, sponsoring or incentivizing fighters to perform more daring or exotic fight moves, Thomas said.
If a pro MMA fighter does that move successfully, all the pledged money for that move is paid to him. The jackpot for that move then goes back to zero until fans refill it.
The highest jackpot in the app, for now, is a presponsored $10,169 bonus for whoever successfully does the "showtime kick." Only one pro MMA athlete so far has done the move successfully, back in 2010. The move involves running, then planting one's right foot on the side wall of the cage and jumping into a horizontal lunge. The move ends with a kick to the opponent's jaw or head.
Fans can also try to collectively establish a cash "bounty" against a specific MMA fighter.
Justin Rodriguez, one of the fighters training at the Warrior Camp gym in Spokane Valley, said he's used the app to offer more than 100 Fighter Bucks to anyone who can defeat Ronda Rousey, the highest-rated women's MMA pro and a former bronze medalist at the Beijing Olympics.
"I'd just like to see her lose because she's so intense," he said.
Thomas developed the idea over the past five years, after he graduated with a business degree from Central Washington University. He discussed the idea with one of his Spokane martial arts students, Luke Richey, who is CEO of Gravity Jack, a Liberty Lake software development company.
"My jaw dropped," Richey said, when he realized Thomas' app had potential appeal for MMA as well as other pro sports.
The main restriction so far is that the app only offers bonuses to professional MMA fighters. If amateurs received cash rewards, that would violate state laws.
Richey signed up to become the program manager for FighterBonus. He also invested in the company and helped find $100,000 from other investors for marketing and product development.
Richey and Thomas say professional and amateur MMA fighters have been informally using an incentive system for years. Fighters in locker rooms before a bout would taunt and challenge one another to complete some strange and audience-rousing move, Richey said.
"We used to do that a lot," Thomas said. "We knew that if we did something out of the ordinary, something wild, the fans would go crazy."
So far about 1,000 people have downloaded the free app, available for iPhone and Android. He'd like the number to reach 100,000 downloads, which Thomas said is realistic considering MMA is one of the fastest-growing spectator sports worldwide.
To date only two fighters have fulfilled fan-supported FighterBonus incentives, but neither has exceeded the $100 threshold set for payouts. Thomas' company makes money by taking roughly 7 percent of payouts, he said.
A number of his students competed in an amateur MMA match recently in Liberty Lake, and one of them, 18-year-old Nick Masonholder, tried the "showtime kick" against his opponent. Masonholder knew he wouldn't get any money if he pulled it off, but decided to do it anyway.
He made the attempt and fell awkwardly to the mat, and his opponent then landed on him and began pummeling him. Videos of his fail went viral online, usually with the caption "how not to do the showtime kick."
"I like what FighterBonus is trying to do," Masonholder said. "It can only help make the matches more fun. Before last weekend's fight, I asked Joel for advice. And he said, 'Just go out there and give the fans a good show.' So that's why I did what I did."
Local journalism is essential.
Give directly to The Spokesman-Review's Northwest Passages community forums series -- which helps to offset the costs of several reporter and editor positions at the newspaper -- by using the easy options below. Gifts processed in this system are not tax deductible, but are predominately used to help meet the local financial requirements needed to receive national matching-grant funds.
Subscribe now to get breaking news alerts in your email inbox
Get breaking news delivered to your inbox as it happens.
---