A&E > Entertainment
Manito's Gaiser decked out in holiday lights
Fri., Dec. 12, 2014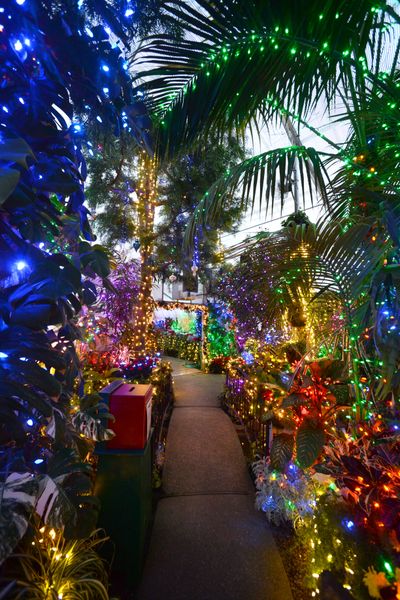 To see the holidays in full bloom, head to the Gaiser Conservatory at Manito Park.
This year's light display starts today and continues through Dec. 21.
Park staff string thousands of lights on the cacti, mums and poinsettias.
"When you first walk in, it's just overwhelming," said Judy Nelson of the Friends of Manito. "It just takes your breath away."
And, this year visitors will get to check out the renovations in the conservatory's center house, just completed last month.
The center house has a new water feature, heated sidewalk, radiant hot water heat and orchid trellis.
Steve Nittolo, city horticulture supervisor, said the new heating is more efficient, more aesethically pleasing and better for the plants. The renovations were largely paid for by a grant of about $175,000 from the Jewett Foundation, along with funds from the city, the Friends of Manito and the Associated Garden Clubs.
Nittolo said planning for the holiday lights display happens throughout the year. Park gardeners were already looking last month at new kinds of poinsettias they might want to grow for next year's event.
"I like the fact that it's different every year," Nittolo said. "We have some very creative gardeners working on it.
The Friends of Manito will host an open house at the Manito meeting room in the building just to the east of the conservatory from 4:30 to 7:30 p.m. Saturday and Sunday. During the open house they will serve cake and beverages and will have cookies for children to decorate. They also will be selling the Manito Park calendars ($15) and poinsettias, if there are any available after the decorations are complete in the conservatory.
Kimberly Lusk
What: Holiday Lights at the Gaiser Conservatory
When: Today through Dec. 21, the conservatory is open 8 a.m. to 7:30 p.m., best viewing is after 3:30
Where: Manito Park, 4 W. 21st Ave.
Details: www.thefriendsofmanito.org
Local journalism is essential.
Give directly to The Spokesman-Review's Northwest Passages community forums series -- which helps to offset the costs of several reporter and editor positions at the newspaper -- by using the easy options below. Gifts processed in this system are not tax deductible, but are predominately used to help meet the local financial requirements needed to receive national matching-grant funds.
Subscribe to the Spokane7 email newsletter
Get the day's top entertainment headlines delivered to your inbox every morning.
---