News > Business
State's e-cycling reflects societal trend to flat-screen TVs
Sat., Dec. 13, 2014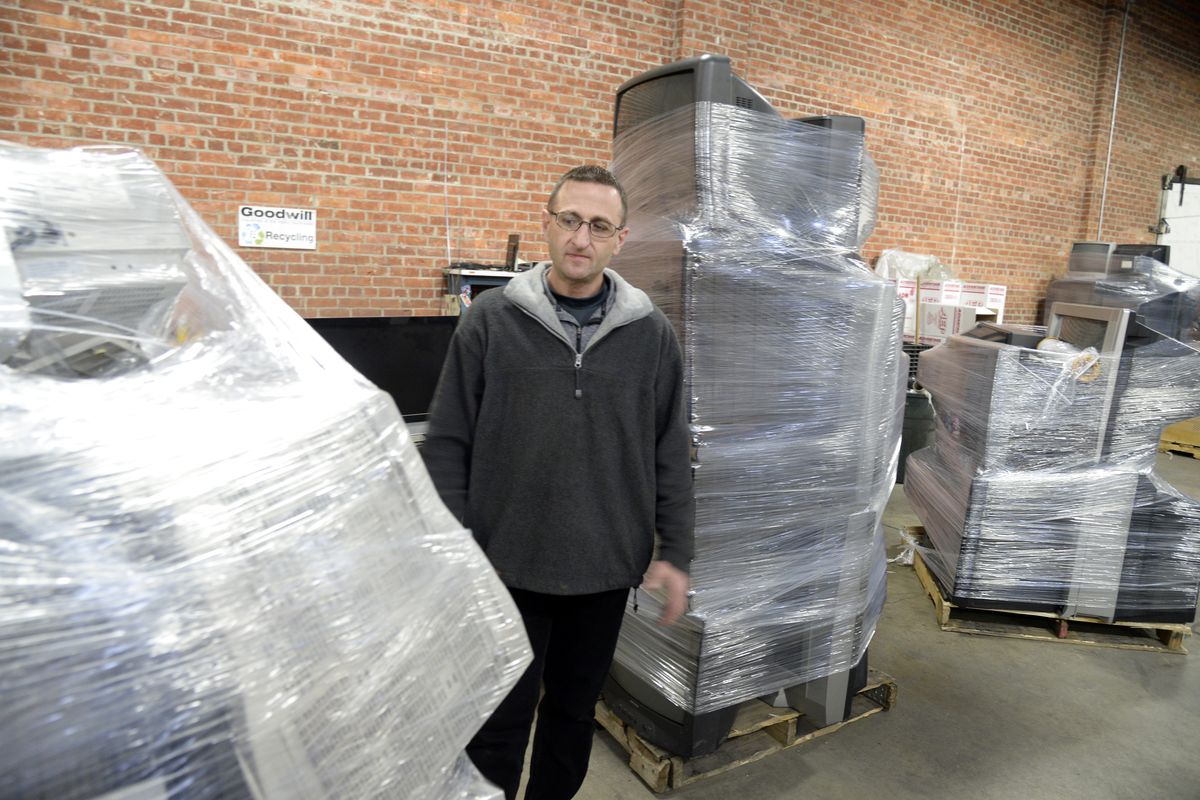 Mike Egeland, of Goodwill Industries, stands among pallets of discarded electronics Thursday at the Goodwill warehouse in Spokane Valley. (Jesse Tinsley)
It's another banner year for recycled television sets across Washington. Managers of the state's free electronics recycling program say TVs are being recycled more often than any other consumer electronic product.
At the same time, two other recyclable items – computers and monitors – are dropping in volume.
Since 2011, the volume of recycled TVs has grown 18 percent, to 560,000 this year from 475,000, according to the state Department of Ecology. This year, about 210,000 computer monitors and 156,000 computers are expected to be recycled, said Miles Kuntz, program manager of the state's E-Cycle effort.
E-Cycle was launched six years ago. It allows free drop-off of electronic items for residents and for businesses that have fewer than 50 employees. More than 300 locations statewide accept electronic waste, including printers, tablets, portable DVD players and e-readers.
The staff at Spokane's Goodwill Industries sees dozens of old TVs dropped off at its area stores. The items go to the nonprofit's Spokane Valley warehouse, and each day Goodwill ships a full truckload of electronic items to Western Washington centers where the products are disassembled.
Transportation Manager Mike Egeland said TVs continue as one of the largest groups of items he sees. "Especially when a big sports event is approaching, we get a big rush of TVs, as people get rid of their old sets," he said.
"People are upgrading TVs all over the place. Some buy a new set every year," he said. Many also want TV sets in multiple rooms and in workshops and garages, he said.
Egeland this week prepared a tall pallet of TVs wrapped in plastic, ready to be shipped to the West Side. In the group was a 50-inch RCA tube TV that weighs nearly 190 pounds. When it was sold, that set was considered near top of the line.
Nobody wants big, old-style TVs anymore, Egeland said.
Goodwill tries to resell working TVs at its stores. But any large pre-HDTV set goes straight to the shipping area, Egeland said. As those TV sets are recycled, companies pull out copper coils, break down the glass and the plastic and sell it to material buyers who make a profit selling to manufacturers.
Leaded glass in TV cathode ray tubes is sent to facilities in the United States and abroad that separate the lead from the glass and reuse it for other products.
Kuntz said the surge in recycled TVs appears tied to the wide availability of affordable HD sets on the market. People also are clearing out older sets they kept during the transition from standard definition to high-definition broadcasting, he said.
Another factor, added Kuntz, is the marketing efforts by electronics manufacturers urging customers to use the state program. Washington operates the e-waste recycling program through fees paid by the manufacturers based on yearly estimates of how many products they sell and total volume of their products ending up at collection sites.
The state distributes money to collectors, like Goodwill Industries, based on the volume of units handled.
Kuntz said more than 98 percent of materials in all electronics collected by the E-Cycle program are recycled. Particle board and wood housing materials in older TVs are hardest to recycle, he said.
He added that the total E-Cycle volume of items may have peaked this year. "This year will be the first year we won't eclipse the previous year's collection mark," he said.
The 2014 total is estimated to be 44 million pounds.
Local journalism is essential.
Give directly to The Spokesman-Review's Northwest Passages community forums series -- which helps to offset the costs of several reporter and editor positions at the newspaper -- by using the easy options below. Gifts processed in this system are not tax deductible, but are predominately used to help meet the local financial requirements needed to receive national matching-grant funds.
Subscribe now to get breaking news alerts in your email inbox
Get breaking news delivered to your inbox as it happens.
---