News > Obituaries
Obituary: Ballinger, Michelle J.
Age 78
Sun., Dec. 14, 2014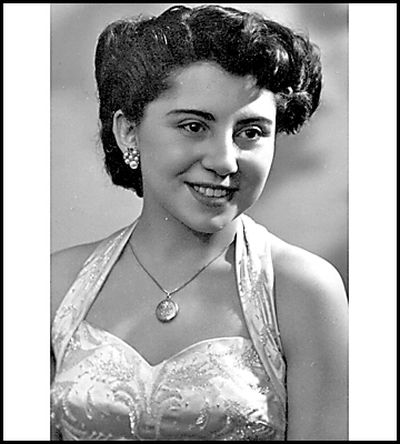 BALLINGER, Michelle J.
(Age 78) Michelle Jane Ballinger (n'ee Michele Jeanne Tutor), passed away December 1, 2014, in Kirkland, WA.
She was born August 30, 1936 in Bordeaux, France, to Michel (n'ee Miguel) Tutor and Odette (Chabrerie) Tutor.
Michelle shared many memories of her childhood, from spending wonderful summers on a relative's farm in Dordogne to surviving the Nazi occupation of Bordeaux.
While proud to share her French heritage, she also shared tragic memories of the persecution of her Jewish neighbors, the bombings, the sirens, and the lack of food and freedom to go about.
Her family lost everything during the war causing her father to take a job in Senegal in 1949.
Michelle and her mother joined him there in 1953.
She loved her time in Dakar.
In 1955, she sailed back to France and began to work as a secretary at the U.S. Army base in Captieux, France.
There she met a young sergeant from Tacoma, Washington, Charles ('Chuck') Ballinger.
They married on August 25, 1956, in her hometown of Bordeaux.
They left for the United States in December, 1958.
Landing in Philadelphia, Michelle thought the U.S. would not be so bad…the buildings were of brick and stone, and people were all about.
However, as they commenced to drive across the country in an old Peugeot to Tacoma, she grew alarmed by the wide open spaces and the wood homes.
Michelle always missed France, but she became a citizen of the United States on August 12, 1963, and she seldom failed to vote thereafter.
In 1964, Michelle, Charles, and their three sons moved to Anchorage, Alaska.
There she worked at the Westward International Hotel.
She loved her job there during a time when many international flights had to stop in Anchorage to refuel and change crews.
She became a popular hostess with the international crews staying at the hotel, and interacted with many famous people including, Lady Bird Johnson (whom she liked) and Steve McQueen (whom she did not).
In 1974, the family moved to Spokane, Washington.
She became the manager of the Coffee Shop at the Davenport Hotel.
She shared stories of meeting Louis Armstrong and Jack Benny there.
Michelle was a born salesperson, and she was quite successful as the Estee Lauder representative at the Bon Marche, her French accent definitely did not hurt sales.
In 2009, declining health led her to move to Kirkland, Washington, to be close to two of her sons.
Michelle is survived by her sons and daughters-in-law: Philip and Kathryn of Kirkland, WA, Steven and Bonnee of Spokane, WA, and Gregory and Jeannette of Kent, WA.
She is also survived by four grandchildren: Cara, Brittney, James and Marc; and one great-grandchild, Piper.
Finally, she is survived by her dear sister Marie Jose Lestage of Bordeaux, France, as well as by her nephew and cousins there.
Upon learning of her impending death, Michelle simply said, "C'est la vie."
Know that she was loved and will be missed.
A Memorial Service will be held in Kirkland.
Local journalism is essential.
Give directly to The Spokesman-Review's Northwest Passages community forums series -- which helps to offset the costs of several reporter and editor positions at the newspaper -- by using the easy options below. Gifts processed in this system are not tax deductible, but are predominately used to help meet the local financial requirements needed to receive national matching-grant funds.
Subscribe to the Coronavirus newsletter
Get the day's latest Coronavirus news delivered to your inbox by subscribing to our newsletter.
---