Sports
Huskies land school-record three players on AP All-America first team
Wed., Dec. 17, 2014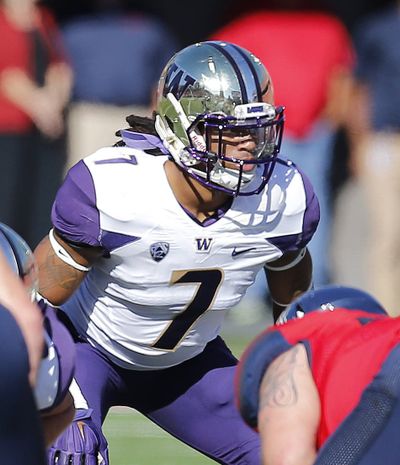 SEATTLE – Shaq Thompson, Danny Shelton and Hau'oli Kikaha walked off the football practice field Tuesday chatting about the history the Washington trio had made.
For the first time in school history, the Huskies placed three players on the Associated Press All-America first team.
"They are special. Probably my first reaction is, they finally got it right," Washington coach Chris Petersen said. "I think these things are so political so often. A lot of these awards go to the best player on the best teams and those type of things, but I think these are three guys that are truly deserving."
The three players selected for the first team tied for the most of any school. Oregon couldn't match that total. Neither could Alabama or Ohio State. The only other school to place three players on the first team was Florida State.
They are the first Washington players selected to the AP first team since wide receiver Reggie Williams in 2002. Washington had never placed more than two on the first team, the last time coming in 1997.
"To be able to be called an All-American with Shaq and Hau'oli is one of the highest achievements and to be able to finish this season with a bowl game is just the cherry on top of a milkshake," Shelton said.
Kikaha's selection was likely the most obvious after he led the country in sacks with 18 during the regular season. Shelton also stood out with 89 tackles and nine sacks playing defensive tackle and facing double teams most of the season.
Thompson was the hardest to pinpoint, which is why it wasn't surprising he was named the all-purpose player. Thompson started the season on defense, switched to being a full-time running back for three games in late October and November, then went back to the defensive side exclusively for the final three games.
Thompson finished with 456 yards rushing, 71 tackles and six total touchdowns, including four defensive scores. The question that remains for Thompson is whether the junior will make himself available for the NFL draft.
Thompson said he has not made a decision yet and will talk with coaches and family after the Huskies play Oklahoma State in the Cactus Bowl on Jan. 2. Thompson reiterated his desire to play on the defensive side in the pros.
"We'll see. I'm just focused on this last game," Thompson said.
Local journalism is essential.
Give directly to The Spokesman-Review's Northwest Passages community forums series -- which helps to offset the costs of several reporter and editor positions at the newspaper -- by using the easy options below. Gifts processed in this system are not tax deductible, but are predominately used to help meet the local financial requirements needed to receive national matching-grant funds.
Subscribe to the sports newsletter
Get the day's top sports headlines and breaking news delivered to your inbox by subscribing here.
---