San Diego GM Preller revamps Padres after series of trades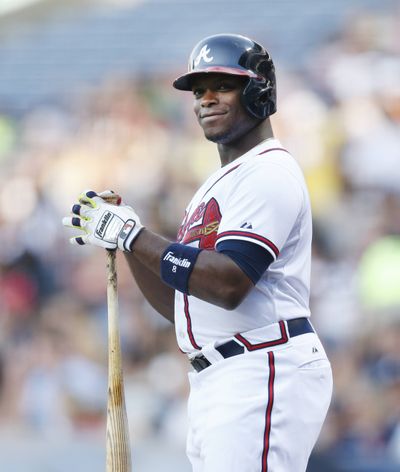 In a dizzying series of trades, new Padres general manager A.J. Preller has revamped the worst offense in the majors by adding Matt Kemp, Wil Myers, Justin Upton, Derek Norris and Will Middlebrooks.
Preller's wheeling and dealing might not be over yet, since he has a surplus of outfielders.
Since Dec. 11, Preller has displayed a win-now attitude by working a five-player deal with division rival Los Angeles to get Kemp; an 11-player deal with Tampa Bay and Washington to get Myers, the 2013 A.L. Rookie of the Year with the Rays; a multiple-player deal with Atlanta for Upton; a four-player trade with Oakland involving Norris; and a straight-up trade with Boston to get Middlebrooks for catcher Ryan Hanigan, who came over from Tampa Bay.
Kemp finished the 2014 season with a .287 average, 25 home runs and 89 RBIs. That deal, agreed to early the morning of Dec. 11 at the winter meetings in San Diego, was finalized Thursday night.
Upton, who will earn $14.5 million in the final year of his contract, had 29 homers and 102 RBIs last season. That deal has yet to be finalized.
Padres President Mike Dee said Preller had the advantage of seeing the Padres for the final two months of 2014.
"He believes this team was competing last year," Dee said. "We were over .500 after the All-Star break. His view was, let's try to keep the core of our pitching staff intact, add some offense and let's make a run with this group and we can compete in 2015."
Preller has managed to retain his top three starters and most top prospects.
The Padres had a historically awful offense in the first half of 2014. They finished at the bottom of the majors with a .226 average, .292 on-base percentage and 535 runs. Their 109 homers were the second fewest in the baseball.
Rollins-to-Dodgers deal finalized
The Phillies have finalized their trade of Jimmy Rollins, sending the All-Star shortstop and $1 million to the Dodgers for right-hander Zach Eflin and left-hander Tom Windle.
Rollins, a three-time All-Star, hit .243 last season with 11 homers, 55 RBIs and 28 steals. The 36-year-old had started 14 consecutive openers for the Phillies.
Yankees send pair to Marlins
The Yankees have acquired pitcher Nathan Eovaldi, outfielder Garrett Jones and minor league pitcher Domingo German from Miami for versatile Martin Prado and pitcher David Phelps.
Eovaldi, a right-hander who turns 25 in February, was 6-14 with a 4.37 ERA last season.
Prado, 31, hit .316 with seven homers and 16 RBIs in 133 at-bats last season. An All-Star in 2010, he plays second, third and the outfield. Prado is owed $11 million in each of the next two seasons, and will collect his second $1 million assignment bonus for being traded.
Royals sign Rios to $11 million deal
Kansas City announced the signing of veteran outfielder Alex Rios to an $11 million, one-year deal that includes a mutual option for the 2016 season.
Rios will make $9.5 million this season. He hit .280 with four homers and 54 RBIs for Texas last season.
The Royals also signed pitcher Kris Medlen, coming off Tommy John surgery, and agreed to terms with pitcher Edinson Volquez.
Cubs, Motte finalize $4.5 million deal
Reliever Jason Motte and the Chicago Cubs have finalized a $4.5 million, one-year contract that allows the former St. Louis closer to earn $2.5 million more in performance bonuses.
Motte was one of baseball's top closers in 2012, when he had 42 saves in 49 chances and helped St. Louis reach the N.L. championship series. The right-hander had elbow-ligament replacement surgery in May 2013 and missed the season. He returned last season and went 1-0 with a 4.68 ERA in 29 games.
Peavy agrees to stay with Giants
Right-hander Jake Peavy agreed to a $24 million, two-year contract to stay with the San Francisco Giants, two people familiar with the negotiations said, speaking on condition of anonymity because the deal had not yet been announced.
San Francisco wasn't expected to make a formal announcement until early next week.
Giants acquire McGehee from Marlins
San Francisco acquired third baseman Casey McGehee from Miami for a pair of right-handed minor league pitchers.
McGehee, 32, hit .287 with four home runs and 76 RBIs for Miami to earn N.L. comeback player of the year honors following a season in Japan.
The reigning World Series champions are sending Kendry Flores and Luis Castillo to the Marlins.
Dodgers end Yanks' payroll streak
The Dodgers have ended the Yankees' 15-year streak as MLB's biggest spenders and owe more than $26.6 million in luxury tax.
The Dodgers finished with a record payroll of $257,283,410, according to final calculations made by Major League Baseball.
For the first time since the current luxury tax began in 2003, the Yankees won't be paying the most.
---