News > Features
Smart Home Project records movement, behavior
Mon., Dec. 22, 2014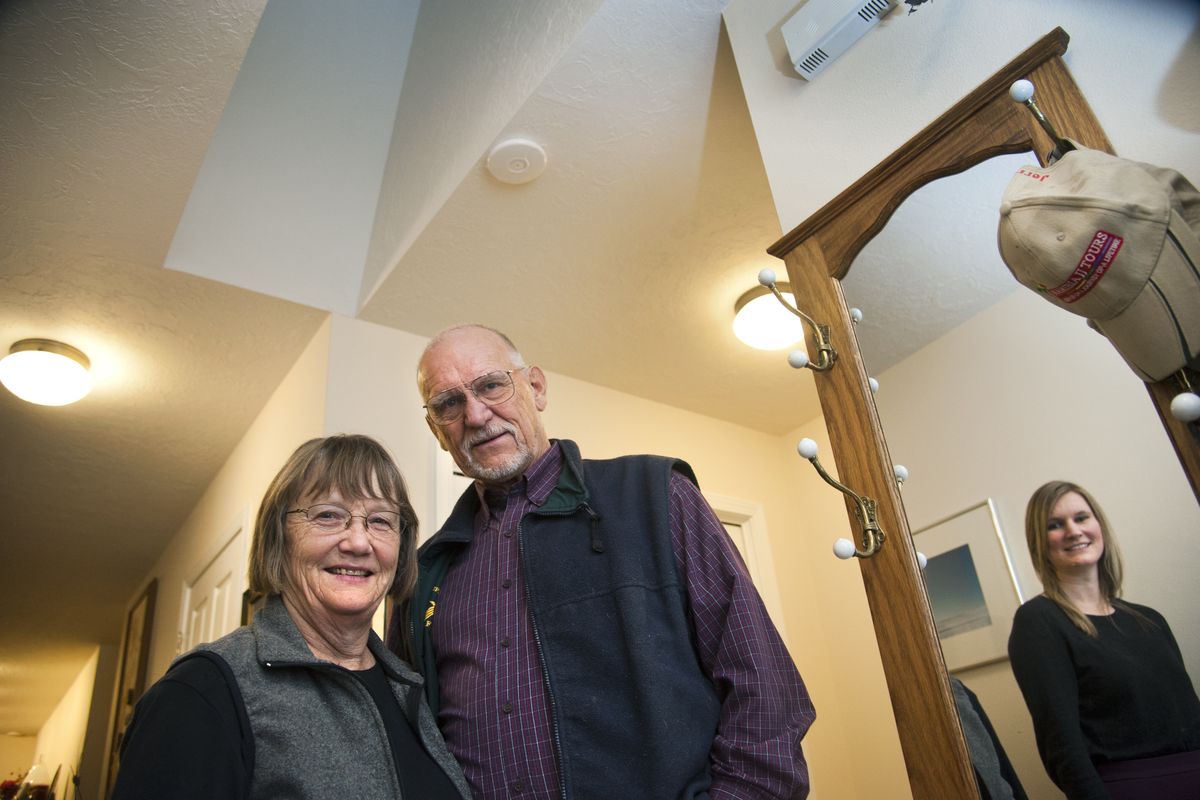 Linda Moulder and Jerry White are participating in a Washington State University project to equip homes with specialized computer sensors (including one directly above White) that will track motion and heat. Alyssa Weakley, right, is a WSU doctorate student working with the couple. (Dan Pelle)
If anyone ever noticed, which is unlikely, it appears that Linda Moulder and Jerry White have smoke detectors in every room and a few other peculiar places – inside the refrigerator, for instance – in their Forest Estates home in Spokane's Rockwood Retirement Community.
Visitors are much more interested in watching April the cat, a voluptuous calico Manx, wait for the automatic cat food dispenser to go off.
Yet to researchers at Washington State University, the 30 or so gadgets on the ceilings and walls are perhaps the future to helping the aging live safely and independently in their homes as long as possible. The technology that can keep tabs on mental and physical well being could also ease the job of caregivers (often adult children who are still working and raising families), perhaps boosting their mental health and decreasing burnout.
This is critically important as the population ages and more people want to remain at home, avoiding nursing homes and other care facilities. By 2030, 1 in 5 Americans will be age 65 or older and have an average life expectancy of 81 years.
The in-home sensors used by WSU researchers detect movement made by residents doing the complex daily tasks of living – bathing, cooking, eating, sleeping, dressing – and relay information to computers that tracks patterns. Some sensors detect if a door opens, others are temperature sensors and some detect vibrations, such as when a pill dispenser is picked up.
"It's nothing fancy and it's easy to install in your home," said Alyssa Weakley, a WSU clinical psychology doctoral candidate, while walking through Moulder and White's house pointing out sensors.
White said he never gives the nondescript white circles stuck to the ceilings and walls a thought.
By tracking everyday behavior over a long period of time, researchers hope to develop intelligent software that can assess and identify changes in health. Ultimately it could assist people suffering from memory loss, Alzheimer's and other dementia disorders, which are increasing in frequency as baby boomers age and live longer but not necessarily healthier.
It's all part of the Smart Home Project being conducted by the Center for Advanced Studies in Adaptive Systems. It's an unusual academic blend of technology engineers and psychologists – two disciplines not known for their collaboration. But project leaders Maureen Schmitter-Edgecombe, a clinical neuropsychologist, and Diane Cook of WSU's School of Electrical Engineering and Computer Science, agree more collaboration is needed to blend technology and the science of aging together to help people live better and more independently as they age.
Much technology already exists – your cellphone, tablet or Xbox have many monitoring and sensor capabilities – it's just about figuring out the monitoring needs and then creating software to make it happen.
"If we really need activity monitoring to ensure well-being we don't want it to stop when you leave the home," Cook said.
In November, Weakley presented the concept of the Smart Home Project to top academics and health care experts at The Gerontological Society of America's Annual Scientific Meeting in Washington, D.C. The symposium included other researchers working on in-home technologies to help people age in place.
"The potential of smart technology is huge," Weakley told the audience, adding that WSU isn't just collecting passive data. Her team wants to develop algorithms that can detect changes in patterns of daily activity and alert either the resident or caregiver.
The sensors "could intervene and prompt a person to take their medication," she said, adding that monitoring could eventually include prompts to eat or exercise.
The beauty of the technology is it's noninvasive, nonintrusive and continual. It removes the bias of self-reporting, and the hope is that eventually such monitoring could alert people to changes in their cognitive functioning long before they or family and friends notice, leading to earlier intervention.
The technology is also becoming less expensive each year. Currently WSU has a "Smart Home in a Box" for volunteers that includes the sensors, computer and network equipment all in a carton the size of a printer. It takes about 30 minutes to install.
Moulder and White volunteered six months ago to turn their house into one of the couple dozen test homes in the Spokane and Seattle area. There is also a test apartment near the Pullman campus where volunteers undergo observation while performing basic every-day tasks such as cooking lunch or watering plants. Researchers are always looking for volunteers to participate in memory and aging research.
"We're biologists," Moulder, 70, said in explanation of why they volunteered to help the research that at this point isn't benefitting them directly except for two annual cognitive and physical health exams and a monthly call by researches to ensure there aren't any health changes. In fact, neither Moulder nor White, who both are Eastern Washington University retirees, don't even really know the exact purpose of the sensors and the research other than it could help people in the future.
Schmitter-Edgecombe said the huge increase in the number of older people is unprecedented, and as technology is here to stay, it makes sense to combine it with helping people live independently.
"If we don't figure out innovative ways to address the aging population and health care, economists say we aren't even able to build enough nursing homes," she said. "We're just trying to use technology to help older adults."
Erica Curless wrote this article with support from the Journalists in Aging Fellows Program of the Gerontological Society of America and New America Media, sponsored by AARP.
Local journalism is essential.
Give directly to The Spokesman-Review's Northwest Passages community forums series -- which helps to offset the costs of several reporter and editor positions at the newspaper -- by using the easy options below. Gifts processed in this system are not tax deductible, but are predominately used to help meet the local financial requirements needed to receive national matching-grant funds.
Subscribe now to get breaking news alerts in your email inbox
Get breaking news delivered to your inbox as it happens.
---