News > Obituaries
Obituary: Olsen, Lillian
Age 102
Tue., Dec. 23, 2014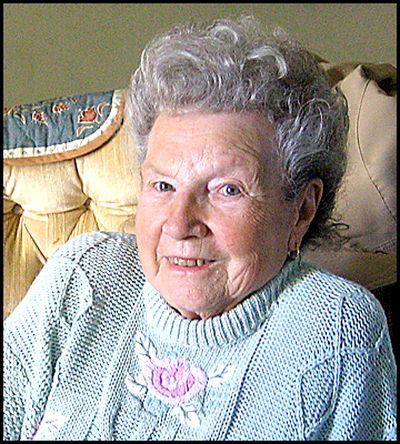 OLSEN, Lillian (01/27/1912 - 12/15/2014) OLSEN (Kist), Lillian Marie (Age 102) was taken from this earth peacefully and gently in our Lord's arms on December 15, 2014.
She was born in Steele, North Dakota on January 27, 1912 and was a Spokane resident since 1948.
She married Oscar Olsen in 1952.
He passed away in 1996.
They are now slow dancing in Heaven!
Lillian outlived her entire immediate family: parents Fred and Caroline Kist and six siblings (Fred, Hilda, Eddie, Leona (Pat), Elmer, Vernon (Jimmy).
She will be missed by all, but especially Clementine Kist (sister-in-law/wife of Elmer); Kathy (Wayne) Jacobsen (niece); Michael Larsen (John Thomas) (great-nephew); Susan Larsen (great-niece); special family friends Dee/Randy Belcher; her Redeemer Church family; staff at Guardian Angel; and basically by everyone who ever had the pleasure of meeting this wonderful woman.
We love you Lillian!
A Funeral Service will be held, TODAY, Tuesday, December 23, 11:00 am at Redeemer Lutheran Church, 3606 S. Schafer Rd (97206) with luncheon to follow.
Burial is at 2:00 pm at Pines Cemetery, 16th Ave/S.
Pines Rd.
(near the Mausoleum).
Remembrances to Redeemer Lutheran Church Children's Ministry; Salvation Army; or Union Gospel Mission-Lillian's favorite non-profits.
Please visit the memorial website for Lillian at www.hazenjaegervalley.com to leave online dedications and tributes.
These will be printed for the family.
Local journalism is essential.
Give directly to The Spokesman-Review's Northwest Passages community forums series -- which helps to offset the costs of several reporter and editor positions at the newspaper -- by using the easy options below. Gifts processed in this system are not tax deductible, but are predominately used to help meet the local financial requirements needed to receive national matching-grant funds.
Subscribe to the Coronavirus newsletter
Get the day's latest Coronavirus news delivered to your inbox by subscribing to our newsletter.
---