News > Nation/World
House GOP blames water rules for drought
Bill would undo protections for fish
Thu., Feb. 6, 2014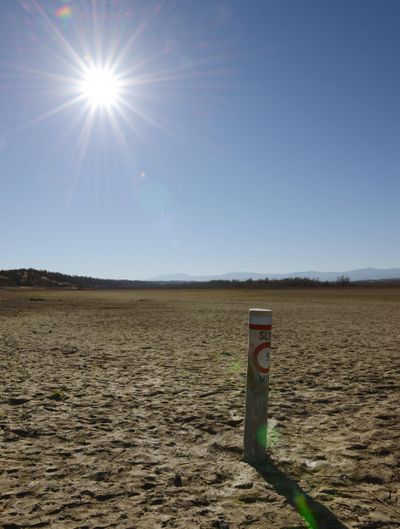 WASHINGTON – The Republican-controlled House passed legislation Wednesday billed as a response to the California drought, but the measure is unlikely to go further in the face of a White House veto threat and opposition from the state's Democratic senators.
Still, the action highlights the growing interest on Capitol Hill in trying to do something about the water shortage, a potentially hot issue in this year's elections. Democratic lawmakers are calling for hearings and hurriedly drafting legislation of their own.
The House bill would, among other things, roll back environmental protections and halt restoration of a dried-up stretch of the San Joaquin River that is designed to revive salmon runs. It was approved on a largely party-line 229-191 vote.
Republicans blamed Washington policies for the water shortage, bringing photos of fish to the House floor to argue that fish were being put ahead of farmers.
"We have listened to the environmental left for 40 years, and this is where it's gotten us," said Rep. Tom McClintock, R-Calif.
Democrats responded by saying that the problem is lack of rain.
"It would be more productive for this body to join in a rain dance on the floor today than to pass this bill," said Rep. Mike Thompson, D-Calif. Rep. John Garamendi, D-Calif., warned that the measure would set off a new water war, saying it "steals what little water there is available" from some and allocates it to others.
Democratic Sens. Dianne Feinstein and Barbara Boxer have branded the bill political gamesmanship, and Gov. Jerry Brown has said it "falsely suggests the promise of water relief when that is simply not possible given the scarcity of water supplies."
Feinstein and Boxer are drafting their own drought-relief measure.
The House bill was sponsored by all 15 California GOP congressmen.
Environmental groups decried the measure as a "wholesale assault on California's environment, native fisheries, and the thousands of jobs that depend on healthy fisheries and rivers, while providing no durable solutions to effectively addressing California's water needs."
Local journalism is essential.
Give directly to The Spokesman-Review's Northwest Passages community forums series -- which helps to offset the costs of several reporter and editor positions at the newspaper -- by using the easy options below. Gifts processed in this system are not tax deductible, but are predominately used to help meet the local financial requirements needed to receive national matching-grant funds.
Subscribe to the Coronavirus newsletter
Get the day's latest Coronavirus news delivered to your inbox by subscribing to our newsletter.
---