News > Obituaries
Obituary: Eckhart, Carol Maureen (Doane)
Age 85
Sun., Feb. 9, 2014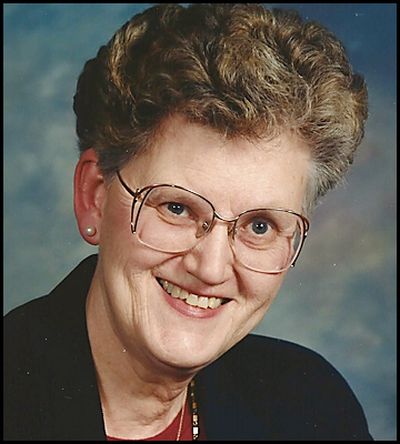 ECKHART, Carol Maureen (Doane) (Age 85) Born January 2, 1929, in Wilbur, WA, youngest child of Maurice Jasper Doane and Tillie Evers Doane.
Grew up in Govan, WA, graduated from Wilbur High School in 1947 and worked as bookkeeper until 1953.
Passed away January 29, 2014, Spokane, WA.
Married Henry (Hank) G. Eckhart on May 16, 1953 in Wilbur and moved to the family farm by Almira for 14 years until 1967 when they moved to the family farm north of Bonner's Ferry, ID., for four years, before retiring for four years and then moved in 1974 to the present farm on Wild Rose Prairie, Deer Park, WA.
For a period of time she moved into Deer Park , but moved back to the farm in 2005 up to her death.
She belonged to the Order of the Eastern Star starting in 1955 when she joined the Evening Star #108 Chapter in Almira.
After moving to Deer Park, she was affiliated with the Bethlehem Chapter #87 in 1976.
She served as Worthy Matron in 1980 and 1990, was a Past Deputy Instructor and a Past Grand Representative of Mississippi.
She became a life member of 59 years with dual memberships with both chapters up to her death.
She was also a member of the Half Moon Grange #907 since 1975.
She belonged to the United Methodist Church in Deer Park and the last eight years she belonged to the Wild Rose Methodist Church where she was the treasurer.
She was preceded in death by her husband, Henry; her brother, Russell Doane; and her sister, Joyce Doane Davis.
She is survived by her brother, Bruce Doane of Moxee, WA; two sons, H.C.
Dusty Eckhart, wife Sally, son Christopher, wife Samantha and daughters Eva and Allison; Andrew Eckhart, wife Valerie, son Brian, wife Karrissa, daughter Carie (Eckhart) Thomson, husband Joshua and son Tucker; and numerous nieces and nephews.
Memorial may be made to, Shriners Hospital for Children, Office of Development, PO Box 2472, Spokane, WA 99210-2472.
United Methodist Church, 113 E 2nd St, Deer Park, WA 99006.
Wild Rose Methodist Church, C/O Charlotte Yingst, 6312 W Wild Rose Rd, Deer Park, WA 99006.
A Funeral services will be held on Monday, February 10, 2014 at the Deer Park Methodist Church at 113 E 2nd street, Deer Park, Interment will be held on February 12, 2014 at 11:00 a.m. at the Almira Cemetery.
Please visit www.stratefuneralhome.com to sign the online guest book.
Strate Funeral Home of Davenport, WA is caring for the family.
Local journalism is essential.
Give directly to The Spokesman-Review's Northwest Passages community forums series -- which helps to offset the costs of several reporter and editor positions at the newspaper -- by using the easy options below. Gifts processed in this system are not tax deductible, but are predominately used to help meet the local financial requirements needed to receive national matching-grant funds.
Subscribe to the Coronavirus newsletter
Get the day's latest Coronavirus news delivered to your inbox by subscribing to our newsletter.
---