News > Obituaries
Obituary: Link, Robert C. "Bob"
Age 83
Sun., Feb. 9, 2014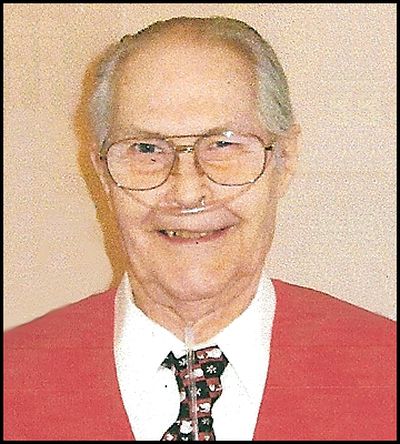 LINK, Robert C. "Bob" (Age 83) Bob passed away on February 6, 2014 in Spokane, WA.
He was born on December 7, 1930 in Alpine, CA., and was raised in Spokane from the age of 2.
He attended school at St. Francis Assisi and graduated from Mead High School in 1950.
Bob attended Whitworth College 1950-1951, where he played football and track.
He married Dian Schaeffer and had five children: Linda (Tom) Everett of Newport, WA, John (Cammie) Link of Palm Desert, CA, Betty (Stephen) Bannigan of Carlsbad, CA, Kathi (Dan) Ryoppy of Idaho, and Thomas Link of Spokane.
Bob joined the Navy in 1952 and was discharged in 1954.
He was employed with the Post Office in 1960 and retired in 1995.
Bob married Doris Steadman in 1979.
He is survived by his children named above; as well as his step-children, Rod Steadman, Kimberley Cook of Rocklin, CA; his brothers, William (Janice) Link of Vancouver, WA, and Pat (Rosemarie) Link of Spokane; along with 15 grandchildren and 10 great-grandchildren.
Bob is preceded in death by his parents, Charles and Corinne Link; sister, Francis Davis; and children, Jennifer Rathbun of Overland Park, KS., and Scott Steadman.
Bob loved all sports, played and watched enthusiastically.
Failing health in recent years prohibited him from doing many of the things he loved to do.
He played golf for many years, bowled while working in the post office league and also played softball.
He had a great passion for reading Westerns and loved to travel and spend time with his large stamp collection.
Music became a favorite pastime, specifically ballads and light classical music.
The family gratefully acknowledges the assistance and support from Horizon Hospice and Providence Adult Day Care Center.
Donations to either of these organizations would be greatly appreciated.
Visitation will take place at 11:00 am on Saturday, February 15, 2014 at Heritage Funeral Home followed by a Funeral Service at 12 noon.
Local journalism is essential.
Give directly to The Spokesman-Review's Northwest Passages community forums series -- which helps to offset the costs of several reporter and editor positions at the newspaper -- by using the easy options below. Gifts processed in this system are not tax deductible, but are predominately used to help meet the local financial requirements needed to receive national matching-grant funds.
Subscribe to the Coronavirus newsletter
Get the day's latest Coronavirus news delivered to your inbox by subscribing to our newsletter.
---