News > Obituaries
Obituary: Streeter, Minnie Carla
Age 87
Sun., Feb. 9, 2014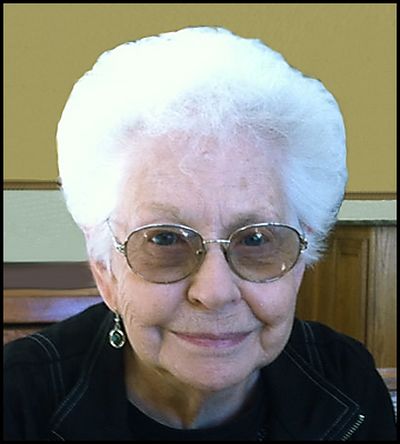 STREETER, Minnie Carla Passed away on February 3, 2014, in Yuma, Arizona spending the winter with her daughter.
She was born on March 2, 1926 in The Silver Valley of Northern Idaho, to Louis and Minnie Nipp.
She was the youngest of six children; her only remaining sibling is Florence Johnson, who is 91.
After graduating high school she received a business degree in Portland, Oregon.
She later returned to Idaho to marry Clarence (Porky) Streeter.
They remained in Idaho to raise their two children.
She was the manager of the Gold Bond Stamp store for many years.
One of her many passions was selling Avon, which she did for 20 plus years.
After they retired they moved to Priest River, Idaho where they lived happily.
After her husband's death she remained active in Priest River up until the last five years when she relocated to Heritage place in Coeur D' Alene while spending her winters in Yuma, Arizona.
She is survived by her children, Sally Hensley-Fuhr and her husband Steve Fuhr; her son Mike Streeter and wife Raylene Streeter.
She is also survived by grandchildren, Wendy and Darren Adams, Kim and Bruce Miller, Chad and Melissa Hensley, and Crystal and Martin Grey; she is also survived by her great-grandchildren, Alexis, Blake, Danny, Bruce, Jayden, Hailey, Brody, Tatum, Elizabeth, Casey, Christopher, Ellis, Cole; and numerous nieces and nephews.
Minnie was truly an amazing, warm hearted, giving woman who's faith in God was unwavering.
Her generosity toward others made imprints in their hearts and lives.
Her devotion to her family and friends was beyond words.
She was undoubtably a remarkable, loving woman who will truly be missed by all.
We love you!
A funeral service will be held Wednesday, February 12, 2014 at 11AM at the Sherman-Knapp Funeral Home in Newport with interment to follow at the Evergreen Cemetery in Priest River, Idaho.
Sherman-Knapp Funeral Home in Newport is in charge of arrangements.
Family and friends are invited to sign the online guest book at sherman-knapp.com
Local journalism is essential.
Give directly to The Spokesman-Review's Northwest Passages community forums series -- which helps to offset the costs of several reporter and editor positions at the newspaper -- by using the easy options below. Gifts processed in this system are not tax deductible, but are predominately used to help meet the local financial requirements needed to receive national matching-grant funds.
Subscribe to the Coronavirus newsletter
Get the day's latest Coronavirus news delivered to your inbox by subscribing to our newsletter.
---