News > Obituaries
Obituary: Worrell, Janice K.
Age -1
Sun., Feb. 9, 2014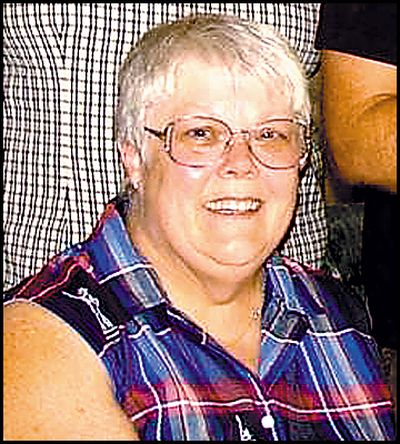 WORRELL, Janice K. (Age 68) On January 30th, 2014 Our Mother, wife and friend, suddenly passed away and returned to her Lord.
Janice was the middle child of three, and is survived by her husband of 35 years, Jerry W. Worrell.
Janice also leaves behind many others, her brothers and their spouses, George and Diana Sparks, and Mark and Donna Jones, with their respective families.
Janice herself has two natural children, Patricia K. Stose and Brian L. Jones, and she gained an extra daughter in Diana, when Brian married.
Janice was blessed with even more children when she and Jerry were wed. Coming to the family was Jennifer J. Nevard and Brian K. Worrell as well as their older brother, the late Robert "Scott" Worrell .
The most affected of all are and will be the grandchildren Janice has left behind.
Dylan, Stephanie, Kari, Skyler and Alexis will forever mourn the loss of their beloved grandmother.
Janice was born in Spokane, WA., on February 1, 1945, the daughter of George Sparks and Arlee "Barbara" Carpenter.
Janice was raised in Spokane and graduated from Rogers High School in 1963.
She was married to the father of her children Gary D. Jones after high school.
She delivered and began to raise her two children and worked as a devoted mother and wife for several years.
After a separation, Janice entered the working world and a short time later found her career with Washington Trust Bank (WTB).
She spent 30 years with WTB, working in different positions and branches around Spokane.
She loved her work and the relationships that she fostered there.
Janice retired from WTB in 2009.
Janice loved her family and was never happier than her summers spent at Priest Lake, ID., with them.
Janice and Jerry blended their families in 1979 and they remained together until her passing on Thursday night January 30, 2014.
The family requests that in lieu of flowers and gifts, please take the opportunity to support a local animal shelter or rescue operation.
Janice loved her animals and would be so proud to know her memory is helping to protect and support the care of local animals.
Local journalism is essential.
Give directly to The Spokesman-Review's Northwest Passages community forums series -- which helps to offset the costs of several reporter and editor positions at the newspaper -- by using the easy options below. Gifts processed in this system are not tax deductible, but are predominately used to help meet the local financial requirements needed to receive national matching-grant funds.
Subscribe to the Coronavirus newsletter
Get the day's latest Coronavirus news delivered to your inbox by subscribing to our newsletter.
---