Sports
Davis aiming for Winter three-peat
Wed., Feb. 12, 2014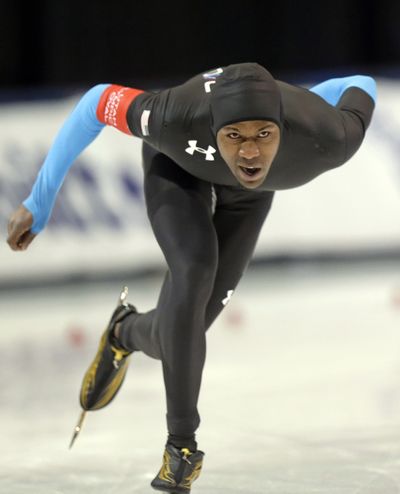 SOCHI, Russia – Shani Davis has won two Olympic gold medals in the speedskating's 1,000 meters, but crossing the finish line quicker than anyone else is as thrilling as ever.
"It's just a tremendous feeling," said Davis. "That's what I strive for. Hopefully I can fill my hunger (today)."
That's when Davis skates the event in Sochi. If he wins gold, he will become the first American man to win the same event in three straight Winter Olympics.
No American in his sport has even come close. Joey Cheek took bronze in 2002 and silver in 2006.
Eric Heiden, whose five gold medals in his second Games in Lake Placid in 1980 are considered the sport's standard, stopped competing shortly afterward.
A win could elevate Davis – whose 57 World Cup medals are 10 shy of the all-time record – as perhaps his sport's greatest competitor.
Two women speedskaters have reached golden glory three times – American Bonnie Blair and Germany's Claudia Pechstein.
"He's going to be there and there's no way you can count him out of anything." Blair said recently of Davis.
Davis has held the world record for almost four years. He is the overwhelming favorite coming in, having won three of four World Cup races as the top-ranked skater in the world.
He says he's never been in better shape, but conceded that there is more pressure in Sochi.
"Defending is always harder than trying to be on the offense," Davis said.
Davis also has two silver medals in the 1,500. Capturing his fifth medal would equal Heiden for most by an American male speedskater. (The most-decorated Winter Olympian is Davis pal and short-track speedskater Apolo Anton Ohno, with eight). Davis and Heiden are the only men to capture world championships in both sprint (500 and 1,000 meters) and all-around (500, 1,500, 5,000 and 10,000 meters).
Local journalism is essential.
Give directly to The Spokesman-Review's Northwest Passages community forums series -- which helps to offset the costs of several reporter and editor positions at the newspaper -- by using the easy options below. Gifts processed in this system are not tax deductible, but are predominately used to help meet the local financial requirements needed to receive national matching-grant funds.
Subscribe to the sports newsletter
Get the day's top sports headlines and breaking news delivered to your inbox by subscribing here.
---