News > Features
Baby's sex affects animals' milk makeup
Studies could provide insight on human lactation
Tue., Feb. 18, 2014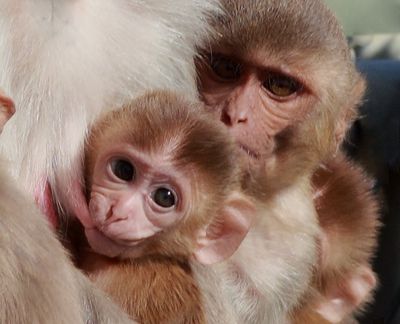 WASHINGTON – A special blend of mother's milk just for girls? New research shows animal moms are customizing their milk in surprising ways depending on whether they have a boy or a girl.
The studies raise questions for human babies, too – about how to choose the donor milk that's used for hospitalized preemies, or whether we should explore gender-specific infant formula.
"There's been this myth that mother's milk is pretty standard," said Harvard University evolutionary biologist Katie Hinde, whose research suggests that's far from true – in monkeys and cows, at least.
Instead, "the biological recipes for sons and daughters may be different," she told a meeting of the American Association for the Advancement of Science on Friday.
There have been few studies of the content of human breast milk, and how it might vary from one birth to the next or even over the course of one baby's growth.
So Hinde studies the milk that rhesus monkey mothers make. The milk is richer in fat when monkeys have male babies, especially when it's mom's first birth, she found.
But they made a lot more milk when they had daughters, Hinde discovered.
She paired with Kansas State University researchers to examine lactation records of nearly 1.5 million Holstein cows. Unlike monkey babies, calves are separated from their mothers early on, meaning any difference should be prenatal.
Sure enough, cows that bore daughters produced about 1.6 percent more milk. Since cows lactate for 305 days, that adds up. More interesting, cows often lactate while pregnant – and those that bore a second daughter in a row produced almost 1,000 more pounds of milk over nearly two years than those that produced only sons, Hinde calculated.
Back to the monkeys – where Hinde found still more differences in the quality of the milk.
Milk produced for monkey daughters contains more calcium, she found. One explanation: Female monkeys' skeletons mature faster than males' do, suggesting they need a bigger infusion of the mineral. Human girls' skeletons mature faster than boys, too, but there haven't been similar studies of calcium in human breast milk, Hinde said.
Mothers' milk even affects babies' behavior, she said. Higher levels of the natural stress hormone cortisol in milk can make infants more nervous and less confident. But boys and girls appear sensitive to the hormone's effects at different ages, her latest monkey research suggests.
What about boy and girl twins? Hinde can't answer; the monkeys she studies seldom have twins.
"It's something highly personalized for that mother and that infant at that time point. That's an exquisite thing."
Because high-quality breast milk is particularly important to the most vulnerable infants, she wonders whether babies in intensive care might fare better with gender-matched donor milk. Then there's the formula question.
"We think it's important – and it's not – to make different deodorants for men and women, and yet we kind of approach formula as though boys and girls have the same developmental priorities," Hinde said.
Local journalism is essential.
Give directly to The Spokesman-Review's Northwest Passages community forums series -- which helps to offset the costs of several reporter and editor positions at the newspaper -- by using the easy options below. Gifts processed in this system are not tax deductible, but are predominately used to help meet the local financial requirements needed to receive national matching-grant funds.
Subscribe to the Coronavirus newsletter
Get the day's latest Coronavirus news delivered to your inbox by subscribing to our newsletter.
---