News > Nation/World
Tiny Alaska Pacific University sends four skiers to Olympics
Wed., Feb. 19, 2014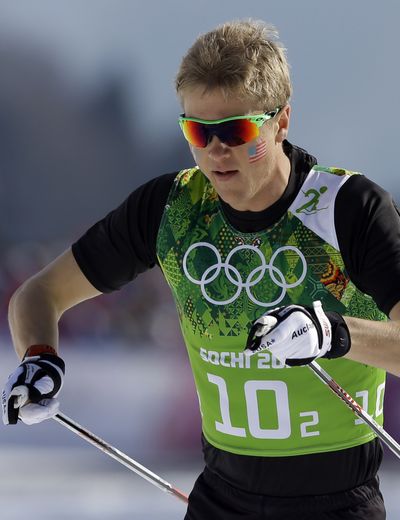 SOCHI, Russia – The campus at Alaska Pacific University isn't quite large enough for a football stadium.
The small liberal arts college near downtown Anchorage has no basketball arena. There is no softball field.
But when it comes to sports, APU offers something almost no other American school can: a glacier.
This body of dense ice – and the promise of long, cold winters – attracts world-class athletes to APU's only sports program, its cross-country squad.
And that makes the school of fewer than 700 students a big deal to the U.S. Olympic cross-country team.
APU accounts for four of the 14 American racers at the Sochi Games. Two of them – including star Kikkan Randall – will compete in the men's and women's team sprints today.
"It's really cool," said Randall, who has excelled on the World Cup circuit but fell short in the women's sprint event in Sochi last week. "We really feel like we're a part of something."
The university consists of a dozen buildings on 170 wooded acres. Cross-country is a club sport, the elite team of 25 students and nonstudents surviving on what university President Don Bantz called "a shoestring budget."
"The fact that we're competing with these superpowers is pretty remarkable," he said.
Bantz was referring to countries such as Norway and Sweden that spend more on ski wax than APU can afford for its Nordic Ski Center. But the school has other resources.
Eagle Glacier is only 40 minutes away by car and helicopter. The team practices there three weeks each summer, logging snow time while racers in other parts of the world make do with running and roller skiing.
The Alaskan winter, often stretching from October to May, provides ample training opportunities the rest of the year.
APU also benefits from having a world-class talent in Randall, who sets an example for teammates, and a coach who transformed the program eight years ago.
As a cross-country skier, Erik Flora made NCAA All-American but never reached his goal of qualifying for the Olympics.
"I made a lot of wrong turns in my career," said the coach, who is in Sochi to help the U.S. team. "My first goal in coaching is to steer athletes in the right direction."
Blending experimental training ideas with a few tricks he learned during a year in Norway, Flora preaches hard work. Lots of it.
Randall figures her workload increased by 30 percent when Flora showed up. The following year, she won her first World Cup medal.
That raised APU's profile and helped Flora, who hasn't yet gotten around to recruiting. He said: "If athletes approach us and are willing to move to Alaska, that's usually the right equation. It's an informal screening."
While Randall climbed the international rankings, Holly Brooks switched from coaching to racing for APU. Sadie and Erik Bjornsen, both former Langlauf champions from Winthrop, Wash., then transferred, one after the other, from an NCAA program at the much larger University of Alaska Anchorage across the street.
"At UAA, the goal was to do well at the NCAAs," Sadie said. "At APU, we all want to race at a higher level."
Instead of competing against other colleges, Flora's athletes spend the late fall and early winter at elite-level events in North America before jumping to Europe for the World Cup circuit.
The university caters to their athletic careers by helping them stay in class over the Internet during race season.
Randall is slowly working toward a degree in business with breaks in between. Sadie Bjornsen, majoring in accounting and business nonprofit management, has been taking two online classes while in Sochi.
Erik Bjornsen will hunch over his computer for a written communications course today, hours before he competes in the team sprint. He will watch the professor give a lecture, then join his schoolmates in discussion.
"It's very interactive," he said. "Very similar to being in the classroom."
The Bjornsens insist that, when not racing, they are very much a part of campus social life. But if you're thinking keggers in the dorm, think again.
"It's Alaska, so we do a lot more outdoor stuff," Sadie said. "That could mean hiking Flattop, the mountain outside of town, at midnight in summer because it's still light out."
The APU racers like to think of themselves as a typical college team, with all the requisite camaraderie. As Randall put it: "We're proud to wear our matching uniforms."
But it seems they lack at least one part of the equation.
When Erik Bjornsen came off the course after the men's 4x10km relay last week – the U.S. finished 11th – he was asked about the school's mascot.
"Um," he said, pausing a moment. "It used to be a Viking, but some people say it's a moose now."
His sister struggled with the same question a day later, after a U.S. training session.
The APU skiers may have put their tiny university on the international Nordic map, but they still don't know what to call themselves.
"We don't really have a mascot," Sadie said, turning toward her coach. "Do we?"
Local journalism is essential.
Give directly to The Spokesman-Review's Northwest Passages community forums series -- which helps to offset the costs of several reporter and editor positions at the newspaper -- by using the easy options below. Gifts processed in this system are not tax deductible, but are predominately used to help meet the local financial requirements needed to receive national matching-grant funds.
Subscribe to the Coronavirus newsletter
Get the day's latest Coronavirus news delivered to your inbox by subscribing to our newsletter.
---
Subscribe and log in to the Spokesman-Review to read and comment on this story