News > Obituaries
Obituary: Godwin, Lila Mae (Kuest)
Sun., Feb. 23, 2014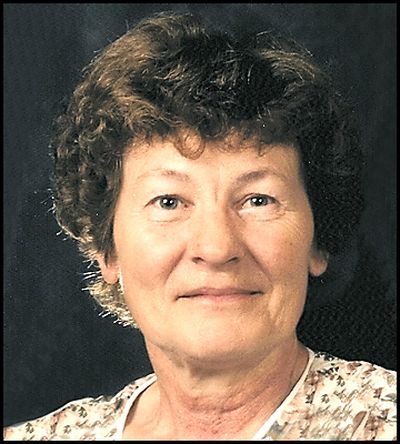 GODWIN, Lila Mae (Kuest) Lila Mae (Kuest) Godwin joined her beloved husband, Curt, in heaven on February 18, 2014.
Lila was born May 4, 1933 in Odessa, Washington, the third of seven children born to Edwin and Lydia (Els) Kuest.
She grew up in Odessa and graduated from Odessa High School.
Lila married the love of her life, James (Curt) Godwin, and together they raised their three children, Sheryl Ann, James (Jim) Curtis Godwin Jr, and Pamela Kay in Spokane, Washington.
Lila held a variety of jobs during her working career; she was a waitress, store clerk, hardware broker, and Office Manager at Inland Monument where she worked with Curt until they retired.
Lila had many hobbies.
She liked to crochet and made many afghans.
She and Curt loved to take road trips (especially to Arkansas for Curt's family reunions), go camping, fishing, and hunting together with their Brittany Spaniel, Duch.
They also liked to spend time at their cabin on Deer Lake.
Lila adored her seven grandchildren and six great-grandchildren.
She spent many happy hours with them and loved to take care of them.
Her living room was filled with toys, love, and laughter.
Lila was preceded in death by her parents; husband, Curt; three brothers (Donald, Loris, and Gary); son, Jim; granddaughter, Beverly Poulliot, and grandson, Jason Godwin.
She is survived by her daughters, Sheryl (Roger) Sussman of Marydel, DE, Pamela (Paul) Bewick of Loon Lake, WA; grandchildren and great-grandchildren, Michelle Poulliot, FL, Daymon, Samantha, and Curtis Owen, MN, Elijah Godwin Akron, OH, Martelia Godwin, Tunstin, CA, Audra (Russell) Andrea, Alexia, and Ryan Hess Spokane Valley, WA, Glenn (Cinnamon) Bewick and Jayden Brown Otis Orchards, WA.
Visitation will be Monday, February 24, 2014 between 4:00 and 8:00 pm at Hazen & Jaeger Valley Funeral Home, 1306 N. Pines Road, Spokane Valley, WA.
A Funeral Service will take place Tuesday, February 25, 2014 at 12:30 pm at Heritage Funeral Home Chapel, 508 N. Government Way, Spokane, WA.
Local journalism is essential.
Give directly to The Spokesman-Review's Northwest Passages community forums series -- which helps to offset the costs of several reporter and editor positions at the newspaper -- by using the easy options below. Gifts processed in this system are not tax deductible, but are predominately used to help meet the local financial requirements needed to receive national matching-grant funds.
Subscribe to the Coronavirus newsletter
Get the day's latest Coronavirus news delivered to your inbox by subscribing to our newsletter.
---