Sports
Perennial champs
Deer Park earns sixth championship in seven years
Sun., Feb. 23, 2014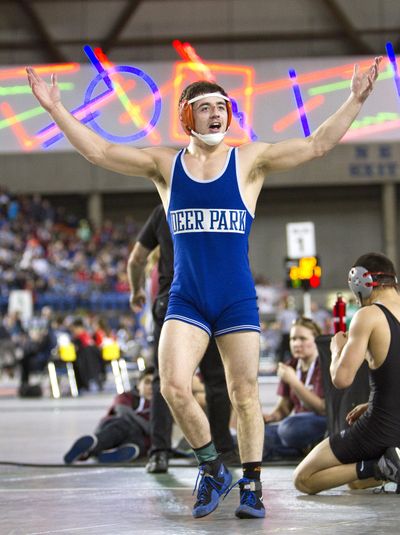 TACOMA – Asking Deer Park coach Matt Jorgensen which State 2A wrestling championship he likes is akin to asking a mother which child she likes best.
Jorgensen's Stags captured their sixth title in seven years, and it came down to the final match.
Sophomore Trevor Eicher needed just a decision at 182 pounds but he won emphatically, scoring a technical fall.
Deer Park finished with 109 points, five ahead of Sedro Woolley.
"The year we put six in the finals and won six will never happen again," Jorgensen said. "And something like this will never happen again. Last match of the day to win it – it doesn't get much better than that."
Deer Park brought six to state and all captured a medal.
The Stags trailed by half a point going into Eicher's match.
Two other Stags captured titles including senior Joe Grable, who pulled off a repeat. Grable had no difficulty at 145, topping Michael Moniz of Orting 5-1.
Matt Miller stepped up next at 152. He trailed 4-1 after the first period and, as if he flipped a switch, took over on his way to an 11-5 win.
"I knew I had the conditioning so I just kept going at it and kept going at it until I got him on his back," Miller said. "I wasn't quick on my feet until the adrenaline kicked in. This is crazy. It's the best feeling in the world."
The key part to Miller's win is it was against a Sedro Woolley opponent.
"We tell the kids all the time the third period is generally ours we work for it," Jorgensen said. "All of his practice since about a month and a half ago and all the hours he put in paid off. That got him a state title right there. It was all him, his work. He's got a motor and it's from his work."
Jorgensen will miss Grable.
"One of the best wrestlers I've ever had. I'm going to miss him," Jorgensen said. "He's a once-in-a-career guy."
In an all-Great Northern League final at 220, Dylan Beeler downed Jace Malek of West Valley 6-3.
1A
Freshman Dalton Young of Lakeside won at 113, pinning Kiki Chabolla of Royal in 3:59.
Blaine captured the team title with 110.5 points. Lakeside earned a trophy in fourth with 80 and Freeman had its best finish ever, two points behind Lakeside in fifth.
2B/1B
Two from Republic and two from Liberty earned state titles.
Blake Phillips (170) and Lucas Rittel (182) of Republic took gold while Kain Feltwell (126) and Kaleb Hafner (132) of Liberty captured titles.
Feltwell trailed 7-5 midway in the final period when he scored a reversal and coupled the move with back points.
Liberty Bell captured the state title with 103 points. Liberty (58.5) took fourth.
Local journalism is essential.
Give directly to The Spokesman-Review's Northwest Passages community forums series -- which helps to offset the costs of several reporter and editor positions at the newspaper -- by using the easy options below. Gifts processed in this system are not tax deductible, but are predominately used to help meet the local financial requirements needed to receive national matching-grant funds.
Subscribe to the sports newsletter
Get the day's top sports headlines and breaking news delivered to your inbox by subscribing here.
---