Sports
Shots finally fall, but so do Cougars
Thu., Jan. 9, 2014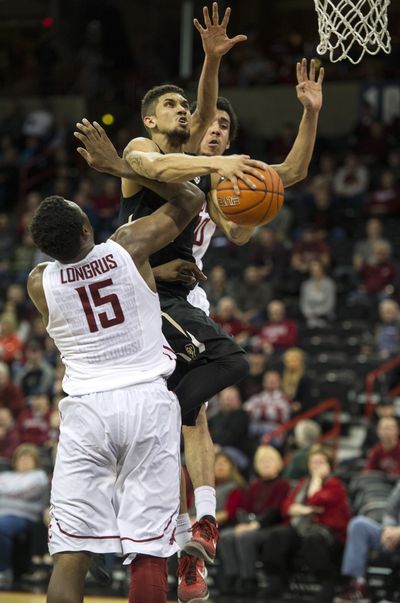 Three-point shooting has been an anchor weighing down the Washington State men's basketball team throughout the first half of the 2013-14 season. But on Wednesday night it nearly buoyed the Cougars to an upset of No. 15 Colorado.
But though WSU's atypical marksmanship allowed the Cougars to compete with Colorado (14-2, 3-0 Pac-12), it wasn't enough to carry them to victory as they fell to the Buffaloes in overtime, 71-70, in front of 3,122 fans at the Spokane Arena.
The shooters benefitted from a breakthrough performance at point guard by Royce Woolridge, who had 10 points and 11 assists with just one turnover. D.J. Shelton had a double-double for the Cougars with 14 points and 12 rebounds, all defensive.
"I felt they deserved to win the game, quite frankly," CU coach Tad Boyle said afterward. "If I were a fan that came to the Spokane Arena, bought a ticket and didn't care (who) won, I would feel that Washington State came up on the short end of the stick."
Long-range shooting carried the Cougars (7-8, 0-3 Pac-12) as they led throughout regulation, and it sent them to overtime when freshman Que Johnson buried a 3-pointer with 6 seconds left in the game. WSU hit 13 of 23 3-pointers, a much better clip than its conference-worst 30.8 percent mark coming into the game.
Entering the game the Cougars were last in the conference in scoring, last in field goal percentage, and last in 3-point percentage.
WSU's offense is dependent on outside shots, a fact that has caused the Cougars' production to stagnate without leading scorer DaVonte Lacy, who averages 17.7 points per game and shoots 40 percent from behind the arc.
"Over the years the way I've coached, philosophically, we've done a lot based off getting 3s, maybe at times to a fault," WSU coach Ken Bone said.
"Fortunately, over the years I've been blessed with having some really good shooters. Right now we have not proven up until tonight that we're shooting the ball well. But I still believe that Royce can make shots, he did it last year. I believe D.J. is a better shooter than he has shown."
Dexter Kernich-Drew took over as the Cougars' go-to scorer, if only for a night. His career-high 24 points came mostly from six 3-pointers, for which he needed just eight attempts.
"It opens up everything," Woolridge explained. "When Dexter shoots the ball that well, (we are) hard to guard."
Through their first two Pac-12 games, WSU had been averaging 36 points per game. They nearly had that at halftime. WSU's 70 points nearly matched the 72 the team combined for against Arizona and Arizona State last week.
They outscored the Buffaloes 21-0 from the 3-point line in the first half, and went to the locker room with a 34-28 lead.
But WSU still had issues, and in the end they cost the Cougars. By focusing on outside shots, the Cougars neglected to drive to the basket, and shot just three free throws in the game. Colorado attempted 38 foul shots, making 26.
"They get to the line very well, and it shows in basically all the games they've played," Kernich-Drew said. "They're very aggressive and the guys who handle the ball get to the rim and draw defenders. We've shown good defense when we can but I guess we've just got to improve on that and try not to reach, get charges and stuff like that."
Scoring points the easy way paid dividends for the Buffaloes late in the game. In overtime Colorado collected four offensive rebounds and the Cougars were helpless inside against 6-foot-10, 245-pound forward Josh Scott, who had eight points in the period.
Local journalism is essential.
Give directly to The Spokesman-Review's Northwest Passages community forums series -- which helps to offset the costs of several reporter and editor positions at the newspaper -- by using the easy options below. Gifts processed in this system are not tax deductible, but are predominately used to help meet the local financial requirements needed to receive national matching-grant funds.
Subscribe to the sports newsletter
Get the day's top sports headlines and breaking news delivered to your inbox by subscribing here.
---