News > Spokane
House panel hears debate on modified salmon
Sat., Jan. 18, 2014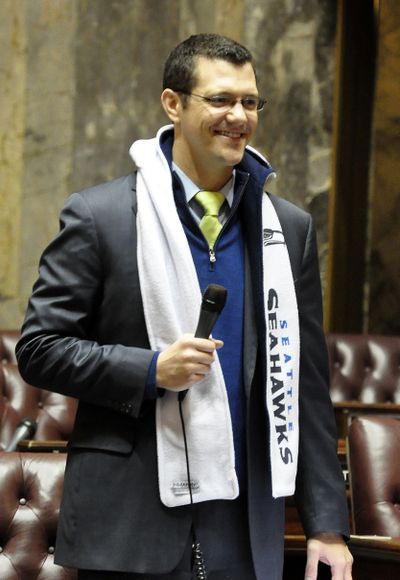 OLYMPIA – Last year's ballot battle over genetically modified food got a rerun in a legislative committee Friday as some fishing groups called for a ban on re-engineered salmon and others said the idea was unnecessary fear-mongering.
The House Agriculture Committee considered but did not vote on HB 214, which would also require any genetically modified salmon sold in Washington stores to be labeled.
Rep. Cary Condotta, R-East Wenatchee, the bill's sponsor, said it was narrower than Initiative 522, which would have required many genetically modified foods to be labeled if it passed last year. It failed but got about 49 percent of the vote.
Follow-up polling shows a majority of people still support labeling for genetically modified food, and the numbers increase for labeling fish, which already must say if they are farm raised, Condotta said. "We've spent billions of dollars to rebuild our salmon stocks," he said.
Anne Mosness, a former salmon fisher and director of the Go Wild Campaign that promotes wild fish over farm-raised varieties, said genetically modified salmon could escape their farm pens just as Atlantic salmon do. Because they are engineered to grow faster, they would represent a hungry new carnivorous species in Washington waters.
Representatives of companies that raise Atlantic salmon in Puget Sound farms said they had no plans to produce genetically modified salmon but argued the bill's language is so vague that it could prohibit research at state universities and ban trout raised for restaurants. Farm groups said any labeling rules should be done nationally, not state-by-state.
Heather Hanson of Washington Friends of Farms and Forests said the bill wasn't about fish so much as about stigmatizing technology and stimulating fear. Supporters are "afraid of things that sound scary, that they don't understand," she said.
Local journalism is essential.
Give directly to The Spokesman-Review's Northwest Passages community forums series -- which helps to offset the costs of several reporter and editor positions at the newspaper -- by using the easy options below. Gifts processed in this system are not tax deductible, but are predominately used to help meet the local financial requirements needed to receive national matching-grant funds.
Subscribe to the Coronavirus newsletter
Get the day's latest Coronavirus news delivered to your inbox by subscribing to our newsletter.
---
Subscribe and log in to the Spokesman-Review to read and comment on this story