News > Spokane
'It's all gone'
Advancing flames prompt more evacuations
Sat., July 19, 2014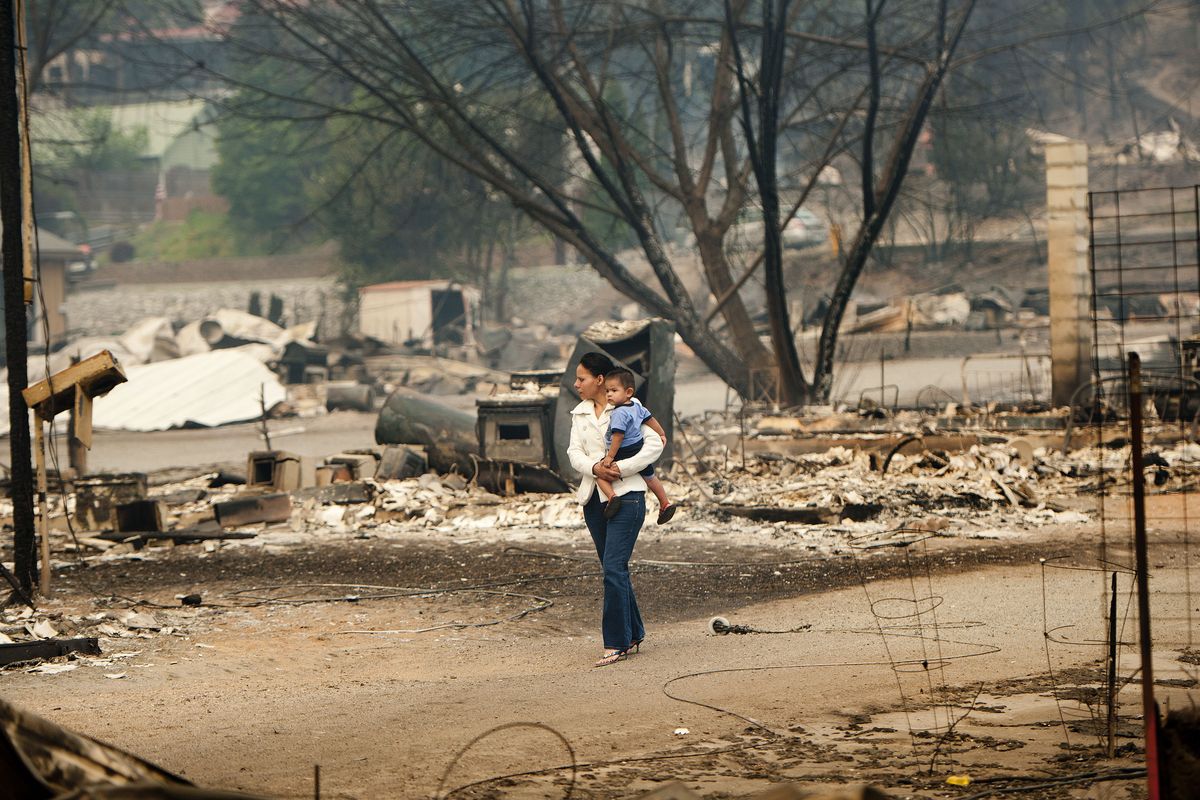 Emma Franco carries Jovonnie Lobato through the lot where her home once stood on Friday in Pateros, Wash. "I have nothing left," she said. "No papers, no clothes." (Tyler Tjomsland)
PATEROS, Wash. – A raging wildfire destroyed about 100 homes as it swept into north-central Washington communities and blackened hundreds of square miles in the scenic Methow Valley on Friday.
As dawn broke through a thick mat of smoke and ash, the chaos of the out-of-control Carlton Complex fire came into focus: husks of cars with melted windshields, paint and tires left behind, smoking rubble of what had been homes, and blackened trees.
Hundreds of evacuated residents returned. Some found their homes intact; many did not.
"Man oh man oh man," said David Brownlee, shaking his head. "It's all gone."
The worst of the fire hit Pateros, a small fruit-packing town that sits where the Methow River flows into the Columbia River.
Flames incinerated a block of homes.
Brownlee waited until the final moments to flee.
"We watched the house go," he said. "It's amazing what fire does, isn't it?"
He built his home a decade ago and also owns a nearby mobile home park razed overnight as he stayed with his daughter in nearby Omak.
He picked through the rubble Friday afternoon as firefighters let people back into neighborhoods to assess damage and collect what remained of their belongings.
Lightning ignited scores of fires across the Northwest this week, and wind gusts pushed the flames across dry forests and steep hills covered in grass and sage bitterbrush.
Firefighters lost control as flames jumped roads and motorists sped away from the fire. Many areas were left without electricity as power poles were burned and toppled.
Staff at the hospital in Brewster evacuated patients as a precaution as the fire moved close to town. Friday evening the 500 residents of the town of Malott were told to evacuate as the fire advanced, as were residents on the outskirts of Brewster.
By dusk, winds had picked up and sent a significant line of fire through a canyon north of Malott. Dozens of residents gathered on the side of roads, watching the fire engulf one home and threaten another.
They recorded video of the destruction with cellphones while covering their eyes and noses with their shirts.
Jesus Chavez, an apple orchard picker who once lived in a house the fire already destroyed and now lives on the other side of the street, said the wind here was unlike anything he's seen.
When asked about the mood of the community watching the homes burn, he suggested the crowd probably felt both awe and disbelief.
"It's something that doesn't happen," he said.
Department of Natural Resources spokesman Jacob McCann said more than 168,000 acres had burned as of 1 a.m. Friday. The Washington National Guard sent four Blackhawk helicopters to the scene to aid fire crews, McCann said.
"It's a rapidly developing situation," McCann said. "We're not sure how many people we have out there right now."
No one has been killed or injured by the fire. Smoke drifted across Eastern Washington and North Idaho, prompting health officials to urge residents to be careful and warn those with asthma and other breathing conditions. It was evident fire crews were overwhelmed early Friday morning and throughout the afternoon. As flames rapidly pushed southeast, fanned by ripping wind gusts, officials were forced to focus on evacuating residents in homes surrounding Brewster. Sheriff's deputies went door to door at 2 a.m. Friday evacuating residents in the Monse neighborhood, a cluster of homes at the bottom of a canyon, after flames had jumped the Monse Bridge Road.
Dan Shiflett, of Okanogan, helped his friends in Monse move cabinets in a trailer as a deputy alerted them of the Level 3 evacuation.
Shiflett said he can understand why the crews are overwhelmed.
"Problem is, there's fire here and here and here," he said.
The fire moved faster than authorities expected. On Thursday, the Red Cross set up a shelter in Pateros at 8 p.m. and planned to operate through the night, said shelter spokeswoman Megan Snow.
The mandatory evacuation order for Pateros came two hours later, and the Red Cross scrambled to help clear out the town.
"I think it surprised a lot of people," she said. "Nobody was really expecting those evacuation orders to come."
Many of the displaced went to Chelan High School, where they slept in classrooms, took showers in the gym and had plenty of fresh food and water. Around midday Friday, 115 people were officially registered at the Chelan shelter, while at least 80 people, mostly evacuated from the areas north of Brewster, were at a Red Cross shelter in Omak, Snow said.
Adding to the chaos, the firefighters' incident command post, at Liberty Bell High School in Winthrop, had no power almost all day Friday, making communication difficult, said fire spokesman Tim Perciful.
"It's moving so fast, we are having a hard time keeping track of it," Perciful said about noon.
Dense, ashy haze blanketed the Columbia River and could be seen as far away as Grand Coulee Dam.
During the morning, traffic reopened on the 6-mile stretch of U.S. Highway 97 that connects Brewster to Pateros. It had been closed most of the night. The landscape was scorched from the hillsides to the banks of the Columbia River, evidence the fire leapt the road. Some houses on the hillside appeared to have survived the blaze, while others were mere smoking foundations.
Local journalism is essential.
Give directly to The Spokesman-Review's Northwest Passages community forums series -- which helps to offset the costs of several reporter and editor positions at the newspaper -- by using the easy options below. Gifts processed in this system are not tax deductible, but are predominately used to help meet the local financial requirements needed to receive national matching-grant funds.
Subscribe now to get breaking news alerts in your email inbox
Get breaking news delivered to your inbox as it happens.
---