News > Features
Pick for families:
Fri., June 13, 2014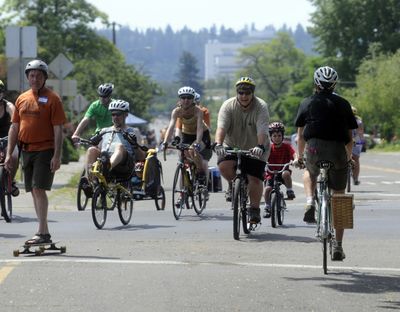 Families are invited to hit the streets Wednesday evening, minus their motor vehicles.
The Summer Parkways event closes 4 miles of streets on the South Hill to cars and trucks and opens them up to bikers, inline skaters, stroller pushers, skateboarders, walkers, runners and anyone else moving on human power.
The free event is planned close to the summer solstice, the longest day of the year.
"We look at it as a great way to kick off the summer," said Katherine Widing, an organizer.
The Summer Parkways route starts at the south entrance to Manito Park, at South Manito Boulevard and East Manito Place. Roughly, it heads south on Manito Boulevard and west on 32nd Avenue to loop around Comstock Park, then heads back to Manito Park via South Lincoln Street and West 23rd Avenue. (A map of the route is at summerparkways.com.)
But participants can enter and exit the course at any point, Widing said. Activities and demonstrations will be offered throughout the route.
The event's theme is physical fitness. Participants of all ages and fitness levels can stop and partake in yoga, Hula-Hooping, fencing, martial arts and other activities.
Other options: "urban workouts," swing-dancing and mini-massages. A tango group on bikes will ride the route with a boombox and stop at "strategic locations" to dance, Widing said. A "smoothie bike" will let kids pedal to make a treat.
A bike-decorating contest for children and adults starts at 7 p.m. at the Applied Health Associates booth at Manito Park's south entrance.
Summer Parkways has a block-party vibe, Widing said, with residents along the route planning frontyard barbecues. It was inspired by an event in Bogota, Colombia.
Participants "could just start at a point, walk 10 minutes in one direction, walk 10 minutes in the other direction and go home," Widing said. "Or if you want to do it twice, you can walk it twice."
Adrian Rogers
When: 6 to 9 p.m. Wednesday.
Coming up: Two other Summer Parkways events are planned through summer. A July 18 street party is planned at Corbin Park. Kidical Mass, a 3-mile bike ride for families, takes place Sept. 11 in the South Perry neighborhood.
More information: summerparkways.com
Local journalism is essential.
Give directly to The Spokesman-Review's Northwest Passages community forums series -- which helps to offset the costs of several reporter and editor positions at the newspaper -- by using the easy options below. Gifts processed in this system are not tax deductible, but are predominately used to help meet the local financial requirements needed to receive national matching-grant funds.
Subscribe now to get breaking news alerts in your email inbox
Get breaking news delivered to your inbox as it happens.
---