News > Spokane
Senator Sam Guess did things his way for 24 years
Sat., June 21, 2014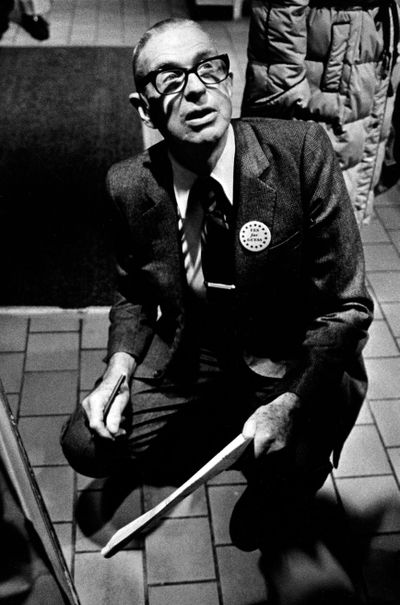 Thousands of motorists crossing the Spokane River on Division Street each day probably pay scant attention to the sign that marks the span as the Senator Sam C. Guess Memorial Bridge. Among those who notice, many probably wonder, "Sam who?"
Senator Sam, as he was often called, was a tall, rangy man with close-cropped hair and a Mississippi drawl that made one think of grits for breakfast and sweet tea on the veranda in the afternoon. The drawl surprised some Spokane newcomers the first time they heard their legislator speak and made colleagues listen carefully when he talked about the Fast Flux Reactor at Hanford, fearful he might minimize the "l."
When election time came around every four years, Sam and his wife, Dorothy, pedaled their bicycles around the district to campaign. They biked frequently between campaign cycles, too – so frequently that Guess once confided in a Senate colleague he was a bit embarrassed to admit he preferred Japanese bicycle tires to American-made because he got a couple thousand more miles out of the imports. The colleague was amazed, saying he'd never heard of anyone wearing out a bike tire, but Guess assured him he did.
The 6th was a good conservative Republican district, and Senator Sam was a good conservative Republican who represented his district for 24 years. He once was described as a "No" man for voting against most state budgets and increases in taxes – although he did eventually soften that to support some local projects like the Valley sewer, the county jail and some buildings at Eastern Washington University. A conservative's conservative, said moderate Republican Dan Evans, who was governor for half of Guess' tenure and clashed with him often.
But there came a day when Senator Sam wasn't conservative enough. It was 1986, and conservative Christians – some of whom had gravitated to the Republican Party fresh from the anti-abortion picket lines – wanted to impose a "pro-life" orthodoxy on the party and its platform.
Guess faced re-election that year, and at 76 years old, some people said he was not up to it. Feeling fine, thank you, he said. Some said he couldn't win a primary against former city councilman-turned-state representative Jim West, who was sounding out people about running for the Senate. Guess had a poll that said he could beat West, a former protégé he took to calling an "upstart."
Like all elected GOP officials, Senator Sam got invited to address the county convention one Saturday morning that May. For the first time in years he hadn't been elected at the precinct caucus as a delegate, so he watched from the balcony as the convention started on the floor below. At past conventions he'd known just about everyone in the room; that morning he knew 15, maybe 20.
When his time came to speak, he dropped the bomb that he wouldn't run for re-election. He wasn't sticking around for the rest of the convention, he added, but didn't want to read in the paper the next morning that they had a knock-down, drag-out fight over abortion. And he left.
"You could have heard a pin drop," he said later with a satisfied chuckle.
The rock-ribbed Republican, the conservative's conservative, later told the newspaper something that stunned many Spokane political cognoscenti: He was "pro-choice." Maybe not Betty Freidan/Planned Parenthood pro-choice, but he thought there might be times when abortion was the best option, like in cases of rape or incest.
"It's between a person and his God," Senator Sam said. When that quote was in the paper, some more traditional abortion-rights supporters called to question Guess' use of pronouns, insisting he should have said "between a person and her God." But he wasn't being sexist. He was just old-school with his grammar, like he was with everything else.
So Senator Sam quit without warning or regret. West won the election that fall, holding the seat until 2003, when he was elected mayor of Spokane. Guess died in 1989, and a year later the Legislature voted to name the Division Street Bridge for him when the state finished a $7.7 million reconstruction of the 73-year-old span.
The bridge is less imposing, some might say less pretentious, than the Monroe Street Bridge to the west; it's a functional span of concrete and steel that an engineer like its namesake could appreciate.
It was said of Guess that he never met a stretch of highway he wouldn't support. While that may be a bit of an overstatement, he did spend years on the transportation committee deciding which highways should be built or widened, and in his 60s developed a road surfacing compound while studying for his master's degree. Naming a bridge in his honor seems appropriate, as long as Spokane remembers the man that goes with the name.
Local journalism is essential.
Give directly to The Spokesman-Review's Northwest Passages community forums series -- which helps to offset the costs of several reporter and editor positions at the newspaper -- by using the easy options below. Gifts processed in this system are not tax deductible, but are predominately used to help meet the local financial requirements needed to receive national matching-grant funds.
Subscribe now to get breaking news alerts in your email inbox
Get breaking news delivered to your inbox as it happens.
---