Wellpinit's Wynne leads Vanguard to NAIA title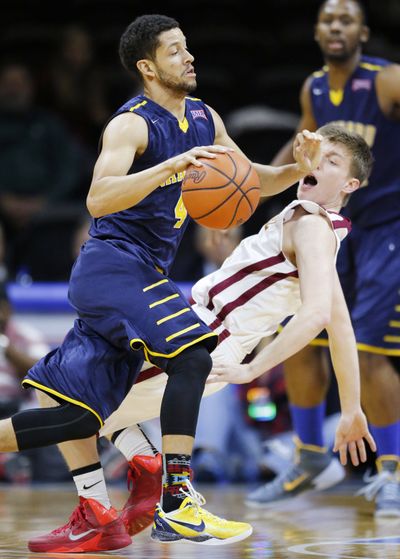 KANSAS CITY, Mo. – Preston Wynne spent six years between high school in Wellpinit, Wash., and junior college. He did construction work for a while, cared for his two children, even taught junior high basketball on the Spokane Indian Reservation in Washington.
As he climbed up a ladder inside Municipal Auditorium on Tuesday night, and gently cut down his piece of the net, he couldn't help but think about how far he'd come.
Wynne had just scored 20 points to lead No. 6 seed Vanguard of California to a 70-65 victory over No. 8 seed Emmanuel of Georgia on Tuesday night in the NAIA national championship game.
"I can't believe this," he said, smiling. "I don't know what to say."
The senior guard, who scored 42 points in a semifinal win over St. Gregory's of Oklahoma, was chosen the tournament's most valuable player. And while he high-fived his teammates and posed for pictures, nobody could convince him that he wasn't on basketball's biggest stage.
"The thing about Preston, there's guys out there like him with a similar story," Vanguard coach Rhett Soliday, a standout at Reardan High School, said, "but there's not many with that kind of character and determination."
Chris Gorman added 18 points, and Keith Mason finished with 10 points and 13 rebounds for Vanguard (32-6), a school of about 1,500 students located in Costa Mesa, Calif. DeAngelo Jones, a Cheney High graduate, also made some key plays down the stretch for the champs.
Michael Stanley had 19 points and 13 rebounds for Emmanuel (33-4), which had never won an NAIA tournament game in three previous trips. Patrick McCrary added 10 points and nine rebounds.
"We were just able to make a few more plays," Soliday said of the school's first national championship.
---