News > Idaho
Ministers diverge in opinion on lifting of Idaho's gay marriage ban
Thu., May 15, 2014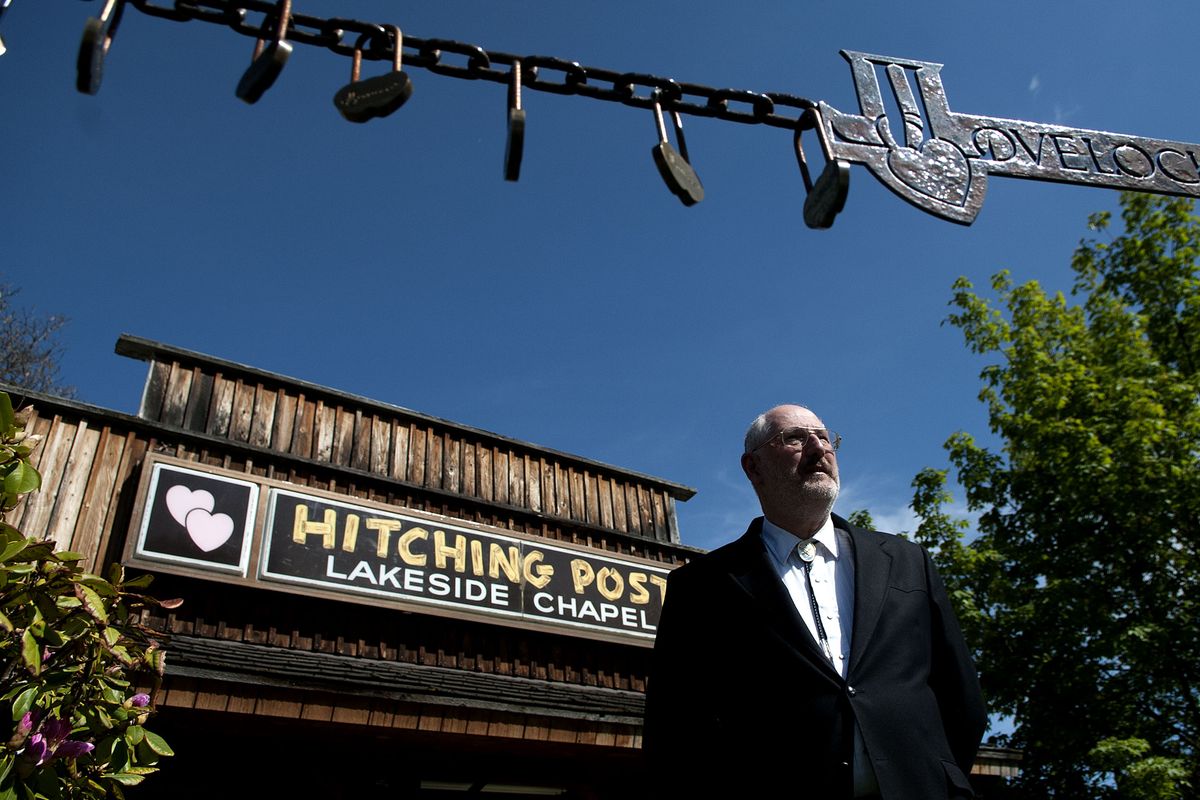 "I just can't break what I believe," said ordained minister Don Knapp as he stood in front of the Hitching Post Wedding Chapel in Coeur d'Alene on Wednesday, May 14, 2014. Knapp says the chapel will refuse to officiate weddings for same-sex couples. (Kathy Plonka)
Thousands of couples have tied the knot at the Hitching Post, an institution in Coeur d'Alene right up there with the famous Hudson's Hamburgers.
But the popular wedding chapel across the street from the Kootenai County Courthouse will not perform marriages for same-sex couples, even if that means closing its doors after 95 years in business.
"We will not be marrying gay couples here," said Donald Knapp, an ordained minister along with his wife, Lynn.
A federal judge struck down Idaho's ban on same-sex marriage Tuesday, and gay and lesbian residents will be allowed to marry starting Friday morning unless a court puts the ruling on hold as requested by Gov. Butch Otter.
Knapp said he follows biblical teaching on marriage, as do the other Christian ministers who perform weddings there.
"I'm not antagonistic to people of that belief. If that's what they want to do, they can choose to live together to do the things that they're doing," said Knapp, a member of Life Center church in Spokane. "I cannot in good conscience perform same-sex marriages."
Wedding venues that turn away gay couples may violate local laws, such as Coeur d'Alene's prohibition on discrimination based on sexual orientation. The provision adopted by the City Council last year applies to housing, employment and places of public accommodation, including businesses that render public services.
"I think that term is broad enough that it would capture (wedding) activity," city attorney Warren Wilson said.
Similar laws have applied to florists, bakeries and photographers that have refused to work on same-sex weddings in other states, Wilson noted.
"Those have all been addressed in various states and run afoul of state prohibitions similar to this," he said. "I would think that the Hitching Post would probably be considered a place of public accommodation that would be subject to the ordinance."
In Washington, no clergy person is required to marry a couple if doing so would violate the dictates of their faith tradition. Idaho does not have a similar exemption in place, but religious entities are exempt from the Coeur d'Alene ordinance, so pastors in the city are not obligated to perform same-sex weddings. But any nonreligious business that hosts civil ceremonies would fall under the city law, Wilson said.
"The Hitching Post might still have an obligation to figure out a way to officiate at that ceremony," he said.
And that, Knapp said, might force him to close the chapel after his 27-year run there. "I may have to get out of this line of work," he said Wednesday.
Gay couples will have other options to mark their unions once they obtain a marriage license. One person who said she's happy to marry gay couples is Christine Taysan, who is ordained through the Universal Life Church and has presided over about a dozen weddings in Idaho.
"I've put it out there since we've gotten this good news (that) if anybody wants to get married on Friday that I would offer my services free of charge," said Taysan, who operates as Custom Ceremonies by Christine.
She expects same-sex couples will be excited to take advantage of the opportunity to marry now in the Gem State. "It's something that a lot of them have been waiting a long time for."
Tracy Springberry, minister of the North Idaho Unitarian Universalist Fellowship, said she looks forward to presiding over same-sex weddings.
"I will absolutely be performing them," said Springberry, who lives in Spokane and married her partner in Washington last July. "It means I can really live out my faith."
So far she hasn't been asked to marry a same-sex couple in Idaho. "I'm interested in making sure people know we're there and are willing to do it," Springberry said.
One longtime Kootenai County judge who estimates he has presided over 1,000 weddings said he wants to read the federal judge's decision in the Idaho case before he decides whether to perform ceremonies for same-sex couples.
In his 29 years on the bench, 1st District Senior Judge Eugene Marano has been asked many times if he has a moral objection to gay marriage. "My answer always was it's not something that I even think about because it will never happen in Idaho," Marano said. "Shows you what I know."
Judges in Idaho have the authority to wed couples but are not required to perform that service. It's not clear if Coeur d'Alene's anti-discrimination ordinance would require a judge who performs weddings to include same-sex couples.
"I have the same question in my mind and I haven't resolved it yet," Marano said.
Neither has the judicial district's administrative judge, Lansing Haynes. "Without having researched it, I don't know the answer to that," Haynes said.
"No judge is obligated, as I understand it, to perform any kind of marriage," he said. "They are authorized to do so."
Local journalism is essential.
Give directly to The Spokesman-Review's Northwest Passages community forums series -- which helps to offset the costs of several reporter and editor positions at the newspaper -- by using the easy options below. Gifts processed in this system are not tax deductible, but are predominately used to help meet the local financial requirements needed to receive national matching-grant funds.
Subscribe now to get breaking news alerts in your email inbox
Get breaking news delivered to your inbox as it happens.
---