News > Features
Art installation about poverty, urban decay
Stiegemeier's latest display, 'Violet Is an Anagram of Love It,' makes a very public statement about poverty, urban decay
Sun., Nov. 2, 2014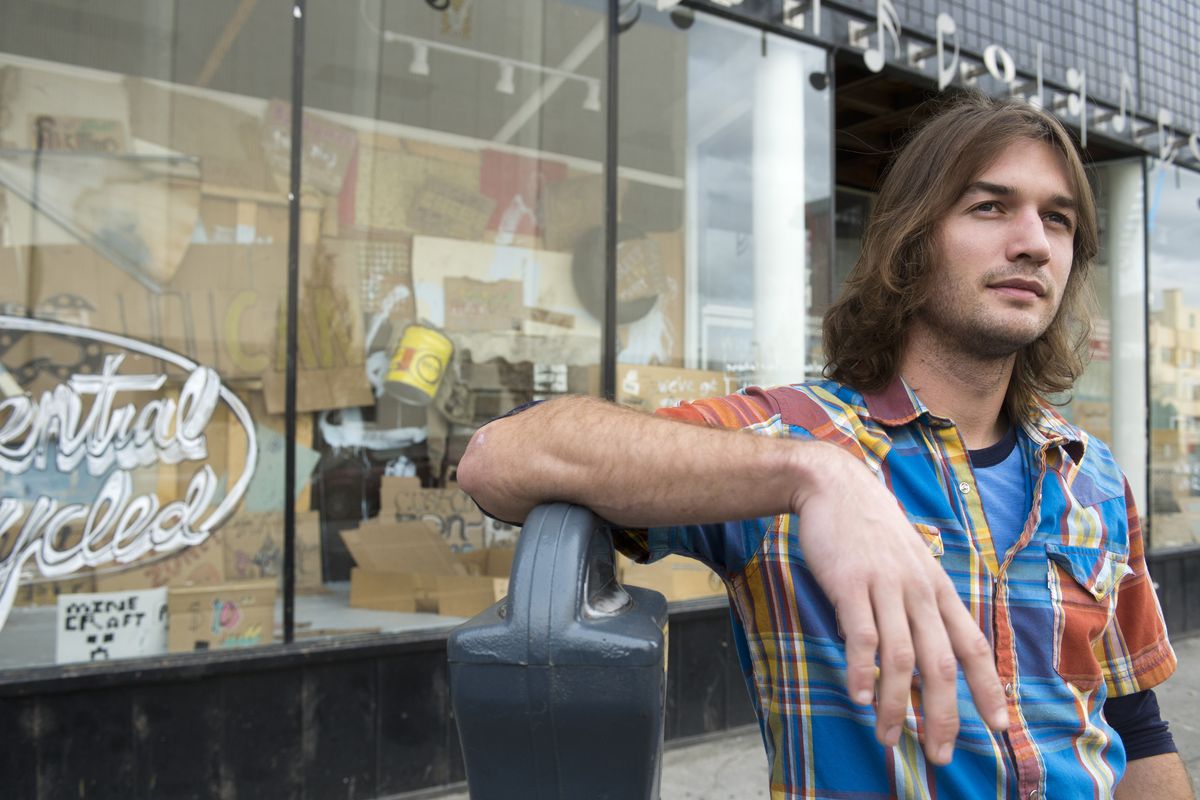 Artist Austin Stiegemeier has filled an empty storefront window at 1011 W. First Ave. in downtown Spokane with art on recycled materials. The installation is a commentary on the way homeless people are treated in downtown Spokane. (Jesse Tinsley)
The title of Austin Stiegemeier's latest art exhibit was inspired, appropriately enough, by a handwritten sticker he saw on a streetlight on the corner of First and Monroe. It read "Violet is an anagram of love it," and something about it connected with him.
A few weeks later, the sticker was gone, presumably scraped away by city cleanup crews, but its message had been preserved farther down the block.
Stiegemeier's "Violet Is an Anagram of Love It" is on display at Window Dressing, 1001 W. First Ave., a small, storefront-style gallery located in the old Music City Building; its message encompasses the socially conscious bent of Stiegemeier's general artistic output.
One side of the display represents urban decay – there's garbage, graffiti, shopping carts, ratty sleeping bags and hand-drawn panhandler's signs. The other represents urban sprawl – the signs presented here are machine-made and authoritative ("No Trespassing," "Private Property," "No Loitering"), and they're screwed to a tile wall that resembles the outside of the Fox Theater directly across the street.
Scattered throughout the exhibit are several large cardboard boxes, and on their sides Stiegemeier has drawn likenesses of shopping carts he saw around town, left by their owners for one reason or another. Some of the carts are filled with possessions. Others are empty, overturned and abandoned. Each one represents, Stiegemeier said, a person or a couple or a family affected by homelessness.
"Violet" is conveying a number of complex ideas at once. It's a condemnation of the city's controversial sit-lie ordinance. It's an examination of poverty in our city. It's a visualization of the queasy juxtaposition between the 9-to-5 life of downtown business executives and the panhandlers squatting in front of the high-rise office buildings where they work.
"I started to think, 'Why are there so many homeless people in Spokane?' " said Steigemeier, who moved here in January, although he grew up in North Idaho. "All this stuff is happening out in the open within a super small proximity. It's not a big city that has different districts – there's one centralized downtown area."
There's also a lot of negativity in our everyday surroundings, he said, signs emblazoned with words like "no" and "don't" and "keep off," and lots of big red circles with lines slicing through them. What if those signs conveyed positive messages rather than limiting ones, he wondered, and how would that change our general demeanor?
More anagrams are sprawled on the windowpane itself, letters from those prohibitive signs rearranged into statements both scathing and encouraging – "war on the poor," "open party," "don't obey this point."
"You can change things around," Stiegemeier said, standing on the sidewalk in front of his exhibit on a cold October evening. "Change them from positive to negative."
Stiegemeier, 29, grew up in Rathdrum, and he describes himself as something of a rebellious kid. He recalls having a troubled relationship with his parents, who briefly institutionalized him in an inpatient health facility while he was in high school because he broke the rules and experimented with drugs.
"It's something that's stayed with me for a long time," Stiegemeier said of the experience. "I was only in there for two weeks, but I'd never felt so ostracized before, so powerless."
Perhaps that explains his predilection toward figures on the fringes of society – the marginalized, the helpless, the misunderstood. While in college at Western Washington University, he started painting images inspired by Ken Kesey's novel "One Flew Over the Cuckoo's Nest," in which a dissident named R.P. McMurphy attempts to break free from the constraints of an oppressive psychiatric hospital. After receiving his master's from Washington State University in 2013, Stiegemeier spent a summer in Spain, painting the street dwellers, prostitutes and after-hours barflies he observed.
"I'm mostly interested in characters that are somehow idiosyncratic in our society or who don't fit in – problematic, I guess," Stiegemeier said. "Our society punishes you in so many ways for not conforming. If you're an anti-conformist or a person who does things differently, you become ostracized. But at the same time, most of the heroic figures in history, especially in art, are totally championed for doing exactly that, for not conforming."
Unlike McMurphy, who took it upon himself to demean and overthrow authority, Stiegemeier isn't really trying to stir the pot or make any kind of sweeping statement. He's merely presenting the conditions of the underrepresented in his own idiosyncratic way, showing a side of downtown that some people aren't comfortable addressing.
"A lot of time my work takes individuals and poses them in situations of social conflict," he said, "but it doesn't always give you the answer. I feel like that's what artwork does. … It presents the problem, or it presents a question that doesn't have an answer."
Although he's been here for less than a year – he currently works as a program manager for Spokane Arts and teaches printmaking as an adjunct instructor at Eastern Washington University – Stiegemeier has already made himself an integral part of the Spokane arts scene.
Through Spokane Arts, Stiegemeier helped organize Spokane Throw, which invited participants to write a personal letter addressed to the city that was 25 words or shorter. Stiegemeier said they received more than 100 submissions, and they run the gamut from inspirational ("Dear Spokane, if you want to heal – heal others") to motivational ("Dear Spokane, stop letting inner beauty be your best kept secret") to comic ("You are friendly. You are kind. Except when it comes to letting other drivers merge, then you are ruthless").
Local artists, designers, writers and poets picked their favorite letters and turned them into metal stencils, which were then shot through with light and projected onto the sides of the Columbia Bank and Numerica buildings downtown.
Not only does Throw function as a sort of love letter to Spokane and its inhabitants, but it's also, Stiegemeier said, a clever way of filling space that's normally devoted to corporate advertisements with public art.
"Who has the right to put up a message in a public space?" Stiegemeier said. "Who gets the right to make something visual in the space we all share? According to the system we have now, it's people who have money and people who want to sell you something."
Earlier this week, Stiegemeier was the recipient of a $1,500 grant from Artist Trust, a Washington nonprofit that provides financial support for the arts. He was one of only two Spokane-based artists to be awarded the grant this year.
"In terms of pure artistic talent, Austin is one of the most proficient emerging artists in the area," said Terrain co-founder Ginger Ewing, who curates the art on display at Window Dressing. "I feel like he's been able to find a nice balance between being a powerful voice on important subject matters without being too overwrought."
Jamie Junction, a local artist and filmmaker, has been collaborating with Stiegemeier and introducing him to fellow artists in Spokane (Stiegemeier calls her his "wingman"). She said fostering young talent is important to keeping an art scene fresh and vital.
"I'm 20 years older than Austin, and basically what I'm doing is sharing what I know and hopefully it will go on," she said. "I'm passing the torch, that's what I'm doing."
Spokane is the biggest city Stiegemeier has lived in, and he said it has plenty of "eccentricities" that he can relate to. And in terms of the local artists he's met, he finds a passion and an authenticity in the work they're producing.
"They're not necessarily people who are out in the limelight, and the type of work they're doing is usually for a pretty true reason," he said. "There's not really a scene here where you can sell yourself out. … The impact you can have is in the cultural value of the work you do, and it's removed from that direct commercialism. It's tangible and gritty and real, and I like that."
Local journalism is essential.
Give directly to The Spokesman-Review's Northwest Passages community forums series -- which helps to offset the costs of several reporter and editor positions at the newspaper -- by using the easy options below. Gifts processed in this system are not tax deductible, but are predominately used to help meet the local financial requirements needed to receive national matching-grant funds.
Subscribe now to get breaking news alerts in your email inbox
Get breaking news delivered to your inbox as it happens.
---