News > Nation/World
Wallenda completes Chicago wire walks
Mon., Nov. 3, 2014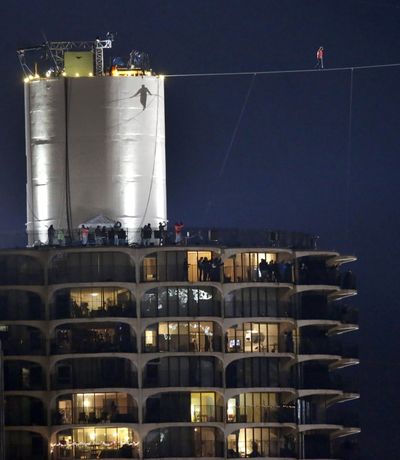 CHICAGO – Daredevil Nik Wallenda wowed Chicago and the world Sunday with two hair-raising skyscraper crossings on high wires without a safety net or a harness, and performing one blindfolded.
"I feel incredible," Wallenda said at a news conference in a nearby hotel after completing the tightrope walks.
Recalling what made him nervous during his aerial performances, he said strong winds and the unexpected 19-degree angle of the first high wire – he had practiced at a 15-degree angle – caused him to hurry his performance.
"That cable looked like it was going straight up," he said.
Thousands of cheering fans packed the streets around the city's Marina City towers to watch the 35-year-old heir to the Flying Wallendas' family business complete the back-to-back walks.
Wearing a bright red jacket, Wallenda tested the tension of the first wire. It took him about six and a half minutes to walk the 454-foot stretch from the Marina City west tower to the top of a building on the other side of the river. The tightrope began at 588 feet from the ground and ended at 671 feet.
The next stage of Wallenda's high-wire event he undertook blindfolded – a 94-foot walk 543 feet from the ground between the two Marina City towers. At a fast clip, he made the stretch in little more than a minute.
As he stepped from the wire, he tore off his blindfold and waved; the crowd erupted in cheers.
The Discovery Channel used a 10-second delay for the broadcast, which would have allowed producers to cut away if anything went wrong.
Local journalism is essential.
Give directly to The Spokesman-Review's Northwest Passages community forums series -- which helps to offset the costs of several reporter and editor positions at the newspaper -- by using the easy options below. Gifts processed in this system are not tax deductible, but are predominately used to help meet the local financial requirements needed to receive national matching-grant funds.
Subscribe now to get breaking news alerts in your email inbox
Get breaking news delivered to your inbox as it happens.
---