News > Nation/World
Mayor of Israeli city limits Arab workers, stirring uproar
Fri., Nov. 21, 2014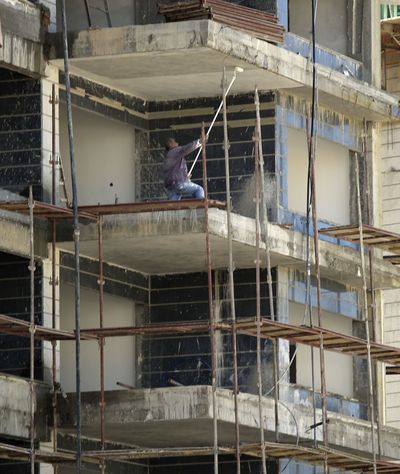 JERUSALEM – The mayor of a southern Israeli city sparked a national uproar Thursday by barring Israeli Arab construction workers from jobs in local preschools, citing security concerns after a rash of attacks by Palestinian assailants elsewhere in the country.
The proposal was condemned as racist by Israeli leaders, but it reflected the tense mood in the country and deepened long-standing divisions between the nation's Jewish majority and Arab minority. An opinion poll showed solid public support for the measure.
Israel has been on edge following a wave of Palestinian attacks that has killed 11 people over the past month, including five this week in a bloody assault on a Jerusalem synagogue. Most of the attacks have occurred in Jerusalem – whose population is roughly one-third Palestinian – with deadly stabbings in Tel Aviv and the West Bank as well.
Responding to the unrest, the mayor of Ashkelon, Itamar Shimoni, announced that Israeli Arab laborers renovating bomb shelters in local kindergartens would be barred from their jobs. He also ordered security stepped up at construction sites where Arab laborers are employed.
He said the order was a response to the synagogue attack Tuesday, in which Palestinian assailants killed four rabbis and a Druse Arab policeman with meat cleavers and gunfire.
"Anyone who thinks this is illegal can take me to court," Shimoni said. "At this time, I prefer to be taken to court and not, God forbid, to attend the funeral of one of the children from kindergartens."
The workers in Ashkelon are Arab citizens of Israel, in contrast to the Palestinian attackers from the West Bank and east Jerusalem, and it appeared unlikely the order would last for long. Justice Minister Tzipi Livni called it illegal and ordered the attorney general to take action.
"We must not generalize about an entire public due to a small and violent minority," Prime Minister Benjamin Netanyahu said. "The vast majority of Israel's Arab citizens are law-abiding and whoever breaks the law – we will take determined and vigorous action against him."
Israeli leaders proudly boast the country is the only democracy in the Middle East, and say they place great importance on protecting the civil rights of the Arab minority, a diverse group that includes Muslims, Christians, Bedouins and Druse.
But the situation for Israel's Arab citizens is complicated – particularly in the current atmosphere.
Arabs, who make up about 20 percent of Israel's population of 8 million, often complain of being treated as second-class citizens, and suffer from a high poverty rate, job and housing discrimination, and poor public services. Many openly identify with the Palestinians, drawing accusations that they are disloyal.
In recent years, Foreign Minister Avigdor Lieberman has called on Israeli Arabs to take a loyalty oath and proposed redrawing Israel's borders under any future peace deal to place large numbers of them on the Palestinian side.
Tziona Koenig-Yair, the equal employment commissioner in Israel's Economy Ministry, said she has seen a jump in claims recently by Arab workers who say they have lost their jobs on racial grounds. She said she planned to fight the mayor of Ashkelon in court if his order is not reversed.
Local journalism is essential.
Give directly to The Spokesman-Review's Northwest Passages community forums series -- which helps to offset the costs of several reporter and editor positions at the newspaper -- by using the easy options below. Gifts processed in this system are not tax deductible, but are predominately used to help meet the local financial requirements needed to receive national matching-grant funds.
Subscribe now to get breaking news alerts in your email inbox
Get breaking news delivered to your inbox as it happens.
---