News > Obituaries
Obituary: Wertz, Marian J. (Rice/Schubert)
Age 94
Fri., Nov. 28, 2014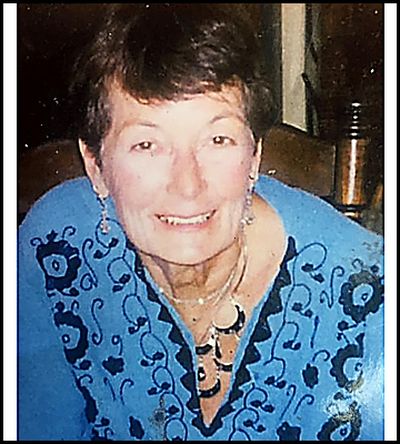 WERTZ, Marian J.
(Rice/ Schubert) (Age 94) Passed away on Tuesday, November 25, 2014 in Sandpoint, Idaho.
A popular song says "they say there are seven wonders in the world but what they say is out of date, there's more than seven wonders in the world", we feel our mother was number eight!
She was born to Lewis and Olga Rice on April 26, 1920 in Spokane her brother, Robert joined two years later to complete the family.
Marian was a lifelong swimmer and earned her lifesaving badge at the age of 10 at Spokane YMCA.
The Rice family lived in Spokane until work was too hard to find during the Depression so the family moved to Vancouver, BC where Lewis found work.
They stayed for five years and Marian met and made lifelong friends as well as enjoyed playing field hockey, curling and developed a love of languages.
She returned to Spokane to enroll in NCHS for her junior and senior year.
She was active in the Red Feather group, played in the school play and graduated in 1937.
From there she matriculated at the UI paying her own way through college as her Dad felt that "women don't need an advanced education."
She joined Alpha Phi sorority.
At UI she met Donald Schubert and they were married before he joined the Army and was sent overseas in WWII.
Marian graduated from college majoring in French/Spanish/English Education and then worked in a defense plant in Phoenix before the birth of their son, Richard.
After Don returned from France, they had a daughter, Jeanne and later another daughter, Sue.
Don and Marian divorced in 1957.
Marian used that college education to raise and support her children and became a language teacher at LCHS teaching Spanish.
She worked summers and took classes in Spain, Puerto Rico, Mexico and UW to earn a Master's Degree in Spanish.
She met fellow teacher, Pete Wertz at Lewis and Clark and they were married in 1968.
They had a happy life golfing, traveling in their motor home visiting friends and relatives for 20 years until his death in 1988.
Upon retirement from teaching Marian became a "Snow Bird" spending time in California for six months and Spokane the other six months for years.
She loved owning cats, her dog, Maisie, playing bridge, golf, lawn bowling and volunteered tutoring grade school students.
She traveled extensively to Asia, Africa, Europe, and South America often on cruises with Richard.
She was a member of VFW Auxiliary, Lutheran churches and the Eagles.
In her own words "I've had a long, full life."
Her brother, Robert, her daughter, Sue and stepdaughter Jeanne, preceded her in death.
She is survived by son, Richard, granddaughters, Shelley Schubert (Leroy) Houston; Shannon Schubert (Keith) Newman, daughter, Jeanne Schubert (Ed) Bock, grandsons, Chris and Jeff Bock; stepdaughter Lorrie Wertz (Marty) Bos; grandsons Vinnie and Bo Bos and four great-granddaughters, Gracee, Tayla, Lilianna and Alyxandra.
In lieu of flowers donations in her memory may be made to Panhandle Animal Shelter 870 Kootenai Cutoff Road in Ponderay, Idaho 83852 or the charity of your choice.
LAKEVIEW FUNERAL HOME in Sandpoint is handling the arrangements.
Please visit Marian's online memorial at www.lakeviewfuneral.com and sign her guest book.
Local journalism is essential.
Give directly to The Spokesman-Review's Northwest Passages community forums series -- which helps to offset the costs of several reporter and editor positions at the newspaper -- by using the easy options below. Gifts processed in this system are not tax deductible, but are predominately used to help meet the local financial requirements needed to receive national matching-grant funds.
Subscribe now to get breaking news alerts in your email inbox
Get breaking news delivered to your inbox as it happens.
---