News > Obituaries
Obituary: Shagool, John Charles "Jack"
Sun., Nov. 30, 2014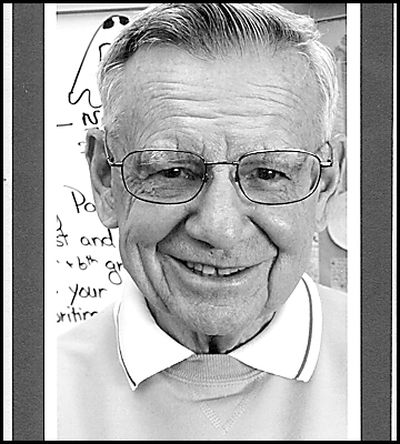 SHAGOOL, John Charles "Jack" Was born in Weeping Water, Nebraska to Elizabeth and John C. Shagool.
Weighing just 3.5 lbs., Jack always claimed that this entry into the world was the reason he could stomach all kinds of adversity.
He joined the Marine Corps fresh out of high school and was selected for the Marine Corps band as a trumpet player.
Jack's unit was sent to Tien Sien, China to oversee the withdrawal of the Japanese troops at the end of WWII.
The war ended while he was there and he was discharged and sent home.
He graduated from Highland Junior College and Kansas State University, playing his way through college with his band "The Triple Threat Trio" and by reffing basketball, baseball, and football.
(He eventually officiated football in seven different decades, an exercise in long suffering to be sure).
After graduation, he taught science at Junction City High School and coached football, basketball, baseball, and track.
After several years, he left education and took a job with Equifax Services in Topeka, KS traveling back to Junction City to court Mardelle Fletcher who became his wife on August 27, 1954 at the age of 18.
(Mardelle and Jack celebrated their 60th wedding anniversary in August.)
They moved to Atlanta, GA then back to Kansas where Scott and Stacey were born.
Next stop: Salt Lake City, UT where Chuck joined the family.
In 1967 the family moved to Spokane where they put down deep roots.
Jack took up running and ran Bloomsday and the Coeur D'Alene Marathon several times.
Mardelle went to work at Joseph Jantz HS and later worked in the Registrar's Office at Whitworth College for 20 years, earning her college degree in English while working full time.
When Equifax closed the Spokane office, Jack became an investigator for the US Government.
He never retired from coaching and reffing, training and evaluating officials in the Inland Empire Football Officials Association for 48 years.
He was a volunteer tutor in reading and math at Prairie View and in the Lunch Buddies program at Evergreen Elementary.
Congestive heart failure took him home to his maker, with his family gathered by his side, on November 16, 2014, just six days after his 87th birthday.
Jack is survived by his wife Mardelle, sons Scott (Jill) and Chuck (Marsha), daughter Stacey (Keith), and grandchildren Scott, Brett, Jessica, Nick, Jared, and JD, and great- granddaughter Emery Rose.
Donations may be made to your favorite charity.
The next time you are at a ball game and want to yell at the ref, think of Jack and say, "Good call, Mr.
Referee!"
A memorial service will be held Friday, December 5 at 2:00 PM at Whitworth Community Presbyterian Church.
Local journalism is essential.
Give directly to The Spokesman-Review's Northwest Passages community forums series -- which helps to offset the costs of several reporter and editor positions at the newspaper -- by using the easy options below. Gifts processed in this system are not tax deductible, but are predominately used to help meet the local financial requirements needed to receive national matching-grant funds.
Subscribe now to get breaking news alerts in your email inbox
Get breaking news delivered to your inbox as it happens.
---