News > Obituaries
Obituary: Smith, William "Bill"
Age 87
Sun., Nov. 30, 2014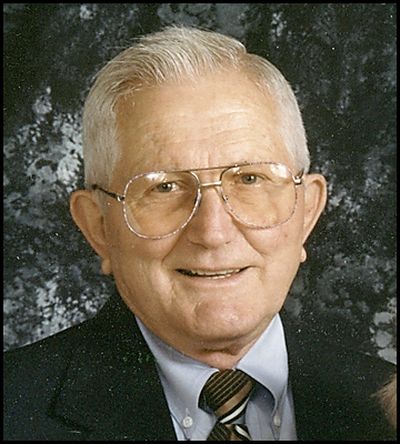 SMITH, William "Bill" (Age 87) Of Cheney, Washington, passed away November 26, 2014 in Spokane.
Bill was born May 28, 1927 to David and Eula (Douglas) Smith in Moore Haven, FL.
After WWII started Bill lied about his age and enlisted in the Coast Guard in 1942 at age 15.
The next three years were spent traveling the world and learning to be an electrician.
He met Phoebe Pringle, his wife of 68 yrs, in Seattle and later followed her to Richland, WA where they married in 1946 and Bill went to work for Hanford.
He also worked for the Navy in Vietnam and Singapore.
He raised his family in Pasco.
While in Pasco in the 1960's he played guitar and sang there as "Billy Weston" with his own band and TV show.
In the 1980's he and his family settled in Cheney where Bill acquired and built apartments that he owned and managed for many years.
He was a member of the Cheney VFW and helped work on the Cheney Veterans Memorial Park.
He is survived by his four children: Bill Jr., Michael (Judy), Jewel Baccarella (Pete), Chad; seven grandchildren, 12 great-grandchildren and three great-great-grandchildren; sister, Jewel Milligan.
A memorial service will be held at Cheney Funeral Chapel on Friday, December 5, at 11:00 a.m. A reception will follow at his daughter's home, 1717 7th St. in Cheney, across from Centennial Park.
His final resting place will be in the Washington State Veterans Cemetery, Medical Lake, WA.
CHENEY FUNERAL CHAPEL in charge of arrangements.
Online guestbook at cheneyfuneral.com.
Local journalism is essential.
Give directly to The Spokesman-Review's Northwest Passages community forums series -- which helps to offset the costs of several reporter and editor positions at the newspaper -- by using the easy options below. Gifts processed in this system are not tax deductible, but are predominately used to help meet the local financial requirements needed to receive national matching-grant funds.
Subscribe now to get breaking news alerts in your email inbox
Get breaking news delivered to your inbox as it happens.
---