Sports
One too many Washingtons
Huskies' namesake running back too much for Cougars
Sun., Nov. 30, 2014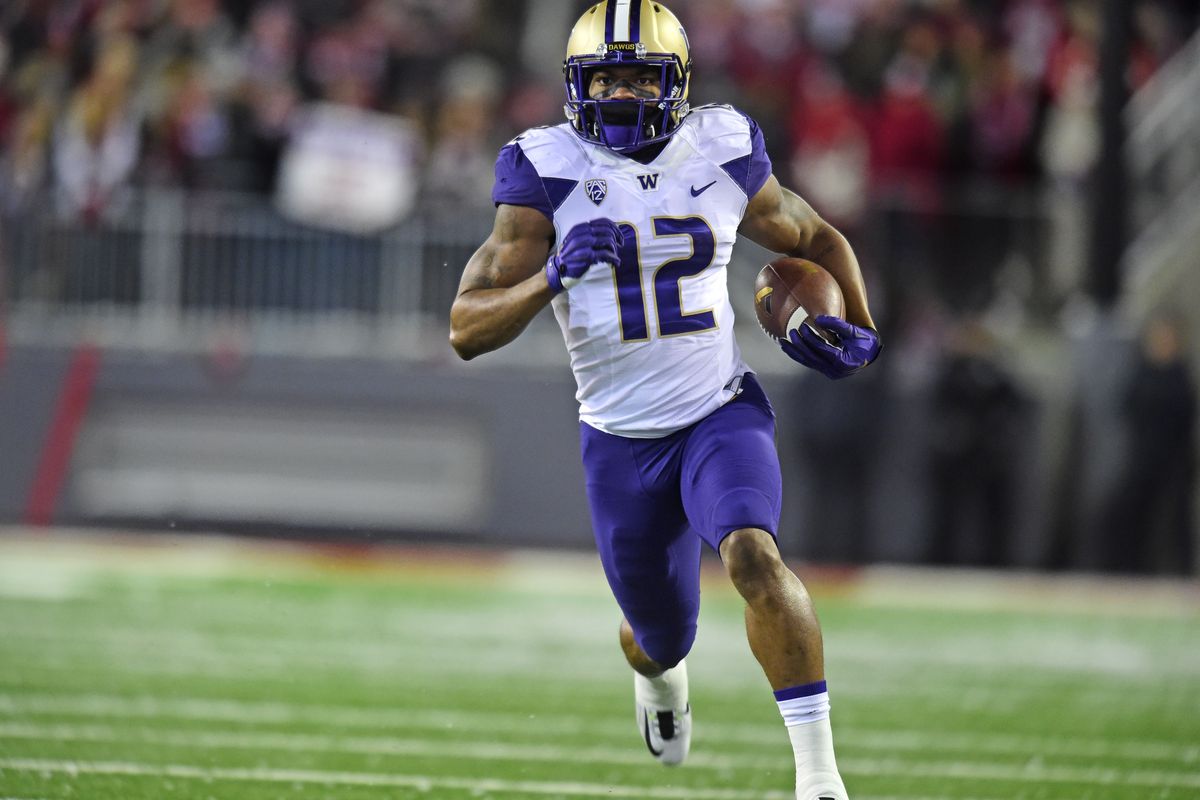 Washington running back Dwayne Washington is off and running on one of his two long touchdown sprints – this one on the second play of the game. (Tyler Tjomsland)
PULLMAN – The Saturday morning snow had long been shoveled into Martin Stadium's east end zone before the start of the 107th Apple Cup but the Cougars just kept digging, burrowing a deeper hole for themselves with an offense whose only success was avoiding a shutout in UW's 31-13 win in front of a sold-out crowd.
Washington was more explosive, prepared and effective than Washington State in the Apple Cup, and that was just the UW running back. Dwayne Washington and the Huskies built a 31-0 lead before the Cougars finally scored in the fourth quarter on a 35-yard touchdown pass from Luke Falk to Dom Williams.
Prior to that drive WSU had not crossed midfield since the first quarter.
Early offensive failure doomed the Cougars, who were unable to take advantage of some initial offensive success.
On WSU's first three drives the Cougars marched into UW territory and on all three drives they turned the ball over on downs. Receivers struggled to hold onto the ball against a young but physical UW secondary.
On the second of those fourth-down attempts the Cougars went deep to Dom Williams, who juggled the ball in the end zone before it was batted down by freshman safety Budda Baker.
"The balls we dropped were devastating," coach Mike Leach said. "They (would have) converted third downs, one was a score, that type of deal. So the timing was worse than just a drop."
Dwayne Washington scored on the second plays of each half with runs of 51 and 60 yards. The first gave the Huskies an early lead and the second made a comeback seem unlikely after putting WSU behind 21-0.
On both runs, Dwayne Washington was able to find a wide hole and then cut upfield with nobody to catch him.
"Honestly, we weren't lined up where we were supposed to be and they caught us in that one gap and did what they were supposed to do," said cornerback Daquawn Brown.
"We didn't tackle," Leach said. "We had guys in the gap but just didn't' make the tackle. We had people there, we pressured them and so understandably you're not going to have as many levels. We just have to make the tackle, have to be in position to make the tackle."
With the loss, the Cougars end the season with a 3-9 record and two conference wins. While at times WSU seemed capable of competing with the conference's best teams, such as a one-score loss to Oregon, they were unable to ever develop much consistency.
WSU quarterback Luke Falk was only sacked once but the pressure forced as many errant throws as those that were on point. He threw two interceptions, one an overthrown pass to River Cracraft that was picked off by receiver/cornerback John Ross and another a misplaced ball over the middle intended for Isiah Myers.
"He was a little off," Leach said. "I thought he started out pretty good then I thought he tried to make too much happen. I thought he was a little late on reads and he tried to be too perfect."
One pleasant surprise for the Cougars was running back Theron West, who had his best game of the season. He broke out in last year's bowl game, and once again had his biggest impact in the Cougars' final game, rushing for 15 yards on three carries and adding another 30 yards receiving.
While the teams spent the majority of the first half locked in a defensive struggle, the pivotal plays went to the Huskies. Apart from Dwayne Washington's two scores, the Huskies converted 8 of 17 third-down attempts, and the Cougars completed just 1 of 10.
"I thought the biggest thing was just trying to do too much," Leach said. "We went out there trying to play perfect and you don't play perfect. You've got to turn it loose and don't hesitate. And definitely offensively I think we went out there and tried to play too perfect and it took us awhile to relax."
With the natural fervor of a rivalry game as well as the emotional induction of Steve Gleason into the WSU Athletics Hall of Fame, there was a lot for the Cougars to think about. Before the game there were some heated words between the teams, although the Cougars denied that it played a role in their focus on Saturday.
"As far as me, personally, I take every game the same," Myers said. "It's a rivalry game and we don't like the Huskies at all but I feel like I'm going to play Isiah Myers football and see where that takes me. To be honest I don't know where the inconsistency came from. It was just an inconsistent day for us."
Local journalism is essential.
Give directly to The Spokesman-Review's Northwest Passages community forums series -- which helps to offset the costs of several reporter and editor positions at the newspaper -- by using the easy options below. Gifts processed in this system are not tax deductible, but are predominately used to help meet the local financial requirements needed to receive national matching-grant funds.
Subscribe to the sports newsletter
Get the day's top sports headlines and breaking news delivered to your inbox by subscribing here.
---