Sports
Broadcasting fathers tread lightly when sons play
Thu., Oct. 2, 2014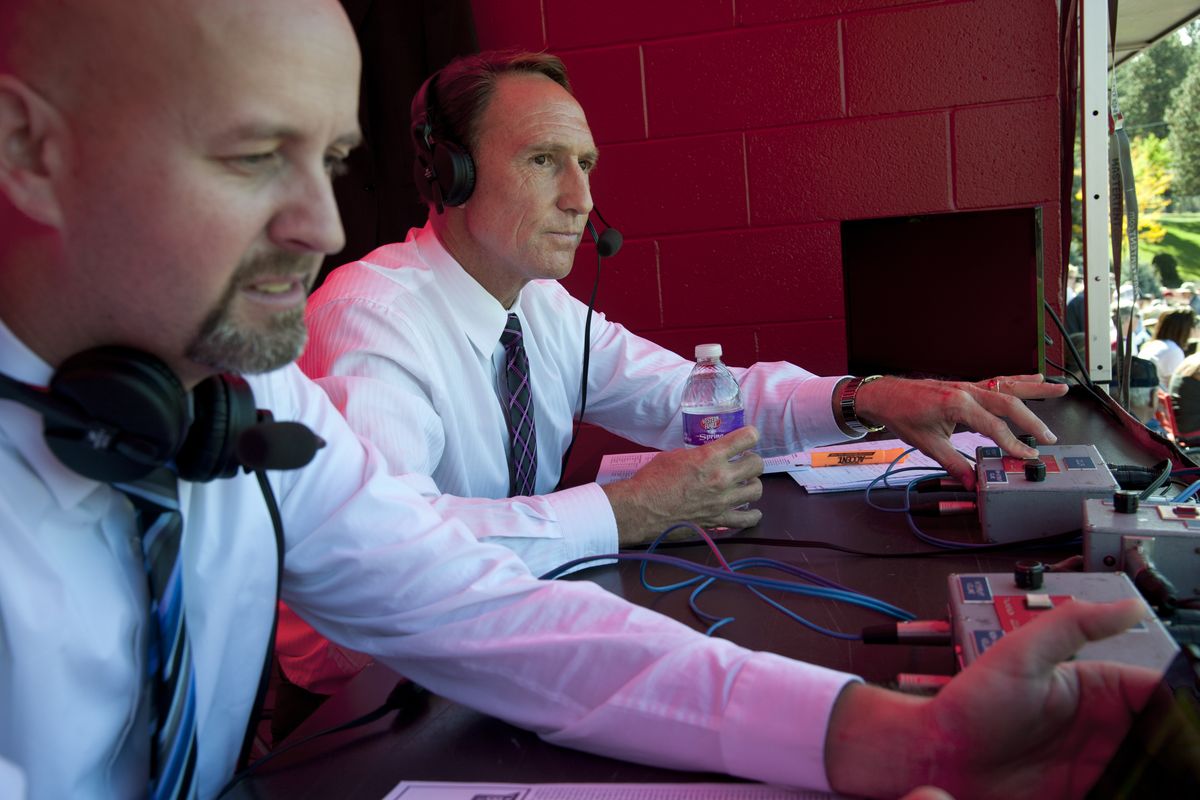 Sam Adams, left, and Mike Peterson call the Whitworth football game against Chapman at the Pine Bowl last Saturday. (Dan Pelle)
Physically and emotionally, the football broadcast booth sits above the fray, and so do the men inside.
Even when a loved one is sprawled on the turf and slow to move?
Especially then, said Spokane broadcaster Mike Peterson, who covers the Whitworth University football program – and by extension, his son Bryan, a senior quarterback for the Pirates.
"At the end of the day, I feel empathy to any player who goes down, especially when it's your own … but I can't be locked in looking at my son. I have to be locked in to the game."
It helps that Peterson, a former receiver at Washington State and national-class softball player, is entering his 29th year as a basketball official. In the press box or on the floor, "You can't let emotion get the better of you," said Peterson, who provides color commentary of selected Whitworth games on SWX.
That's easier said than done. While some fans appreciated a moment two weeks ago when Pac-12 Networks analyst Rick Neuheisel gushed over his son, others didn't.
For Peterson, the biggest compliments are ones from rival fans, including a repeat visitor from Chapman College, who appreciated his even-handed commentary.
"That means a lot," said Peterson, adding that one of the biggest challenges is walking the fine line between being a homer and being too critical.
When Bryan is on the field, Peterson doesn't call him that. It's just "Peterson," whether the play is good bad or indifferent. That's when play-by-play announcer Sam Adams takes over, commenting on Bryan's performance.
Paul Sorensen, the color commentator for 700-AM ESPN on Eastern Washington football broadcasts, lives by the same standard.
This week, his son Cody, a safety for Idaho State, will be on the red turf, facing the Eagles.
"If he does something good or bad, I don't say anything, because I don't want to be that guy," said Sorensen, who in that case will defer to play-by-play man Larry Weir.
Sorensen, who coincidentally was a teammate of Peterson's at Washington State in the early 1980s, got that advice straight from the top, at the 1998 Rose Bowl.
In that game, pitting WSU against Michigan, ABC analyst Bob Griese found himself covering an event involving his son, Brian, a quarterback for the Wolverines. Sitting next to broadcasting legend Keith Jackson, Griese knew just what to do.
"I let Keith handle it," Griese told Sorensen.
At the end of the day, Sorensen said, "You want your son to be safe and you want him to play as well as possible. So I'm rooting for victory for the Eags and safety for my son."
Unlike Peterson, who works for SWX, Sorensen contracts directly with the school he covers, which leads to a bit more partisanship – and the dreaded "W" word.
As in, "We need to shut down that running game," words that never come out of Peterson's mouth at a Whitworth broadcast. The word escaped his mouth a few times in nine years covering the Spokane Shock, "and I cringe every time I use it," said Peterson, whose father Dennis is a member of the Big Sky Conference Officials Hall of Fame.
"As a kid growing up, I followed him around and loved every minute of it," said Peterson, who had a chance last month to revel in Bryan's success. Another son, Mitchell, plays linebacker at Washington State, and with the weekend free, Peterson and wife Robin had planned to watch the Cougs play Oregon on Sept. 20.
But Mitchell was out with an injury, so they booked a flight to Los Angeles, where Whitworth played La Verne University.
Good call: Bryan Peterson completed 59 of 83 passes for 589 yards – all school records – in a 50-48 win.
"It was a fairy-tale day," Peterson said.
Local journalism is essential.
Give directly to The Spokesman-Review's Northwest Passages community forums series -- which helps to offset the costs of several reporter and editor positions at the newspaper -- by using the easy options below. Gifts processed in this system are not tax deductible, but are predominately used to help meet the local financial requirements needed to receive national matching-grant funds.
Subscribe to the sports newsletter
Get the day's top sports headlines and breaking news delivered to your inbox by subscribing here.
---