News > Obituaries
Obituary: Dinneen, Mary Leone (Dolan)
Age 94
Tue., Oct. 7, 2014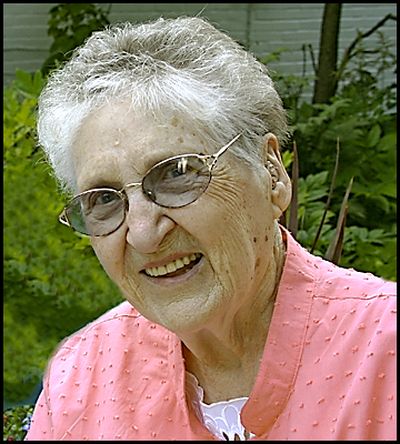 DINNEEN, Mary Leone (Dolan) (Age 94) Passed away October 2, 2014.
She died peace- fully and without pain, surrounded by her family, before joining The Lord.
Mary, one of five children, was born to William and Mary Dolan on August 5, 1920, in Beresford, South Dakota.
She lived the majority of her life here in Spokane caring for those around her with selfless faith and compassion.
Mary was active in her church and community in the Spokane Valley.
Of all her accomplishments, she was most proud of being a wife, mother, and grandmother to her family.
She is survived by four sons: Michael (Corina), Bill (Merilee), Jack (Vickie), Jim (Gena); and daughter, Anne (Glenn) Potter.
Grandchildren: Tyrone (Marisa), Jessica, Jennifer (Shawn), Sarah, Molly (Auston), Rebekah, Geoff, Emily (Ryan), Patrick, Reshanda, Magen, Brock, Jesen, Jared and Brett.
Great-Grandchildren: Elsie, Claire, McKayla, Quentin, Moses, Hailey and Shepherd.
Preceded in death by her husband, Pat Dinneen in 1983.
Her grace, her kindness, and her deep faith in God have touched all of us who loved her.
Mary will be truly missed, and her strength, courage and love will continue to be celebrated by her children, grandchildren, and great-grandchildren for generations to come.
Special thanks to Horizon Hospice and our dear neighbor Lorraine for their compassionate care.
The Funeral Service will be held Wednesday October 8, 2014, at 2pm, at St. Mary's Catholic Church, 304 S. Adams Rd, Spokane Valley, WA 99216, with burial at St. Joseph's Cemetery immediately after Mass.
Local journalism is essential.
Give directly to The Spokesman-Review's Northwest Passages community forums series -- which helps to offset the costs of several reporter and editor positions at the newspaper -- by using the easy options below. Gifts processed in this system are not tax deductible, but are predominately used to help meet the local financial requirements needed to receive national matching-grant funds.
Subscribe to the Coronavirus newsletter
Get the day's latest Coronavirus news delivered to your inbox by subscribing to our newsletter.
---