News > Obituaries
Obituary: Murphy, William "Cody"
Age 27
Wed., Oct. 8, 2014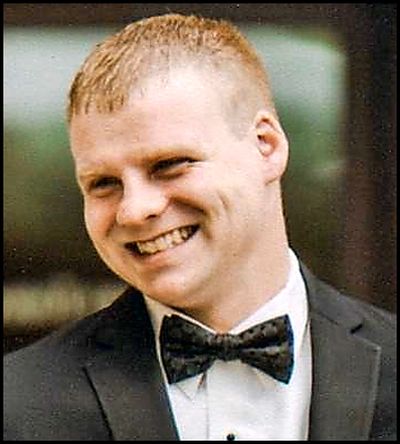 MURPHY, William "Cody" (Age 27) Died Saturday, October 4, 2014, while doing what he loved most, riding his Harley.
Cody was taken from us way to early, while driving home to his beautiful family.
Cody, finally living his dream, had his beautiful wife Nicole (married May 24, 2013), and precious six month old son Jack at home, he was proud to carry on TTT Auto Sales.
Life could not have been scripted any better in Cody's eyes.
Cody was born in Spokane, WA on June 16th 1987, and spent most of his life here.
He graduated from Lewis and Clark High School.
We can proudly say that Cody made a lasting impression on everyone he met with his dimpled smile, and genuine kindness, which was only surpassed by his enormous heart.
His mischief, caring heart, and zeal for life are what friends and family will remember most.
Cody will forever be loved by those of us that he left behind.
He is survived by his wife Nicole Murphy, son Jack Kenneth Cody Murphy, mother Shelly Swenhaugen, Father Bill Murphy, sister Lindsay Murphy, cousin who was more like a brother TJ Reynolds, and numerous other cousins, nephews and nieces.
He was preceded in death by his uncle Terry Swenhaugen, uncle Jack Harmon, uncle Perry Swenhaugen, grandmother Deloris Swenhaugen, and grandfather Orville Swenhaugen.
We will forever miss all the love and joy that he brought into our lives.
Viewing will be held Thursday, October 9, 2014 from 3:00pm - 7:00pm at Hennessey Funeral Home, 2203 N. Division.
A Memorial Service will also be held at Hennessey Funeral Home on Friday, October 10, 2014 at 11:00 am.
In lieu of flowers please send donations to the Cody Murphy Memorial Fund, at any STCU in Spokane.
Please visit Cody's on-line memorial page at www.hennesseyfuneralhomes.com to leave a message of condolence.
Local journalism is essential.
Give directly to The Spokesman-Review's Northwest Passages community forums series -- which helps to offset the costs of several reporter and editor positions at the newspaper -- by using the easy options below. Gifts processed in this system are not tax deductible, but are predominately used to help meet the local financial requirements needed to receive national matching-grant funds.
Subscribe to the Coronavirus newsletter
Get the day's latest Coronavirus news delivered to your inbox by subscribing to our newsletter.
---