A&E > Entertainment
Civic's 'Hyde' adds unexpected twists
Fri., Oct. 17, 2014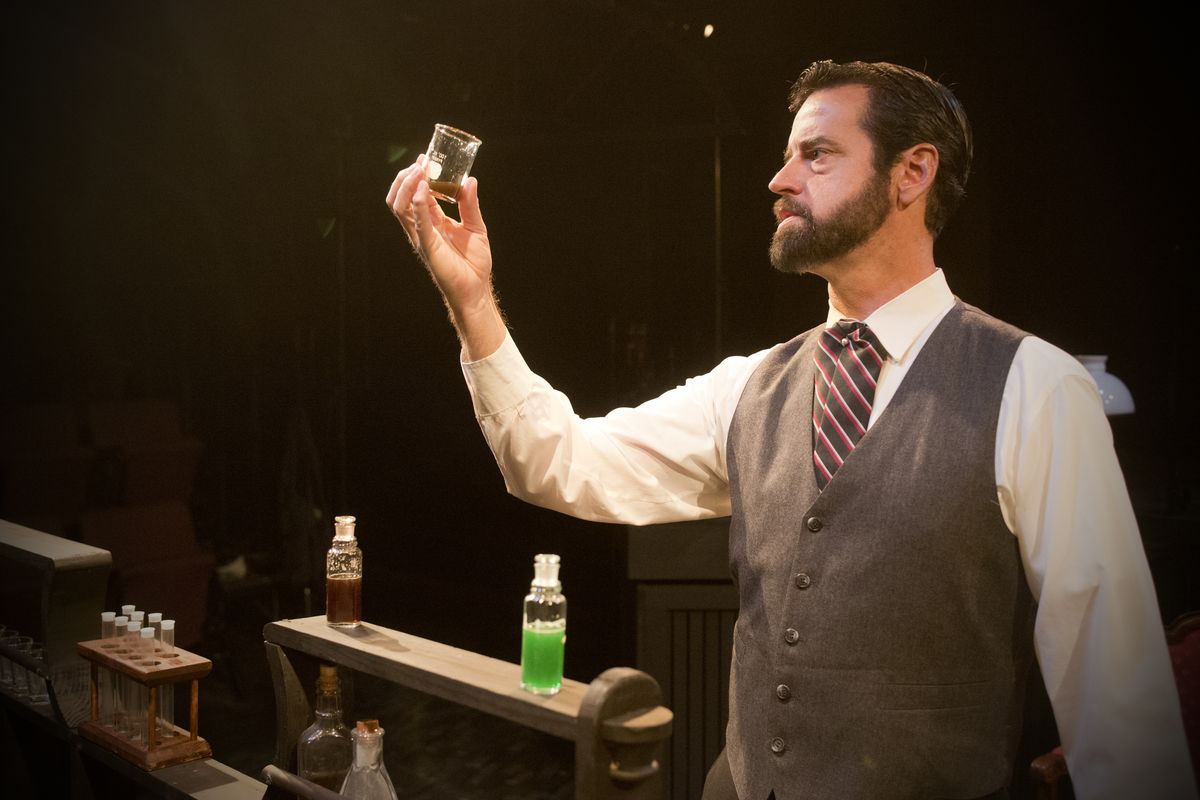 Dave Rideout plays Dr. Henry Jekyll in the Spokane Civic Theatre production of "Dr. Jekyll and Mr. Hyde," which opens today. (Jesse Tinsley)
Robert Louis Stevenson's 1886 novella "The Strange Case of Dr. Jekyll and Mr. Hyde" is one of the most influential and oft-imitated stories of the past few centuries, the kind of horror story that, like "Frankenstein" or "Dracula" before it, has been remade and repurposed countless times.
But the version of "Jekyll and Hyde" premiering at the Spokane Civic Theatre tonight offers a few new twists on the classic formula. As adapted for the stage by Jeffrey Hatcher and directed by Susan Hardie, the production contains moments and plot developments both expected and unanticipated.
"I feel it's really important to meet and exceed peoples' expectations of a story that is so iconic," Hardie said. "People are going to be coming in expecting to see the atmosphere, the Victorian setting, the laboratory, all those iconic images that you bring with you. We want people to come in feeling comfortable that they're going to be getting their money's worth with what they're expecting, but also to be getting some stuff they're not expecting."
The basic premise of Stevenson's book has been left more or less unchanged here: The well-respected Dr. Henry Jekyll (Dave Rideout) concocts a serum that transforms him into the ugly, violent Mr. Hyde, an alter ego that allows Jekyll to indulge in his darkest desires – including murder, rape and theft – while avoiding detection.
But the most intriguing element of Hatcher's adaptation is Hyde himself, who is portrayed by four different actors in the production – Dan Griffith, R. Travis King, Ryan Shore and Dawn Taylor Reinhardt. The purpose of this, Hardie says, is to consider Hyde from a more nuanced, complex perspective. Stevenson's depiction of Hyde is as a rather black-and-white symbol of evil incarnate, but Hatcher's interpretation finds a shred of conscience beneath the brutality.
"It was our intention to find something that would distinguish each of those different versions of Hyde," Hardie said. "For example, one might be the sensualist. One might be the Hyde that is more about brute force. Different aspects of the nature of the evil are explored in each of the Hydes."
That dichotomy between good and evil – and the notion that everyone is capable of malevolence – is what has drawn audiences to "Dr. Jekyll and Mr. Hyde" for decades. And while most versions of the story find an empathetic figure in Jekyll, Hardie suggests that Hatcher's adaptation actually humanizes Hyde as well.
"That notion of a basic seed of evil in all of us is certainly worth exploring, especially these days," Hardie said. "There are moments in the play where I'm hoping the audience finds themselves caught unawares with how they're maybe rooting for (Hyde). We're working toward that moment of self-discovery in the audience.
"This isn't your grandfather's 'Dr. Jekyll and Mr. Hyde.' "
Local journalism is essential.
Give directly to The Spokesman-Review's Northwest Passages community forums series -- which helps to offset the costs of several reporter and editor positions at the newspaper -- by using the easy options below. Gifts processed in this system are not tax deductible, but are predominately used to help meet the local financial requirements needed to receive national matching-grant funds.
Subscribe to the Spokane7 email newsletter
Get the day's top entertainment headlines delivered to your inbox every morning.
---