Sports
Standing test of time
Vin Scully has been radio voice of Dodgers for 65 years
Tue., Oct. 21, 2014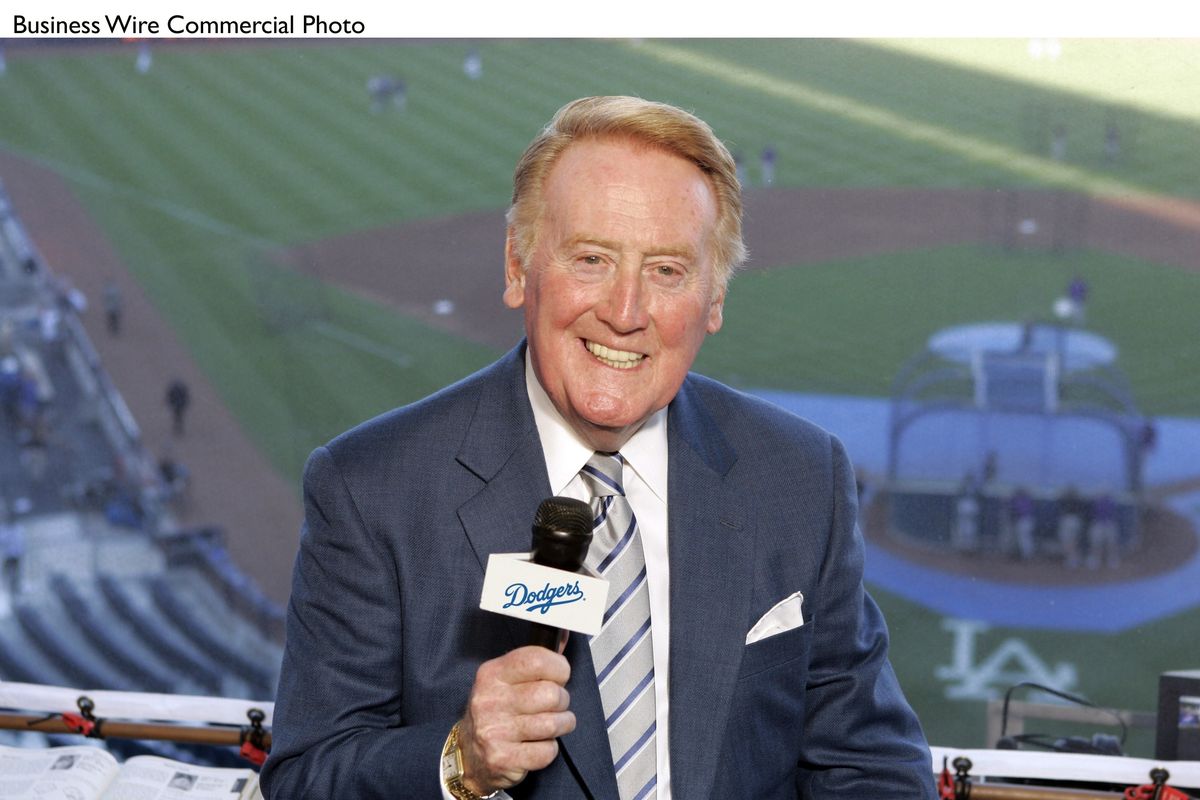 Vin Scully, who started broadcasting Dodgers games in 1950 in Brooklyn, will begin his 66th year with the team in L.A. in 2015. (Associated Press)
These are 23 (more) facts, tried and true, about the widening world of sports television:
  1. When Vin Scully began broadcasting Dodgers games in 1950, the average lifespan of an American male was 65.6 years; in 2015, he will begin his 66th year broadcasting Dodgers games.
  2. The P.C. set will moan about "player safety," but I believe America is ready for NFL teams to play doubleheaders, like in baseball.
  3. I just got a Super HD screen – it feels like I could just reach out, pull Chris Berman onto my couch and slap him silly.
  4. Without ESPN's "Outside the Lines" shining a constant light, the sports world would be a lot darker place.
  5. Even if baseball had replay review in 1919, I think the Black Sox still throw the World Series.
  6. Can you imagine the buildup and the hype – think of the length of the pregame show alone – if ESPN were around for the creation of the world?
  7. They never stop laughing on the set of CBS' "The NFL Today" – it's like "Your Show of Shows," minus Imogene Coca.
  8. If NBC Sports Network's "Men in Blazers" knocked on my front door, I'd make them dinner every day for a month, with or without their blazers.
  9. I wouldn't be surprised if Jon Gruden rides a power mower daily to do his chores around the house.
  10. I would love to "break contain," but I wasn't raised that way.
  11. Would it kill Jack Whitaker to come out of retirement and speak a sensible word or two on network TV?
  12. Rob Riggle rules.
  (Column Intermission: I made two mistakes recently – I got into my car and I turned on the AM dial, where I was greeted by "The John Feinstein Show" on CBS Sports Radio. I quickly surmised it had to be some type of newfangled test of the emergency broadcasting system. Anyway, I checked around and no one else had even heard the show, so we're probably safe for now.)
  13. I love Charles Barkley on TNT's "Inside the NBA." But if he's America's leading social commentator, America's in a social commentary slump.
  14. NBC's Peter King, an alleged "NFL insider," is a career .262 hitter in a profession in which you should bat close to 1.000.
  15. When Terry Bradshaw does shingles commercials on an NFL Sunday, "Are you ready for some football?" does not come to mind.
  16. There's not a chance in Hell that Ayn Rand finishes writing "Atlas Shrugged" if she subscribed to the NFL RedZone Channel.
  17. Mike Francesa sometimes dozes off during his radio show simulcast on Fox Sports 1. Shouldn't staying awake on your own show be, like, a minimum requirement for having your own show?
  18. I usually can only take 10 minutes of him at a time, but Keith Olbermann on "Olbermann" has reestablished himself as the brightest sports voice of his generation.
  19. Due to an NFL rule change on kickoffs in 2011, at the current rate the average child will have seen 10,000 touchbacks on TV by the time he or she is 12 years old.
  20. I have listened to Norman Esiason on radio and I have listened to Norman Esiason on TV, and I've concluded he must have a very, very, very, very good agent.
  21. I guess the big difference between Fox Sports 2 and ESPN2 is that I have no idea where Fox Sports 2 is on my cable system.
  22. I've been wrong before, but Racko might make a great TV sport.
  22a. Speaking of which, in a 500-channel universe, how can Twister not have a home?
  23. CBS' Phil Simms won't say "Redskins" on air this season. I won't say "NFL Command Center."
Ask The Slouch
  Q. As an experiment, the NBA had the Celtics and Nets play a 44-minute exhibition game. Were fans refunded 10 percent of the ticket price since the game was 10 percent shorter than normal? (Tim Bradshaw; Fort Lauderdale, Florida)
   A. This is America, pal – it's more likely concession prices were jacked 10 percent to make up for the reduced time fans had to purchase them.
   Q. Can I score an easy $1.25 by telling you that your NFL Teams of Destiny stink? (Chad Young; Colonie, New York)
   A. At the moment, the Browns and the Rams don't appear Super Bowl-bound. Then again, I'm sure there were moments in which James K. Polk and Rutherford B. Hayes didn't appear White House-bound.
   Q. Garbage men are now sanitation engineers, gardeners are called botanical decorators. Are sportswriters now competition analysts, or, in your case, quiz purveyors? (Don Young; Columbia, Maryland)
   A. I neither analyze nor purvey; I consume and snore.
   Q. Do you think it is every state trooper's dream to go to an SEC football game and fight crime standing next to a $3-million-dollar-a-year coach? (Randy Long; Liberty Lake)
   A. Pay the man, Shirley.
   Norman Chad is a syndicated columnist. You, too, can enter his $1.25 Ask The Slouch Cash Giveaway. Just email
asktheslouch@aol.com
and, if your question is used, you win $1.25 in cash!
Local journalism is essential.
Give directly to The Spokesman-Review's Northwest Passages community forums series -- which helps to offset the costs of several reporter and editor positions at the newspaper -- by using the easy options below. Gifts processed in this system are not tax deductible, but are predominately used to help meet the local financial requirements needed to receive national matching-grant funds.
Subscribe to the sports newsletter
Get the day's top sports headlines and breaking news delivered to your inbox by subscribing here.
---