News > Features
Forging friendships
Northwest Dinner Among Friends focuses on food, fun
Mon., Oct. 27, 2014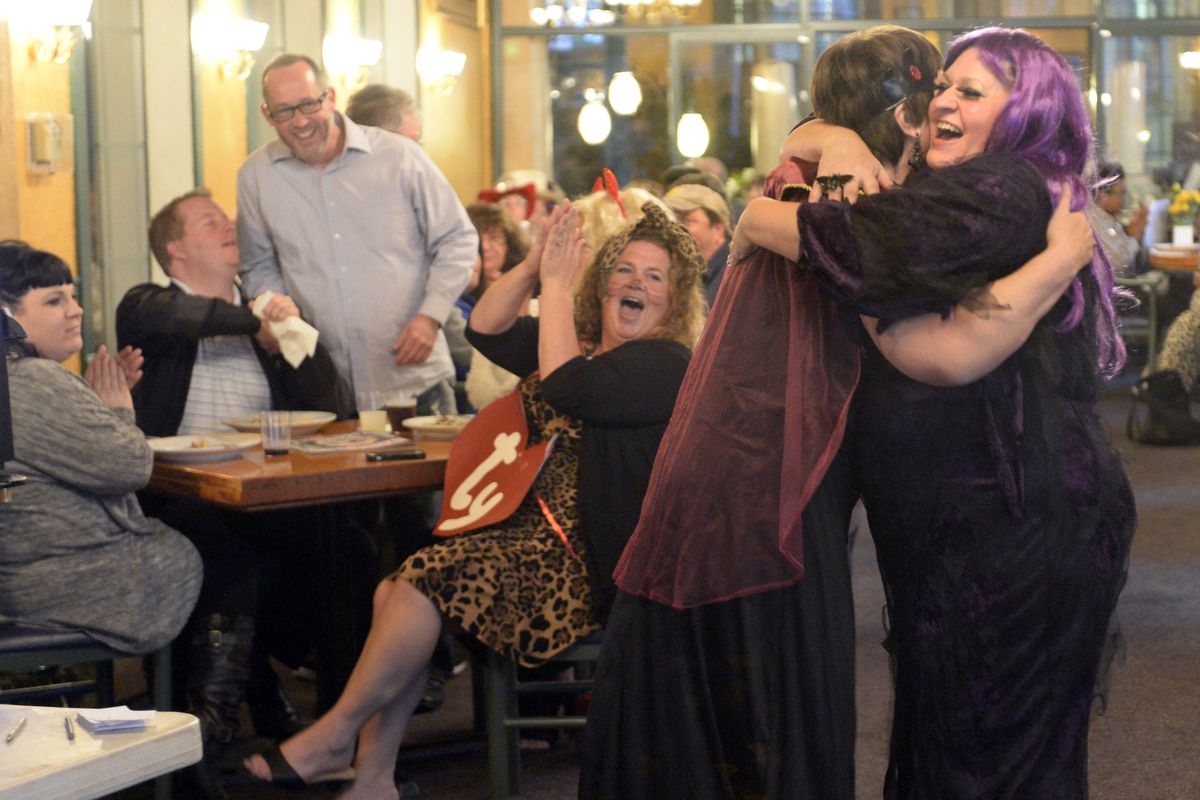 Northwest Dinner Among Friends organizer Cristina Antles, right, hugs an attendee after a successful karaoke performance at their Halloween-themed event on Oct. 17 at Bangkok Thai in Spokane. The group puts on monthly dinners, usually with games, karaoke or dancing. (Jesse Tinsley)Buy a print of this photo
Cristina Antles loves people, especially people with some age and history. So she invites them to a big dinner party each month that always includes good entertainment – strictly following her Italian upbringing to feed people and enjoy merrymaking.
In fact, the idea for Northwest Dinner Among Friends sparked while she sat with friend Monica Waitt in the back of her uncle's Spokane restaurant, Ferraros. The two were watching some elderly couples eat and enjoy the day. The pair knew they needed to create a way for seniors to get out and socialize. At the time, both women worked in the senior care industry. Waitt currently works for A Place for Mom.
That was November 2012. Two years later, the dinner party is growing, expanding to two nights to fit everyone. No longer is it 55-plus. The "older" revelers wanted to open it to the younger crowd, such as their grown children, so now everyone 21 and older is invited.
"My heart and passion is our seniors," Antles said, earlier this month while keeping an eye on her party – an eye highlighted by outlandish purplish-pink eyelashes matching her diva wig. It's the annual Halloween party where most of the diners wear costumes – witches, a rat, a nerd, several cowboys and even Dolly Parton with devil horns – and fill the back room of Bangkok Thai along the Spokane River.
The goal is to create a safe and inexpensive outing for seniors while supporting local restaurants and entertainers. Because Antles has a background in the aging industry – including working at the local Comfort Keepers franchise owned by her sister-in-law – she wants the group to provide people with community resources whether it's retirement homes or estate planners or great hair stylists or dog groomers.
Local companies, such as Alderwood Manor and Affinity at Mill Road, help sponsor the events and the main sponsor always gets a few minutes to promote their service, but there is no selling or pressure. The night is all about fun and friends, old and new. Antles is always looking for more sponsors and more connections.
"We just don't tend to build those relationships with people anymore," said Antles, 45, who in part blames technology and texting. "I'm old school. I like to hug."
It's a family thing, made evident by her mother's big embrace and eagerness to welcome new people. Raffaella Travis, Antles' mother and an Italian immigrant, gushes with pride about her daughter creating the dinner club and how in just two years it has helped so many people get out of the house and enjoy life.
"All the old people should know you live longer if you get together with other people," Travis said. She and her husband drive from Athol to the monthly dinners in Spokane. Travis said the gatherings help her recover from the debilitating grief of losing her other daughter to cancer at age 33.
"Instead of doing grieving you have to give love," Travis said before hitting the dance floor.
Antles said founding and running the dinner business has been therapeutic for her as well after losing her sister in 2001. Antles was her sister's primary caregiver until hospice took over. She hopes nobody has to go through the isolation and loneliness she felt as a 32-year-old who didn't know how to connect with resources to help care for her sister, DeeDee Samek.
"I'm always surprised so many people don't know what's available to them," she said, adding that she recently helped one of her dinner guests who recently lost her husband connect with services.
During the day, Antles works for financial adviser Vince McPhail who supports and partners with Dinner Among Friends events. As a financial planner, a large portion of his clientele is older.
"It's all about seniors getting out and having energy for life," McPhail said.
Denise Weyer, 59, fell in love with her husband, Doug (who goes by Douglas Younger as his stage name), at a Dinner Among Friends event in January at a Chinese restaurant. The couple, who initially met at church, decided to attend the dinner with a group of friends. Nobody else showed so the two sat together and sparks flew. They married in June and now spend time singing for people at church, in plays or for Younger's tribute artist business where he impersonates Elvis, Neil Diamond, Johnny Cash and Frank Sinatra. To kiss his wife, Younger whips off his black cowboy hat – part of his Festus costume from "Gunsmoke," his jet black pompadour confirms his profession. The two command the microphone nearly all night.
Dee Young, 67, looks forward to the dinners each month. Tonight she is channeling country legend Dolly Parton, wearing a hugely full platinum blonde wig. A headband with red satin devil horns helps keep the wild locks in place. Young claims she is an actual cousin of the Tennessee singer, on her mother's side. She found out about the dinners from a friend.
"I was looking for a group to have some fun and not get so serious about everything," Young said. "It's nice to get together and enjoy people."
Besides dinners, the business also has a membership club where annual dues payers meet monthly for a fun activity such as learning how to value antiques or take square dancing lessons. There are about 50 members.
As the Halloween party winds down, David Griffin, 62, who declined to wear a costume ambles to the microphone and sings to his wife of 16 years "Pretty Woman." The group goes wild when Griffin growls into the microphone. Jenny Griffin, 66, blushes and covers her heart with one hand and fans her face with the other.
When it's over, Jenny Griffin takes off her glasses to wipe her eyes – tears of joy.
The growl gets her every time.
Local journalism is essential.
Give directly to The Spokesman-Review's Northwest Passages community forums series -- which helps to offset the costs of several reporter and editor positions at the newspaper -- by using the easy options below. Gifts processed in this system are not tax deductible, but are predominately used to help meet the local financial requirements needed to receive national matching-grant funds.
Subscribe now to get breaking news alerts in your email inbox
Get breaking news delivered to your inbox as it happens.
---