News > Obituaries
Obituary: Memminger, Mary Anne
Age 86
Wed., Oct. 29, 2014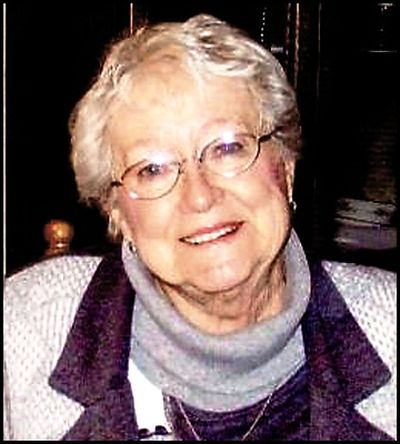 MEMMINGER, Mary Anne Passed peacefully into the Kingdom of Heaven on October 22, 2014.
She was born in St. Petersburg, FL on November 8, 1928 to Eugene E. Smith and Auleen Roberts Smith.
Mary Anne graduated from Washington Irving High School, Clarksburg, WV, and later continued her education to become a Licensed Practical Nurse.
Her marriage to Harold F. McIntyre would lead her into the adventures of being an Air Force wife with three children.
They moved to Fairchild Air Force Base in 1968 and after retirement they lived in the Spokane Valley.
After Harold's death, Mary Anne started a new chapter of her life when she became the wife of Charles G. Memminger.
They had sixteen beautiful years together in Aiea, Hawaii before his death in 1990.
It was during Chuck's illness that Mary Anne, along with five others, founded the Society for PSP.
In 1991, she moved back to Spokane Valley to be near her children and old friends.
Never one to procrastinate, she became a member of The Episcopal Church of the Resurrection where she served the Lord in many capacities, most significantly when she chaired The Diocesan Convention and started the church's chapter of The Daughters of the King.
Her abilities to organize and delegate made her very effective in her volunteerism with Valley Hospital, The Deaconess Foundation and Newcomers Club.
Mother is survived by her children, Bob McIntyre (wife Jan), Anne Stanley, and Cathy Guthrie (husband Steve); stepchildren, Charles Memminger, Lucien Memminger, and Stephen Memminger.
She was preceded in death by one great-granddaughter and is also survived by five grandchildren and four great-grandchildren.
Please join us in celebrating and remembering our beloved mother's life at 2:00 on October 30, 2014 at The Episcopal Church of the Resurrection, 15319 E. 8th.
In lieu of flowers, donations may be made to The Foundation for PSP at www.curepsp.org.
Local journalism is essential.
Give directly to The Spokesman-Review's Northwest Passages community forums series -- which helps to offset the costs of several reporter and editor positions at the newspaper -- by using the easy options below. Gifts processed in this system are not tax deductible, but are predominately used to help meet the local financial requirements needed to receive national matching-grant funds.
Subscribe to the Coronavirus newsletter
Get the day's latest Coronavirus news delivered to your inbox by subscribing to our newsletter.
---