News > Features
Status of your ailing body best kept to yourself
Mon., Sept. 1, 2014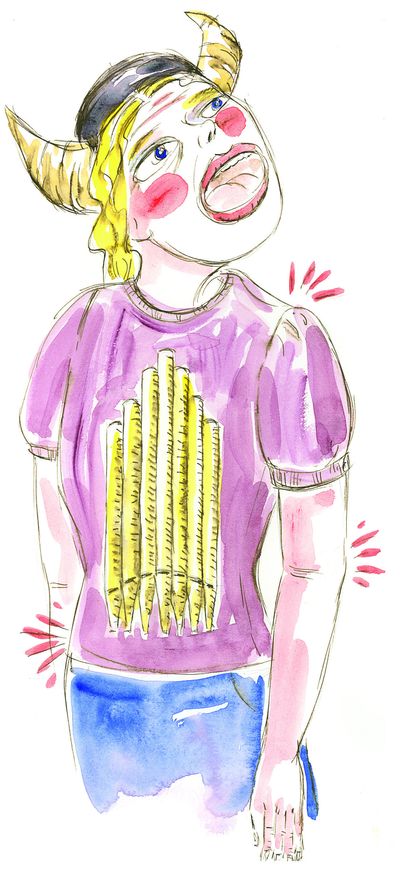 What, exactly, is the dreaded Organ Recital?
It's a monologue prompted by a seemingly innocent question – "So, what have you been up to lately?" – and it goes something like this:
"Well, did I tell you about my colon? It can't handle gluten any more. And have you heard about my new stent? It's right here (pulls shirt collar down and points). And of course I still have my blood pressure issues but the doctor says the medicine is taking care of that. Lately, I've been having trouble with my hips, but I don't want to replace them until after I've healed up from my knee surgery. And then there's my bladder."
(A forced smile) "Oh, interesting. But aside from that, do you have any fun plans this summer?"
(Thinks a moment) "My colonoscopy is coming up. Polyps."
In other words, the Organ Recital is that all-too-frequent monologue from those of us on the far side of 60. As a conversational ploy, we should all try our best to resist it.
Those of us past a certain age seem to be under the delusion that the intimate workings – or mainly failings – of our internal organs are a suitable topic for conversation. We could not possibly be more mistaken.
Indulging in the Organ Recital is a bad idea for many reasons, the top two being:
• It is often distasteful. As important as your bowel function may be to you, it is not a topic that most people want to hear about while standing in line at Starbucks.
• It is just plain boring. Let me put it this way. The things that go on in my body are vivid, exciting and endlessly fascinating to me and to me alone, the one person who actually inhabits that body. To everyone else, my inner workings seem – how can I put this? – more abstract and less compelling. And besides, your listeners are too busy being obsessed with what is happening in their own bodies to devote all of that attention to the workings of yours.
Try this little exercise. Pick out any nominally boring topic of conversation – the weather, your favorite Grateful Dead solos, your metal-detector hobby, the antics of your cat, your golf game – and try them out in conversation. I can almost guarantee that your listeners will find virtually all of them more interesting than the subject of your polyps (except, of course, your golf game, which is in a special class).
Let me tell you a story that illustrates exactly how uninteresting your organs are to the world in general.
Once, as a cub reporter in Cody, Wyoming, I was sent out to do a personality profile of a 101-year-old man at the town's nursing home. I tried to get him to open up about the details of his long and fascinating life, but his grasp of those details seem to have slipped.
Me: "So, how long have you lived here?"
Elderly man: "I don't remember."
Me: "Where did you live before?"
Elderly man: "Before what?"
Me: "Before here."
Elderly man: "I don't remember."
Me: "Did you serve in the armed forces?
Elderly man: "I think so."
Me: "Did you serve in a war?"
Elderly man: "Maybe."
Me: (doing the math in my head) "Was it the Spanish-American War?"
Elderly man: "Who was that against?"
Me: "The Spanish."
Elderly man: "Maybe."
Me: (getting desperate and running out of questions) "Sir, can you tell me about the most interesting thing that has ever happened in your life?"
Elderly man: (thinks for a while) "Well. I had gallbladder surgery."
This is the point at which I abandoned the interview. I simply could not write a personality profile with the headline, "Centenarian recalls gallbladder surgery." The Organ Recital is tough to listen to in person and even tougher to read about in print.
So, to sum up, virtually any aspect of your life is a more interesting topic of conversation than any medical procedure, unless that medical procedure involves a gunshot wound, a fish hook or an encounter with an angry wolverine. People do love to hear about accidents and mishaps. But even then, interest will flag at the point in the story at which you get home from the hospital and start discussing the changing of bandages.
Yet the dinner table at my 91-year-old mother's retirement complex is an absolute festival of Organ Recitals.
The conversation around the table tends to go like this:
"I don't know what's wrong with my kidneys. That doctor won't tell me."
"These beans do not agree with my bowels."
"I think it might be kidney stones. The pain, let me tell you."
"I'll be on and off of the pot all night."
"Maybe kidney boulders, the way it feels."
My mother does not contribute to the Organ Recital and sometimes gets tired of listening to it at dinner every night. She has her own issues, too, but she simply does not believe it makes for stimulating conversation.
Actually, my mother goes a little too far on the opposite extreme. She has the exact same response to every inquiry about her health: "Just fine."
Ask her how she feels today and she says, "Just fine." Ask her what the doctor said about her oxygen level and she says, "Just fine." Race to her bedside in the Intensive Care Unit and blurt out, "Oh my God, how are you doing?" and she says, "Just fine," although the breathing tube makes it sound a little garbled.
There are some places in which the Organ Recital is absolutely justified, and the Intensive Care Unit is one of those.
Nevertheless, as I progress deeper into the medical-challenges stage of life, I will strive to emulate my mother's example, to a reasonable degree. I urge all of my fellow boomers to vow to do the same. Whenever somebody asks us "What's up with you?" let's avoid launching into a description of our acid reflux.
We should instead launch into a detailed stroke-by-stroke story of how we made a double bogey on No. 16. No, not that, but you get the idea.
Please don't get me wrong. I do not believe that we should keep mum about our medical challenges. I do not yearn for the bad old days when the word "cancer" was hidden like a shameful secret and never uttered aloud. We should all feel free to confide our fears and our experiences to our closest friends and relatives. It lifts the burden of disease, just a little.
However, it should not be employed as small talk. I have it on good authority that even people afflicted with cancer get tired of having to talk about cancer all the time. The disease is just one part of their lives, and not necessarily the most interesting.
The one place where people intuitively understand this is, surprisingly, the obituary page. It is almost devoid of the Organ Recital. Even the most momentous organ failure possible – the one that ends your life – gets only a one-sentence mention. The rest of the obit is about your family, your accomplishments, your hobbies, your work in the community, your spirit and, well, your life in all of its glory.
Which is far more than the sum of your organs.
Local journalism is essential.
Give directly to The Spokesman-Review's Northwest Passages community forums series -- which helps to offset the costs of several reporter and editor positions at the newspaper -- by using the easy options below. Gifts processed in this system are not tax deductible, but are predominately used to help meet the local financial requirements needed to receive national matching-grant funds.
Subscribe now to get breaking news alerts in your email inbox
Get breaking news delivered to your inbox as it happens.
---