News > Features
Ferris graduate leaves her mark on 'The Boxtrolls'
Ferris High grad Monaghan leaves her mark on 'The Boxtrolls'
Thu., Sept. 25, 2014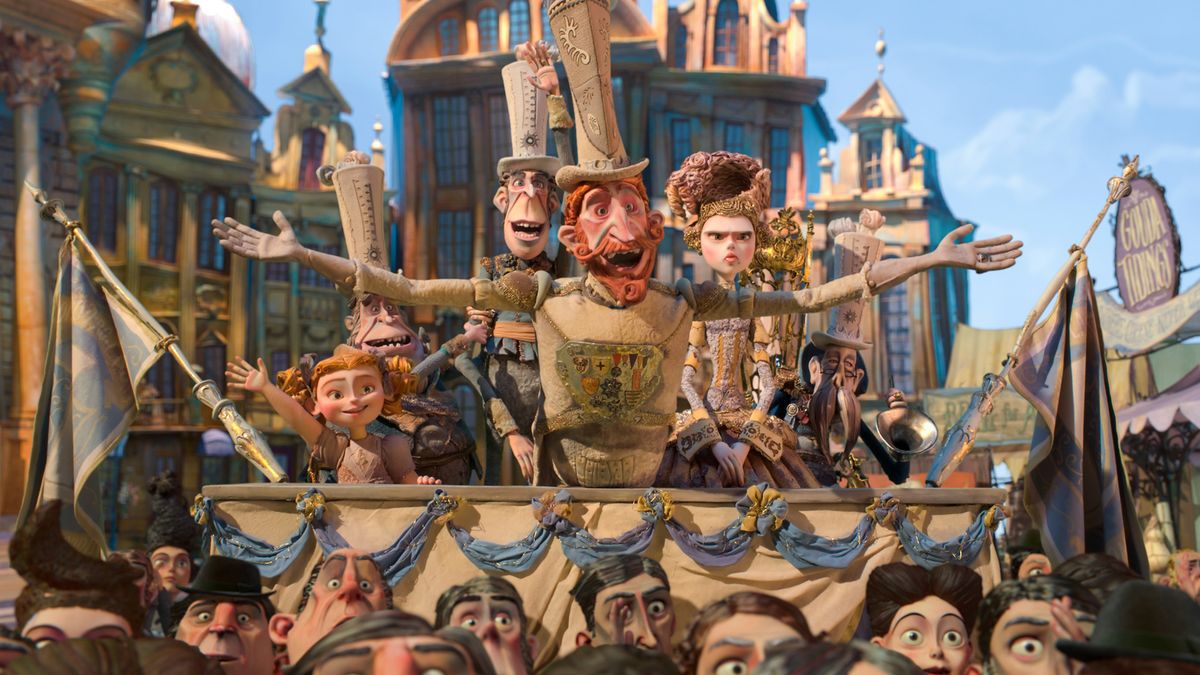 "The Boxtrolls," a stop-motion animated adventure, tells the story of a young orphaned boy raised by cave-dwelling trash collectors.
Moviegoers will get to see a bit of Spokane magic when "The Boxtrolls" opens Friday. That's because Spokane native Clair Monaghan created the costumes for many of the puppets featured in the stop-motion film.
Monaghan, a 2000 Ferris High School grad, is a costume fabricator for LAIKA, an award-winning, Oregon-based animation studio.
For her, it's a dream job.
"I loved the work they did," she said of the studio. " 'Coraline' came out my freshman year at CalArts and it inspired me and fueled my next couple of years. I imagined myself working there, but I really couldn't believe it when I got the job."
Her success comes as no surprise to her Ferris art teacher, Jon Lepper. Now, retired after 33 years at Ferris, he vividly recalls Monaghan's passion and her talent.
"There wasn't anything she couldn't do," he said. "Painting, sculpture, drawing … ."
Monaghan comes from an artistic family. Her mother was an art teacher and her dad, a photographer. But despite her background, talent and enthusiasm, she initially shied away from pursuing a career in the arts.
"I never really planned for a future as an artist. When my mentor and teacher Jon Lepper asked me what I had planned after graduation, I mentioned a program that was guaranteed to make a good living and had good benefits," she said. "But Mr. Lepper encouraged me to pursue art. It really made me think more about my options."
While working in Seattle and taking art classes she was introduced to cell, stop-motion and flash animation. That was her "aha" moment. "I love stop-motion because of the handmade quality of it. I enjoyed ceramics, jewelry, sewing, painting and photography, and stop-motion animation was the perfect combination of all of them," she said. "It's moving art."
She furthered her studies in the character animation program at California Institute of the Arts. "It was a great fit for me," she said. "We developed stories and directed our own films every year. During my junior and senior years at CalArts, I focused more on puppet work and really fell in love with the puppet-making process."
During her internship at Chiodo Bros., a Burbank, California, studio, she gained hands-on experience making sets, props and puppets. She worked on projects including "The Simpsons" episode "The Fight Before Christmas" and Disney Junior's "The Bite-Sized Adventures of Sam Sandwich."
The work fueled her enthusiasm for the industry and 2 1/2 years ago she joined the team at LAIKA, quickly becoming immersed in the making of "The Boxtrolls."
The movie is based on Alan Snow's best-selling fantasy adventure novel "Here Be Monsters" and tells the story of the Boxtrolls who live beneath the cobblestone streets of Cheesbridge, a posh Victorian-era town obsessed with wealth, class and the stinkiest of fine cheeses.
Residents believe the Boxtrolls to be foul monsters who crawl out of the sewers at night and steal what the townspeople hold most dear: their children and their cheeses. In truth, the Boxtrolls are an underground cavern-dwelling community of lovable oddballs who wear recycled cardboard boxes the way turtles wear their shells.
Costuming these quirky creatures proved to be a steep learning curve for Monaghan. She said working in such a small scale to such a high quality was quite the challenge. "The first costume I worked on was for the character Eggs. I worked on his handkerchief and then patterned and constructed his pants – the top fabric was laser cut to look as though it was torn."
Monaghan said 125 costumes were made, not including any replacements. "During the shooting, we had to maintain the costumes as well. Many of the fabrics used are very delicate silks, which can be difficult to keep in pristine shape after many days of animation."
Still, she relished the challenge and enjoys working with the creative people at LAIKA. "We're constantly innovating our process and taking techniques to new places. I continue to learn and expand my skills. It's really inspiring. I feel very lucky to be working here."
When she recalls the career path she almost followed – one that led her away from art – she's profoundly grateful to have had a teacher who pressed her to pursue her passion.
"I often think back about that conversation with Mr. Lepper," she said. "I'm thankful for the encouragement that he gave me."
And her former teacher? Monaghan's self-portrait still hangs in his studio, and he's looking forward to seeing "The Boxtrolls."
"I'm excited to see the results of her hard work," he said.
Local journalism is essential.
Give directly to The Spokesman-Review's Northwest Passages community forums series -- which helps to offset the costs of several reporter and editor positions at the newspaper -- by using the easy options below. Gifts processed in this system are not tax deductible, but are predominately used to help meet the local financial requirements needed to receive national matching-grant funds.
Subscribe now to get breaking news alerts in your email inbox
Get breaking news delivered to your inbox as it happens.
---