News > Features
A clutter cleansing
Lose the mess, lose the weight, says author Peter Walsh
Tue., April 7, 2015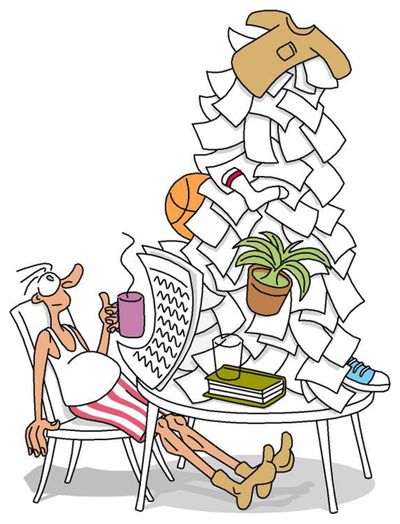 Author and television host Peter Walsh says the genesis of his new book, "Lose the Clutter, Lose the Weight: The Six-Week Total-Life Slim Down" (Rodale, $26.99) was born from research studies showing a relationship between clutter and obesity. But he had already seen the connection.
He's spent his professional life helping others get out from under their clutter, sometimes very publicly on the shows "Clean Sweep" and "Extreme Clutter." He noticed that people who were buried in clutter were often carrying extra pounds. As clutter overwhelmed households, healthy eating surrendered and stress-induced eating took over, he says. "Clutter can rob us of life."
After tackling the mess, he says, people reported improved moods, relationships, finances and health. "They said they were eating better and had a better outlook on life."
He wrote a magazine article on the subject seven years ago and was recently approached by Rodale Inc. to write this book. He decided to put together a six-week program to rid the home of clutter by tackling a different area weekly. He brought aboard a dietitian to create a simple meal plan and an exercise physiologist to develop an exercise plan with items already in your home.
The program is empowering. Double-duty exercises include bicep curls and sumo squats using duffel bags of clutter that are on the way out the door. You can celebrate your victory with a quick set of jumping jacks or squat kicks.
"We had 25 people run through a test program," Walsh says. "Their average six-week weight loss was 10.1 pounds. One person lost 20 pounds in six weeks. On average, participants lost an average of 3 inches in their waists and 2.5 in the hips."
And that wasn't the end of it. In the 10 months since the test panel ran, Walsh reports that those who stayed with the program shed additional weight, with one person losing nearly 50 pounds. Their inspiring stories are outlined throughout the book on pages called "The Clutter Chronicles."
"There is no magic in the program … no voodoo, no special food supplements. It's very simple: Make small incremental changes that become part of your routine and get rid of the stuff in your home. Plan simple healthy meals, and you will see changes."
A key to creating the home you want and love involves an aspect of mindfulness: Recognizing how clutter started is the key to getting rid of it for good.
Walsh lists the different levels of clutter: " 'Lazy clutter' is the mail. 'I-might-need-it-one-day- clutter' is the clutter of an imagined future. 'Memory clutter' reminds you of an important person or achievement that you are afraid to discard because you think if you lose the object you lose the memory. 'Benign clutter' is the need-to-get-to clutter."
The worst kind of clutter is "malignant clutter," he says. It is emotionally laden items that take you back to a bad time in your life and prevent you from envisioning your future. Walsh says one family kept medical equipment from cancer treatment to remind them of the horror of that time. "We ended up burning it and letting it go."
He says the things we own have their own power to help us create the life we want.
"If you don't create a home that gives you peace, calm, focus and relaxation, the obvious question is: Where are we going to find that? Can you get that anywhere else?
Walsh says a key question people need to ask is: "What do I want FROM my space?" If you want a romantic bedroom, then having a computer in there won't achieve that. Removing items that don't achieve your objective should be paramount.
"There is another interesting thing in here. That is that every single time in my career, where children are involved in a decluttering project – without exception – every single time children come back in that space, they start to dance. They are liberated by the open space. Children have a lesson to teach us, the joy and openness that liberty brings to us."
Local journalism is essential.
Give directly to The Spokesman-Review's Northwest Passages community forums series -- which helps to offset the costs of several reporter and editor positions at the newspaper -- by using the easy options below. Gifts processed in this system are not tax deductible, but are predominately used to help meet the local financial requirements needed to receive national matching-grant funds.
Subscribe to the Coronavirus newsletter
Get the day's latest Coronavirus news delivered to your inbox by subscribing to our newsletter.
---